For the 1993 Hudson Soft Super Caravan event, the company was clearly looking to flash their cash, and they certainly managed to do so in the most impressive way possible. Enter Hi-Ten Bomberman, a multiplayer-only, HD Bomberman game that supported ten players at once and was made available exclusively at 44 different event locations in Japan between July and August of 1993. Players who participated in the caravan event received prizes ranging from trophies and t-shirts to a copy of Tengai Makyou: Deden no Den, which was a modified promotional version of the upcoming Bomberman'94.However, one could argue that simply getting to play the game was the best prize of all, seeing as how it was a once in a lifetime chance. The game was later playable at NHK Studio Park in Shibuya, but doing so supposedly required an excessive rental fee that was out of reach to most people.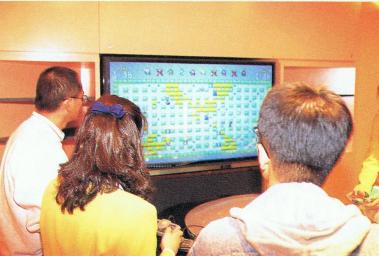 The game's limited availability wasn't a gimmick, but rather a limitation due to the circumstances in which it was made. It took a unique combination of two PC Engine units, each equipped with a five-person multitap, a cutting edge NEC PC workstation, and custom made circuit boards that allowed the PC Engine to display at 16:9 instead of 4:3 on HDTVs provided by NHK, who had an interest in using Hudson Soft's events to showcase HDTVs. This chimera of a setup would become known as the "Tetsujin" board, and it was estimated to cost about 2,000,000 yen (around $20,000 USD in 1993) at the time, making it obviously unfeasible to sell to consumers. Due to the cost, it is estimated that between five and ten units are all that ever existed. Hi-Ten Bomberman is often cited as the first HD video game, but it was actually beat to punch by Namco's Homerun Contest in 1988, which was also utilized exclusively at company events. There were rumors that a port of the game was going to be made available for the PC-FX, seeing as how its architecture was based on the Tetsujin board, but this was shot down by Hudson Soft's Takahashi Meijin in a 2008 interview.
Hi-Ten Bomberman offered five different configurations of play based on the number of players present: a ten player battle royale, five versus five, three teams of three, five teams of two, and a mode for the particularly bold which pitted a single player against the nine other players. Thanks to the widescreen HDTV, the battle arena is significantly larger than in any previous Bomberman game, giving all ten players enough space to get started without a disadvantage, along with opportunities for the game to splinter off into multiple smaller conflicts. As a result of the larger arena, power-up capacities were significantly increased, allowing players to carry upwards of 30 bombs while still being able to cover entire rows and columns with explosions if they gathered enough firepower. Beyond the presentation and scope, the actual gameplay itself doesn't really offer anything different and there's only the one arena to play in, a lean but logical design choice for a game that people would likely only get to play a few rounds of at most.
As of today, the game remains impossible to emulate and will likely continue to be inaccessible for the foreseeable future. In 2019, Takahashi Meijin found a disc related to the game that he then donated to the Game Preservation Society for research. While there was initially hope that this meant the game could be preserved and perhaps eventually emulated, Takahashi Meijin later clarified in a blog post that the disc only contained audio data, thus leaving the game itself stuck somewhere on an old hard drive, lost to the sands of time… at least for now.
Hi-Ten Chara Bomb (1994)
A year later, Hudson Soft would once again pull a similar stunt for their 1994 Super Caravan event, with the special game this time being called Hi-Ten Chara Bomb. Aside from a slight adjustment to the arena size, the game was mostly the same, but the biggest draw was the addition of several playable characters from Hudson Soft's other games. Bonk's inclusion is a given, of course, but there was also Momotaro, Princess Yasha, and King Bonbi from Momotaro Densetsu, Manjimaru and Kabuki from Tengai Makyou, and Milon from Milon's Secret Castle. Most of these characters would make a return in Saturn Bomberman's multiplayer mode (except Princess Yasha and Momotaro), and that game would also bring back the ten player option, essentially making it a spiritual successor to these two games.
Sources
http://randomhoohaas.flyingomelette.com/bomb/arc-hiten/#yellow – Comprehensive article, screenshot sources, and other resources courtesy of Ragey's Totally Bombastic Bomberman Shrine Place
https://www.gamedeveloper.com/business/the-game-master-speaks-hudson-s-takahashi-meijin-goes-retro – Game Developer interview with Takahashi Meijin
https://twitter.com/turfmasta/status/1048292258343276545?lang=en – Twitter thread about Homerun Contest
https://onitama.tv/gamemachine/pdf/19881015p.pdf – Issue #342 of Game Machine magazine, containing photos and information on Homerun Contest
https://www.youtube.com/watch?v=tHvzV06pG8M – Footage of the game and the Caravan event
https://bomberman.fandom.com/wiki/Hi-Ten_Bomberman – Information via the Bomberman wiki
https://www.siliconera.com/long-lost-early-hd-game-hi-ten-bomberman-preserved-thanks-to-hudsons-takahashi-meijin/ – Siliconera article covering Takahashi Meijin's donation to the Game Preservation Society
https://ameblo.jp/meijin16shot/entry-12449691343.html – Takahashi Meijin's blog post elaborating on the disc he donated