Sonic & Knuckles is basically the second part of Sonic the Hedgehog 3. Some might have been angry that Sega had split a game in half and forced gamers to pay for it twice, but it made for it by using something Sega called "Lock-On Technology". The Sonic & Knuckles cart doesn't look like a regular Genesis cartridge – instead, it has its own slot on top, where another cartridge can be plugged. In other words, sort of like a Game Genie, but a little shorter. Though Sonic & Knuckles could be played on its own, when attached with a Sonic 3 cartridge, it combined the two to create one big, gigantic game…basically, the one that had been originally planned.
On its own, Sonic & Knuckles has all of the levels that were shown in Sonic 3's hidden level select. Mushroom Hill zone is similar to the typical forest levels, except with (of course) mushrooms, along with changing seasonal conditions thanks to one of Robotnik's devices. Flying Battery is a gigantic battleship, similar to the Air Fortress Zone from Sonic 2 but greatly expanded. Sandopolis has an Egyptian motif, while Lava Reef takes place in a volcanic cavern. This leads into the Hidden Palace Zone, another cave level (and different from the one originally planned for Sonic 2), and then Sky Sanctuary, a series of floating ruins that eventually leads to the final area. Here, you face off against Metal Sonic again, where he channels some of the boss fights from previous Sonic games. After besting him, you finally fight through and take down the Death Egg. In the previous games, getting all of the Chaos Emeralds just gave you a better ending (as well as the ability to turn into Super Sonic in 2 and 3), but here, if you've got all of them, it leads to the true final battle, called Doomsday, where you take down Robotnik in outer space.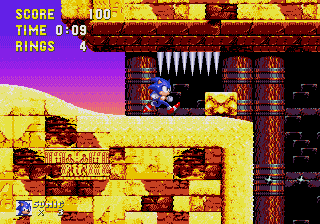 The visual design, the music quality, and the level design is consistent with the quality of Sonic 3…which is to say, generally excellent, with some exceptions. One of the most aggravating parts of the game is Sandopolis Zone Act 2, which takes place inside of a pyramid. It contains another one of those sections where you'll fall down a slide infinitely, until you discover the correct place to jump out so you can escape the loop. But it's really confusing and not entirely clear where you're supposed to be doing. Plus, you need to constantly pull on regularly placed light switches, or else the pyramid will become dark, and the place will become infested with ghosts. The layout is so maze-like that it's very easy to get lost or miss one of these switches. None of these problems would be that bad on their own, but the game still uses the ten minute time limit, and it's very easy to run out unless you specifically know where to go. None of the other levels in the game are nearly as frustrating as this one, though the game makes the same mistakes as all of the others by not giving you any rings for the final battle, ensuring that you'll be playing the Death Egg zones over and over until you learn Robotnik's rather tricky patterns. Also, there are no water levels, so the Bubble shield isn't all that useful.
A few other changes and additions have been made as well. There are now two new bonus round minigames for when you pass by checkpoints. In one, you need to climb a vertical tower by attaching yourself to glowing orbs and then flinging yourself off. These are fairly hard, since there's also a barrier climbing from the bottom of the screen, very quickly, and it's hard to make progress until you get the hanging of the way the orbs work. The other is more straightforward, a combination of the rotating gem mazes from Sonic 1 with the slot machines from the Casino Night Zone of Sonic 2. A few music tracks have been changed, including a new miniboss theme and a different theme for Knuckles, which replaces his own scratchy, percussion-based tune.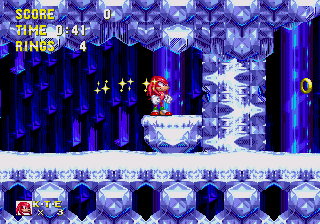 But the biggest addition, as the game's title implies, is the ability to play as Knuckles, including in the Sonic 3 levels. He plays similarly to Sonic, but he can destroy certain bricks, can glide in mid-air, and climb most walls. However, he can't use any of the shield's special abilities, and he can't jump as high either. This different skillset often send him through different parts of the levels, and also makes the boss fights a little different, in some cases making them harder. For example, in Angel Island Zone Act 1, he's railroaded to a different part of the level, and while the boss is basically the same as Sonic and Tails, it has some extra attacks that make it a little more difficult. In Hydrocity Zone Act 1, the boss is the same, but since Knuckles can't jump high enough to leap over the enemy, you need to be more creative in order to dodge it. Some bosses are removed, too.
While it's not really playing a whole new game, playing as Knuckles does give an incentive to replay all of the stages. The final areas are a little different too – when playing as Sonic and/or Tails, the Hidden Palace Zone is mostly for story purposes, with just a simple encounter against Knuckles before both realize they're fighting on the same side, and then join forces to fight Robotnik. Most other games would just dialogue boxes, but the Sonic games forgo that completely, instead relying on visual storytelling to communicate Knuckles' motives. However, when playing as Knuckles, there are actual enemies to fight, and the final levels are not playable either, instead finishing off with a fight against Metal Sonic.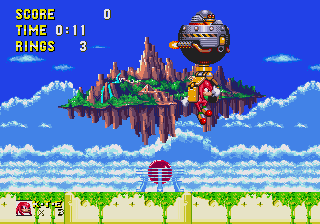 While the Lock-On Technology allows you to play as Knuckles in the original set of Sonic 3 levels, this was expected, since it's clear that the levels, with their alternate hidden routes, were designed for him. More impressive is the fact that you can combine Sonic & Knuckles with Sonic the Hedgehog 2, which replaces the original leads with the red echidna. This is actually far more impressive, considering the game was originally never designed for this, and it acts as sort of an elaborate, official ROM hack. Knuckles looks and acts just as he does in the main game, and while there aren't any new levels or alternate paths to discover, it does give some incentive to play an older game with a different character. It does feel like some aspects aren't correctly balanced for him though, for example, the columns in Aquatic Ruin Zone, which are too tall for Knuckles to jump over. Trying to lock onto other games will generate variations of the Blue Spheres minigame.
It's also obvious that Sonic & Knuckles is really meant to be played together with Sonic 3. If played alone, Tails is completely missing, and there's no save game function! Plus, rather annoyingly, even if you've already beaten Sonic 3, you can't just warp ahead to play the Sonic & Knuckles levels…you need to start Sonic 3 from scratch, play all of those levels, and then you're allowed to continue on to the new stages.
Taken together, the mega game of Sonic 3 & Knuckles has a few rough patches…but then again, all Sonic games do. But none of the games are as massive as this – 24 stages (or more, depending on the character), most of them huge, with a wide variety of clever mechanics, fun boss fights and fantastic music, all replayable with different characters. It's such a massively rich experience that is easily overshadows the lesser paths, resulting in what was, for the longest time, the most solid Sonic the Hedgehog experience (at least, until Sonic Mania came around nearly 25 years later.)
Weirdly, unlike the previous Sonic games, neither Sonic 3 nor Sonic & Knuckles saw much in the way of ports. There was a Windows version, like Sonic CD, called the Sonic & Knuckles Collection. This a pretty straight port with Windows 95/98 computers, and is incredibly difficult to run on modern computers. There's not much benefit to these, as the music was converted to standard Windows MIDI format and sounds pretty bad. A few of the music tracks were changed too, leading to some theories that there was some legal reason as to why the original tracks could not be reused, but there's never been an official explanation. The game has appeared on numerous compilations and on downloadable services, so it's not like there's a problem in its original form. For many digital distribution platforms, if you own both Sonic 3 and Sonic & Knuckles, then you can combine them. The exception is one of the Sonic's Ultimate Genesis Collection for the PlayStation 3 and Xbox 360, which has both separate games but cannot be played combined. When questioned, Sega's official message was that there wasn't room for it, which is completely nonsense in several ways; most likely, someone just simply forgot to implement it, which sort of shows the basic level of attention given to these kind of multi-game compilations.