While often inaccurately perceived as a Street Fighter II clone, Fatal Fury (known in Japan as Garou Densetsu: Shukumei no Tatakai, or "Legend of the Hungry Wolves: The Fated Battle) was actually in development at the same time as Street Fighter II. What's more, all of SNK's fighting game operations were helmed by Takashi Nishiyama and Hiroshi Matsumoto, who had formerly created the very first Street Fighter for Capcom in 1987. So the game's similarities are the result of them being different re-interpretations of the same source. Street Fighter director Takashi Nishiyama even referred to Fatal Fury as "my Street Fighter II."
Several years prior to the events of the game, two young men named Geese Howard and Jeff Bogard were being trained by a martial arts master named Tung Fu Rue in the American west coast city of Southtown. Geese intended to exploit his teachings to gain influence over Southtown's criminal element, which Tung Fu Rue did not approve of, despite continuing to teach Geese anyway. When Tung decided to make Jeff his successor Geese developed resentment toward both men, and after becoming Southtown police commissioner, he killed Jeff. This event was witnessed by one of Jeff Bogard's children, Terry. Tung Fu Rue would take in Terry and raise him, while the other Bogard brother, Andy, was sent to Japan to learn martial arts from Hanzo Shiranui. Years later, the two brothers enter Geese's King of Fighters tournament with the goal of confronting the man himself to avenge their father's death.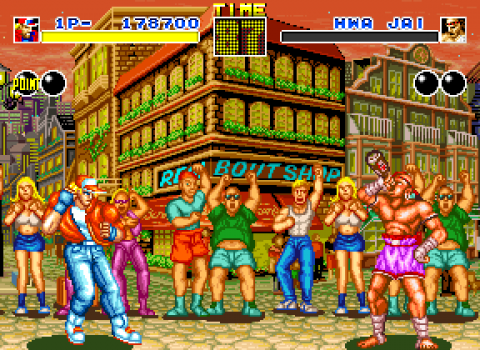 For those familiar with Street Fighter II it was probably off-putting that only the two Bogard brothers and their friend Joe Higashi can be selected to play as, with every other character being a non-playable boss character. The first opponent can be chosen from a set of four. After these four are defeated, more bosses follow, which ends with fights against Billy Kane and Geese Howard, in that order.
Yes, this is a pretty small character selection, but each character is excellently designed with their own individual feel and a large number of moves. The controls are very simple, with A for punches, B for kicks, and C for throws. The game's physics are relatively intuitive, but the joystick motions for specials are a bit awkward, with too many diagonals for their own good. This is debatably the worst flaw of the game, but opposed to the original Street Fighter, it's possible to get the moves right every time when paying attention, so the game still stands up pretty well.
The original Fatal Fury is probably most well known for introducing the line switching system, where fights can move between the background and foreground. During play, the CPU will often jump into the background and pushing any attack button makes the hero jump at them and attack. It's not yet allowed to just switch planes at any time, but certain moves knock one of the combatants to the other plane. This is more of a novelty than anything else, but it is interesting and it does set it apart from other fighters. A few levels only have one plane. Attacks that would normally knock the opponent to the other plane instead make him collide with some kind of obstacle in the background, bounce off of it and land back on the ground.
There is also a very odd attack chaining system in Fatal Fury. The basic normals are called Base attacks. When performing two consecutive Base attacks from the same range without them being blocked, and then following up with a third normal from the same range, then this normal will become an Alternate attack. This is pretty much the same thing, but with a different animation. If this attacks hits, then the next normal will be a Base attack with a slightly different animation. The moves thus alternate between Bases and Alternates and keep going as long as each attack lands.
Fatal Fury: The King of Fighters is essentially what the original Street Fighter should have been. It takes the same ultra simplistic yet relatively modern gameplay, but actually executes it well enough for the game to be legitimately good. The best thing about the game, though, and what really makes it stand out from any other fighter, is that somebody at SNK had the absolutely fantastic idea to give it a two player co-operative mode. This means that two players can team up to fight against a CPU controlled opponent at the same time. This makes defeating bosses easy by simply surrounding them, because they can't block from both sides at the same time. Co-operative mode is definitely the main draw of the game, and it's baffling why this did not become more popular in the genre, and only ever briefly reappeared in some versions of Street Fighter Alpha 3. Regardless, it really is an awesome idea and it definitely makes Fatal Fury worth playing even today. After each co-operative fight against a boss, a fight among the team mates breaks out, and the winner will continue. This is no problem when playing a port of the game, but in the arcade it means that it takes quite a few quarters to play through the entire game in co-operative mode.
Fatal Fury also does an amazing job of fleshing out Geese Howard, whose legacy lasts through the entire series. Compared to Sagat or M. Bison of the Street Fighter games, who simply show up at the end and fight, Geese is constantly watching your progress and makes comments after every match. If you beat him (since this is an SNK game, he's a tough bastard), you send him flying off the top of his tower, although he apparently survives to return in later games. In an interesting twist, losing during the Geese fight triggers a special continue countdown screen with the hero falling towards the ground.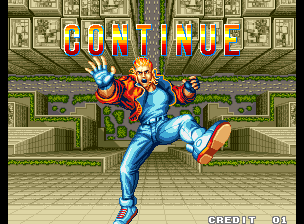 Compared to its successors, Fatal Fury's graphics aren't that spectacular, and its music doesn't even begin to compare to later SNK fighters, but both elements stand up relatively well. Its background designs are easily among the best in any fighter at the time of its release. Hwa Jai's level is set in Southtown's streets with a deep view of the city in the background. Geese's level is set at the top of Geese Tower with the sky visible through the ceiling in the background. The details throughout the game in general are pretty great, and change very slightly each round as the game progresses to later periods of the day. The rain in Tung Fu Rue's stage, the two level carousel in Raiden's stage, the trains in Duck King's stage, and the odd references painted on cars in Billy Kane's stage are all among the best details in the game. There are also a few odd bonus levels of an arcade arm wrestling game against a digital opponents. The music generally is only okay, except for the introduction of Geese's legendary theme. Also, the player vs. player music is taken from Street Smart, an earlier fighting game from SNK.
Fatal Fury was popular enough in the arcades to get ported to SNES and Genesis. This was handled by Takara, who did many of SNK's home ports. Their controls are not quite as good as the arcade version, and the graphics and music obviously aren't up to the same level. The arm wrestling bonus games have been replaced with more typical Street Fighter II type games too. However, in some respects these two 16-bit ports might actually be the best versions of the game, because they solve the biggest problem of the arcade version: Every character in the game is now playable in two player mode. However, the Genesis version lacks Billy Kane and Hwa Jai completely. The version for X68000 computers is almost identical to the arcade game, but the system's resolution results in the visible part of the playing field being much more narrow. Years, later it was ported to PlayStation 2 as part of Garou Densetsu/Fatal Fury Battle Archives 1. All of ports on these versions are practically arcade perfect. A brand new arranged soundtrack was made for this version, since there was never a full arrange soundtrack for this game – the Neo Geo CD version simply uses recordings from the arcade game.
Screenshot Comparisons
Comic