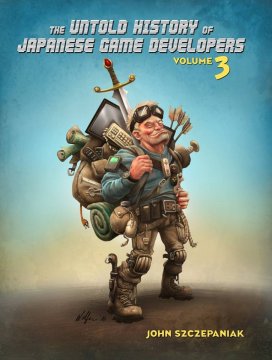 The third and final volume of The Untold History of Japanese Game Developers is complete! It's 423 pages and features over 35 interviewees.
Available exclusively through Amazon:
Paperback:
Amazon US – $29.99
Amazon UK – £24.99
Kindle
Amazon US – $6.99
For AMAZON EUROPE search your local site.
Below is the contents:
Three forewords for Volume 3: Darran Jones, Casey Loe, Kurt Kalata
Author's introduction & acknowledgements
Yoshio KIYA interview
Legendary programmer who helped shape the early Japanese computer games industry. Detailed history of Falcom and its games, including creation of Legacy of the Wizard for NES, Dragon Slayer, Xanadu, Sorcerian, and the splitting off of company Quintet. World exclusive revelation on where Falcom sourced material for its in-game stories.
Henk ROGERS interview              
No talk of Tetris – instead a look at the life of one of Japan's most influential developers. The creation of The Black Onyx and how it influenced the RPG genre, plus mind-blowing revelations about wild parties, corporate betrayal by Koei, and working with Hiroshi YAMAUCHI. (OK… There's one tiny question on Tetris for Virtual Boy.) Memorial for Allan SCARFF.
Professor Hiroshi ISHIKAWA interview                   
A follow-up to the interview in the last volume, with fresh information on Kagirinaki Tatakai and Brain Breaker, how the Enix game programming contests worked, plus meeting Yuji HORII. Also how machine AI will someday enslave us all!
Tecno Soft, Compile, Fupac, and 8ing chapter
The biggest chapter in the book, covering no fewer than four major developers. Detailed examinations of the origin, workings, and closures of Tecno Soft, Compile, and Fupac, also with a look at Raizing / 8ing. Covering the origins of the survival horror and RTS genres, the evolution of shmups in Japan, the Zanac series, secret messages hidden in game code, the MSX range and Compile's Disc Station magazines, Compile's mascot Randar, how the company was developing an adaptation of The Last Starfighter movie, the Crush pinball series and Gunhed, Shadowrun on Mega CD, a face-off between the PC Engine and Famicom's sound capabilities, creation of Golvellius and how it was remade for use in a TV soap opera, PC-FX game development including Zeroigar, the only PC-FX shmup! There are also the design documents for MUSHA and Guardian Legend! Plus several unreleased games from across the years!
Yuichi TOYAMA
Kenichi YOKOH
Mitsuakira TATSUTA
Takayuki HIRONO
Satoshi FUJISHIMA
Naosuke ARAI
Athena chapter
This seldom-discussed developer was responsible not only for the Dezaemon "make-your-own-shooter" series, but also Japan's prestigious celebrity-endorsed Kiwame mahjong series. Features detailed looks at the company origins, creation and localisation of BioMetal on SNES, plus Dezaemon, Kiwame, and a profile on Corpse Party dev Makoto KEDOUIN.
Bill SWARTZ & Kelly ROGERS
Aziz HINOSHITA
Manabu YAMANA interview
Detailed look at early Rambo licenses and the companies involved, history of Japanese computers including unreleased 3D graphics hardware for PC-98, followed by a run-through of life at Chunsoft and working on the Dragon Quest series, its localisation into Dragon Warrior, the perception of head/body ratio preferences in America, and the origin of the "Sound Novel" genre with Otogirisou. Personal recollections of meeting Hiroshi YAMAUCHI and memorial page.
Hidenori SHIBAO interview
A life and career writing strategy books (including for Super Monkey Daibouken!), being a journalist, game designer, and dabbling in movie scripts. Detailed insight into Japanese games media. Working for Enix; the development of Paladin's Quest, Lennus II, Legend of Legaia, and the FEAR. Writing the screenplay to the movie adaptation of Otogirisou.
Squaresoft chapter
Covering the company's history from the early 1980s up to the present. Movie licenses like Alien 2 on MSX and Famicom, working alongside Hironobu SAKAGUCHI, creating Famicom music, the racist imagery in that infamous Square no Tom Sawyer game, plus developing Hanjuku Hero, Final Fantasy IV (including evolution of the series), Live-a-Live (with office sketch!), Chrono Trigger, and Parasite Eve. Memorials for Hiro ISONO and Akia SAKAI. Followed by a bonus interview with Nasir GEBELLI, courtesy of John ROMERO, with revelations on Square's earliest days! Final interview covers localisation at Square, the Enix merger, and lots of Front Mission trivia.
Takashi TOKITA
Nasir GEBELLI
Aziz HINOSHITA
Kouichi YOTSUI interview
Second part of the interview which started in Volume 1. Detailed look at Strider (with office map of Capcom!), Nostalgia 1907 (explanation on the Takeru vending machine!), Chatan Yarakuu Shanku, Cannon Dancer, and Suzuki Bakuhatsu. Lots of rare photos from Capcom's early days. Memorial for Masahiko "Patariro" KUROKAWA.
Toshinari OKA interview
Wild stories from Konami's home computer department, including laser tag in the mountains with Hideo Kojima and hurtling around Kobe on a motorbike – bags of beef bowels in tow! Stories from the making of Vampire Killer, Parodius, and Metal Gear 2: Solid Snake, plus Konami's rare Picno hardware! Office maps, comics, and plenty of tech-talk!
Sega / Arzest chapter
Sega's early electro-mechanical days to the Dreamcast. Games like Samurai and Deep Scan, Zaxxon and an investigation of Ikegami Tsushinki (with response from its director of engineering!), detailed examinations of Flicky, Fantasy Zone, and OutRun, with never seen before VHS tapes! Moonwalker for arcades and Sakura Taisen's creation. Mini-interviews with Yoshiki KAWASAKI, of Flicky, and Kunihiro SHIRAHATA of Deep Fear. Second interview reveals the designer of Alex Kidd for arcades, and goes in depth on arcade Shinobi and its spiritual successor Crack Down. Tetris for Genesis and mini-interview with Steve HANAWA, who brought Tetris and Columns to Sega. Naoto OHSHIMA discusses Sonic the Hedgehog, the unreleased Sonic Crackers, Michael Jackson on Sonic 3, and time travel! Manabu KUSUNOKI talks Panzer Dragoon and French artist Moebius. Kotaro HAYASHIDA has his face revealed, discussing Chainbit and Pit Pot, the creation of Alex Kidd (it was meant to be Dragon Ball!), Phantasy Star, and Zillion. Unreleased games including a GTA clone, and the untold histories of Chieko Aoki and Miki Morimoto. Bits on Shining Force and Landstalker. Rieko KODAMA details Phantasy Star I and IV, plus Skies of Arcadia. Memorials for Shinya NISHIGAKI and Satoru IWATA.
Youji ISHII
Yutaka SUGANO
Steve HANAWA
Naoto OHSHIMA
Manabu KUSUNOKI
Kotaro HAYASHIDA
Rieko KODAMA
Yasuhide KOBAYASHI interview
Sega's early computer division, CSK Group and its Research Institute, the making of Sky Odyssey and Mister Mosquito (PS2), examination of CAProduction (including mini-interview with journalist and game developer Tim ROGERS), plus the pre-release ICO for the original PlayStation. Memorial for Isao OKAWA.
Success Corporation chapter
Takato YOSHINARI reveals incredible secrets about the arcade industry, the Sound Novel & Music & RPG Maker series, Psyvariar, Konami's patent trolling, plus his creation of the Simple and SuperLite budget series! A look at unreleased games Final Gate, Samurai Girl, OOParts, and DCon. Memorial for Masaya NAKAMURA. Second interview examines the Cotton series in depth. Third interview is all about the amazingly awesome Operation Darkness on X360.
Takato YOSHINARI
Masahiro FUKUDA
Ken OGURA
Microsoft Japan interview (anonymous)
All the secrets relating to the original Xbox and Xbox 360 in Japan, the amount of money paid for Blue Dragon and Lost Odyssey, an office map that features a massage room, mass company firings, a conspiracy to destroy the Japanese games industry, Hironobu SAKAGUCHI having parties so wild Microsoft changed its company rules, eight different unreleased games, and Yu SUZUKI's love of Swan Lake. Memorial for Hideyuki NAKAJIMA.
Takayuki KOMABAYASHI interview
Discussion of Japan's leading retro store, Beep Shop, and the future of old games. The difficulties involved in restoration and some of the country's rarest and most expensive items. Bonus feature on Recapture by Humming Bird Soft.
Ryota AKAMA interview
Analysis from the perspective of a Japanese player who loves Western games. History of the Japanese FPS dating back to 1981, sex in games, appealing to foreigners, domestic strengths, plus bonus interview with Kazki MATSUMURA.
Terry WOLFINGER interview
The creator of this volume's awesome cover discusses his early career, life at GameFAN magazine, and beyond!
Closing chapter
Bonus images unable to be featured in previous volumes: Hitoshi YONEDA's first artwork, Hudson's vending machine, Takeru's vending machine, Human Creative School, Masaaki Kukino's unreleased Konami monster fighter.