"Dragon Slayer is unlike any other game you have played on your computer!"
Falcom's Dragon Slayer is one of Japan's first action RPGs. It was released in 1984, it's often listed aside T&E Soft's Hydlide and Xtalsoft's Mugen no Shinzou as the most influential and important games in the genre, paving the way for other games like Xanadu, Ys, and of course, The Legend of Zelda. The name Dragon Slayer became the label that many future Falcom games were released under, which were programmed and directed by Yoshio Kiya, who had previously worked on Panorama Toh. There are eight games in this "series" (with some containing sequels and expansions, making for a complicated lineage). Despite the connection in name, most of the titles are actually pretty different from one another, despite some minor similarities.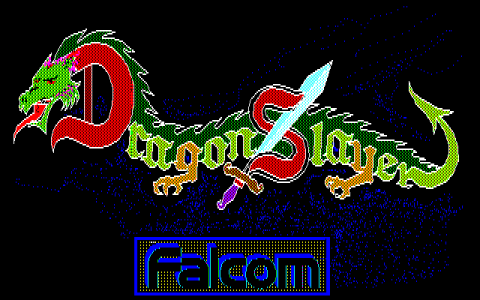 The original Dragon Slayer looks like a Rogue-style dungeon crawler, but the rules are slightly different. The deal is, you're a warrior who's stuck in a dungeon and needs to find four crowns, by killing a dragon. Unfortunately, you're incredibly ill equipped for someone to go about dragon slaying. Much like many older RPGs, both you and the enemies move around the maze, one block at a time. You start the game barehanded, and a run-in with even the measliest of enemies will send you to your grave. You can grab a sword, which… doesn't help much. Maybe you can kill a zombie or a mummy or two, but pretty much everything else can and will walk all over you. And thus, begins the foundation of so very many RPGs – The Grind.
The only way to make yourself more powerful is by exploring the dungeon and finding power stones littered throughout each level. By returning a power stone to your house (yes, you live in the dungeon, apparently), your Strength statistic slowly increases, and thus might be able to kill slightly more powerful enemies. You also find coins lying around the landscape, which boost your HP when you return home. You have access to some magic spells, although none of them are used for offensive purposes. They're mostly used to break down walls, warp throughout the dungeon, save the game, or bring up a map. All of your magic is powered by little bottles that are also haphazardly strewn around the place. You can also find a cross, which protects you from damage but prevents you from attacking anything; a ring, which lets you push blocks; and a key to unlock treasure chests. Unlike many games of this type, the levels aren't randomly generated, so the same objects appear in the same locations every time.
The kicker is, you can only hold one item at a time, just like in the Atari VCS Adventure from 1980. You can stockpile coins and magic potions, but you have to drop whatever else you hold in your hands before you can grab any of them. Needless to say, this makes things much more difficult – you're constantly dropping and picking up stuff, and transporting the power stones one by one to the house is monstrously time consuming. You can actually push your house, in case you find a cache of power stones, but it still doesn't do much make the game any less tedious.
And you'll need to do this, a lot, back and forth and back and forth, gathering stuff and killing enemies. There are lots and lots of weird enemies. It starts with the usual bats and skeletons and stuff, but there are also dinosaurs, gigantic dismembered feet, Frankenstein heads, friendly looking-penguins, vicious kangaroos, television screens, and other bits of oddness. Combat is handled in much the same way as most early Falcom RPGs – you bump into an enemy, and keep bumping into them, watching as both your hero's and your enemy's hit points slowly crawl towards zero. Killing enemies does give you experience, which determines the maximum HP you regain when you revisit your home. In other words, like many early RPGs, it's a war of numbers and resources. One of the worst things that can happen is getting trapped between enemies in the many narrow corridors found throughout the maze. All of the enemies are programmed to make a beeline straight towards the hero, and if you get blocked… well, you're dead, unless you have some magic to either transport or break down a wall.
In fact, there are a lot of things that can screw you over good. Some enemies drain more than just life – others sap magic, experience, and even strength. It's obviously infuriating to spend a whole hour carrying power stones back and forth, slowly building it up to near-maximum, and then having it all stolen in a prolonged run-in with a green monkey. There are also ghosts that run around, steal items and place them at random points in the level.
Despite its importance in the history of Japanese RPGs, Dragon Slayer is incredibly difficult to play nowadays. It's the kind of game that's almost entrancing because it's so huge and complicated and difficult, and the "fun" lies in trying to overcome those seemingly insurmountable odds. But among all of the trudging about and item collecting and random deaths and bizarre design flaws, there's really no sense of reward in anything you do. But then again, Dragon Slayer was made in 1984 – just playing the role of some little dude on a monitor or TV screen was its own reward.

Dragon Slayer was initially released on the PC-88. With its four color palette, it's pretty unattractive. A revised version, called LEVEL 2.0, improves the graphics and makes some game balance changes, like making it so monsters can't walk over crosses, but also adds in music during the game, sound effects and so forth. Most of the subsequent computer ports are based off the ruleset for LEVEL 2.0 (Specifically, the known FM-7 version resembles the older PC-88 release, and the known X1 version resembles the improved one, but there might have been more releases for both platforms.)
Many of the maps have hidden messages in them, with walls constructed to spell out various words. It's impossible to see many of these during the game since they require that you be able to view the whole dungeon at once (the map spell only lets you view portions). The first level has "Falcom" spelled out in power stones, while the walls of the second spell out "Dragon Slayer". Many other ones contain names of the developers. One particularly bizarre one spells out the sentence "The world grows more and more fierce and fewer and fewer people object to the atrocities committed by their own party." This is a quote by British philosopher Bertand Russell, but it's here attributed to "Lolita Miyamoto". There are lots of other things that are likely in-jokes among the development team.
A year later, the game was ported to the MSX by Square (yes, that Square – it was one of the first titles they published). It runs in a lower resolution and thus is even less detailed, although the more abstract graphics are actually easier to parse. The enemy sprites have been changed, so now you fight giant crabs and snakes. The game was released both on tape and as a remixed cartridge version. Although the basic gameplay is the same, the levels on the cart are entirely different. They have a lot more warp portals placed around, which is pretty bizarre. There is a password system (much like the save game function in the PC-88 version, this is accessed through the use of a spell), so you can skip between levels. Square also developed the PC-98 version. Certain versions also have a hidden dungeon creation function, so you can construct and save your own levels.
The MSX version was (most likely unofficially) converted to the SPC-1000, which is turned to monochrome graphics, but has a better sprite for the hero. Otherwise it's the same. There was also a version for Epoch's obscure console, the Super Cassette Vision. It apparently had a compartment to put in AA batteries to back up your status, which may be the reason why the current state of emulation is not good.
Epoch also was the company that published Dragon Slayer for Game Boy in 1991. The levels are based on the PC-88 version, and it's still practically the same game. The dumpy monochrome graphics are actually an improvement over either home computer version, although it's still rather sparse looking, and the accompanying music is amazingly atrocious. Movement is impossibly slow, which makes this version even more unplayable than the others, if that were even possible. It might not even be possible to beat the game on batteries, if you can even subject yourself to it that long.
Dragon Slayer also showed up on the first Falcom Classics compilation for the Saturn (along with Xanadu and Ys) developed by JVC Victory. Once again uses the LEVEL 2.0 PC-88 version as its basis. This is by far the best version of the game, as a lot of little things were done to make the it more bearable. Right at the beginning, you're given a sword, a key, and a single power stone, which at least puts you at the bare minimum requirements to kill some lower level bad guys. Spells can be assigned to the A or B buttons. Even the combat has been toned down, so you don't get crushed as easily as before.
The Saturn mode lets you walk diagonally and places the status bar at the top of the screen, while the Original mode keeps it on the right. While some of the redrawn sprites don't look as amusing as the PC-88 version, there are a few neat touches – after getting burnt by the dragon's flames, the hero remains singed for a short while as he comically walks around. The new music naturally gets quite repetitive, but it's pleasant for a short while. Alas, the game is still a huge grind, and as much as the improvements make the game bearable, there should have been some way to, say, makes the enemies weaker so it would actually take less than an hour to beat a level.
There's some interesting history behind the production of this game – two Falcom employees, Yoshio Kiya and Inoue Tadanobu, were put in competition and tasked with making RPGs at the same time. The one who made the best game would be published. Falcom chose Kiya's game, though the code for Tadanobu's game was included in the October 1985 issue of Login magazine, as part of the Program Olympic 2 feature.
Links:
Dra-Sle-Labo Japanese site devoted to the game.
Game Set Watch – Falcom Classics compilation An excellent review of all three games.
Screenshot Comparisons
Dragon Slayer Gaiden: Nemuri no Ōkan (ドラゴンスレイヤー外伝 眠りの王冠)

– Game Boy (1992)
Epoch, the folks behind the Game Boy port of Dragon Slayer, apparently decided to take the license and make their own game. Dragon Slayer Gaiden is a big departure from the original game and is much closer to a typical action RPG like Final Fantasy Adventure or Legend of Zelda. There's also an attack button, which is pretty rare for an early Falcom-related game. Other than the fact that there's a dragon to kill, and enemies spawn from gravestones, there's no real relation to the original. Otherwise, it's a pretty okay game, if not particularly noteworthy.
Dragon Slayer: Michi Kareshi Houkan no Senshi-tachi (ドラゴンスレイヤー 導かれし宝冠の戦士たち)

– iOS (2012)
After almost every following game with the Dragon Slayer label was essentially the start of its own sub-series, Falcom (or rather Bandai Namco) returned to the roots once again in 2012 – well at least in name. The iOS Dragon Slayer apparently was a social RPG kind of deal, and really didn't seem to have much in common with the original. Service was scheduled to be shut down on February 28, 2014, little more than a year after it started.