This sequel appears to have some type of time-travel storyline, as the usual fighter jets are replaced with World War II fighters. Two-player character selection is once again restricted to pre-defined pairs, but there are ten planes available (in one-player mode, the player can choose any of the ten, rather than be limited to half of them as in the first game).
The graphical presentation is almost identical to Aero Fighters 2, though the sound is somehow not as good. The boss theme, is memorable, and not in a good way. It is a very short song and it features vocals, mostly of a man screaming and gargling continuously. While funny at first, it can get annoying after a while, especially because you will be hearing that song loop over and over again. Levels tend to be short and bosses can take a while to defeat, usually longer than it takes to finish the actual level, so that screaming and gargling is going to be playing almost all the time.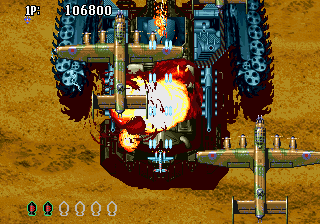 On the positive side, Aero Fighters 3 adds charge shots to a few of the playable characters. Additionally, many of the returning characters were redesigned with a fresh look that fits well alongside the other new faces in Aero Fighters 3.
Characters
The way branching paths are handled has changed too. At the end of each level, a large enemy plane tries to escape through a portal. Which path you take depends on which wing you blow off of it first. One game lasts eight levels, but they all come from a large pool of over fifteen. You end up getting harder levels and tougher bosses if you're doing well, likewise, if you end up with a bad score and use more than a few credits, the game pulls its punches and sends you to easy levels. This simple, but very well implemented rank system adds a lot to the already high replay value.
There are also new bonus levels that come up every third level. The bonus levels are much better and more interesting than in Aero Fighters 2. Some bonus levels are harmless, such as one where a mini-boss will literally fire upgrade tokens at you like bullets. Others are more dangerous, such as one where meteors will fly around the screen and spread both debris and upgrade tokens at the same time. The bonus levels add a lot to the game and make the simplistic scoring feel a little less simplistic, but not by much.
Lastly, Aero Fighters 3 makes an unexpected jab at Taito's Darius series, parodying its pre-boss warning message and making you fight the stupidest battle in the series, a giant mahjong tile dressed as a school girl that skips and prances when attacking and cries when it gets hit. If she kills you, you get a special game over screen where she prances and sings as the world burns. It is by far the funniest moment in the series and perfectly illustrates the wackiness that lies beneath Aero Fighters' seemingly generic exterior.
This game supports the Neo-Geo's region detection system. If played on a US-region system, the title screen reads Aero Fighters 3. If it's anything else, it instead goes by its Japanese title, Sonic Wings 3.