Fūun-Ken…
A completely new art of
fighting combined boomerang
and karate art….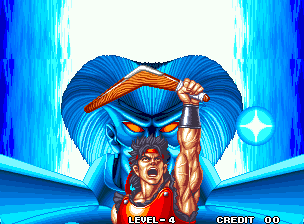 And this is how the attract sequence to Savage Reign begins – with our hero, Hayate, whacking of bunch of his opponents with his gigantic boomerang.
It's hard to take this too seriously. In America, boomerangs just provoke images of kangaroos, quirky crocodile hunters, Paul Hogan, and that one episode of The Simpsons where Bart was flown to Australia to get booted by the country's parliament. Maybe they're really impressive weapons elsewehre though, because the art of Fūun-ken is the big deal behind these two Neo Geo fighters, known to English speakers as Savage Reign and Kizuna Encounter: Super Tag Battle. In Japan, their names are Fūun Mokushiroku: Kakutou Sousei (Wind and Lighting Apocalypse – Fighting Genesis), and Fūun Super Tag Battle. Unlike SNK's more prolific series, they generally don't get wide recognition, partly because neither was ported to home platforms during the time of their original release. It wasn't until 2007 that both were released for the PlayStation 2 as part of the Japanese Neo Geo Online Collection, under title Fūun Super Combo. This version can in turn be found on the PlayStation Network for the PlayStation 4, which was released in internationally.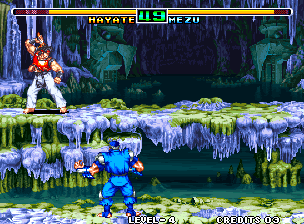 The plot is – a bunch of characters need to get together to fight an evil guy named King Lion. Each has their own crazy reason for competing. This plays out in what seems to be a futuristic, rundown version of South Town, the city from the Fatal Fury and Art of Fighting games, in SNK's plan to loosely tie together all of its games into some kind of hugely complicated continuity.
Characters
Links:
Neo Geo For Life – Kizuna Encounter Great Neo Geo site with lots of reviews.
Neo-Geo.com – Savage Reign Another great site devoted to SNK.