Read more about the history of wrestling video games in our comprehensive book, Wrestling with Pixels!
1991's WWF WrestleFest is still the best pro wrestling arcade game ever (sorry, WWF WrestleMania), offering an experience that was far beyond what consoles could offer at the time. 30 years later, official sequel RetroMania Wrestling enters a very different market. Can it still trade blows with the best of the modern era?
Initial impressions are impressive: it's endorsed by Technōs, developers of WrestleFest, and features a diverse roster of 16 grapplers not currently signed to a major promotion, from returning superstars to old favourites and new guns itching for a chance to prove themselves. The game is obviously a labor of love, with an extraordinary attention to detail that fans of the first game will absolutely relish.
Characters

Hawk
Returning from WrestleFest, Hawk is one half of legendary tag team The Legion of Doom/Road Warriors. He snacks on danger and dines on death.

Animal
The other half of the Legion of Doom, Animal is a pure powerhouse who is adored by fans and feared by enemies.

Johnny Retro
A high-flying ace, this well-traveled charismatic superstar is the protagonist of story mode.

Nick Aldis
NWA World Heavyweight Champion Aldis is a British competitor who you must beat in the "10 Pounds of Gold" mode.

Nikita Koloff
The "Russian Nightmare" is a legendary competitor from the 80s who strikes fear into the hearts of enemies.

Stevie Richards
Leader of the comedic "Blue World Order", Richards is one of the most beloved competitors from Extreme Championship Wrestling.
The Blue Meanie
Richards' stablemate, the rotund Meanie is the comedy sidekick of the bWo.

Hollywood Nova
Completing the trio, Nova's knock-off of "Hollywood" Hulk Hogan can be more trouble than he first appears.

Tommy Dreamer
The owner of the House of Hardcore, Dreamer is a premier brawler who will take the fight to opponents using any means necessary.

Jeff Cobb
Hawaiian Cobb is a powerhouse who can suplex you seven ways to Sunday.

Austin Idol
A legend in 70s and 80s Memphis, Idol's sneaky tactics usually end with him having his arm raised.

Colt Cabana
From old school to hardcore wrestling, to straight up comedy, Cabana is a versatile competitor who can do it all.

Warhorse
Inspired by heavy metal as much as pro wrestling, this headbanging newcomer has a bright future.

Zack Sabre Jr.
A technical and submission wrestling whizz, British Sabre is the antagonist in "Story Mode".

Matt Cardona
Formerly Zack Ryder in WWE, the newly revitalized Cardona is carving out an impressive career on the independent circuit.

Bryan Myers
Known as Curt Hawkins in the WWE as tag team partner to Cardona, Myers cannot be underestimated.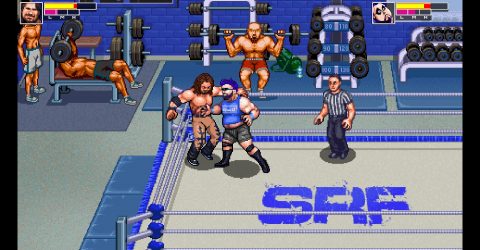 The wrestlers each play differently. Zack Sabre Jr. is a submission expert, Tommy Dreamer a brawler, and Hawk, Animal, and Jeff Cobb are powerhouses who will throw you around the squared circle with ease. It makes for a much more varied game, and offers a lot of replayability as you master each combatant.
The sprites are smaller than in WrestleFest, but much more detailed. On the whole, the bright cartoony pixel art is a treat. The animation is a mixed bag; those lifted from the first game bring back waves of nostalgia, but more complicated modern moves suffer when presented in only a few frames of animation, making it sometimes hard to decipher what is happening.
There's a plethora of arenas to boot; from recreations of real-life locations such as the NWA sound stage, designs similar to times past, and special locales designed especially for the game. With 17 to choose from, there's something for every taste, be it Stevie Richards' gym, the classic RetroMania arena, or Warhorse's hellish domain. The crowds teem with life, and eagle-eyed players will find a lot of Easter eggs among the masses, including many famous YouTubers making an appearance.
The sound effects are arcadey without being too cartoony, and have enough heft to match the in-ring action. Fast energetic rock soundtracks the game, with Josh Shernoff introducing the grapplers, and Colt Cabana and Ian Riccaboni providing play by play. The duo really add to RetroMania, evoking the commentary of WrestleFest.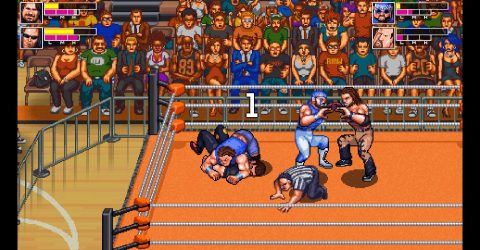 The controls are very different to the game's predecessor, and if you go in button mashing, you're going to be staring at the lights. Taking cues from the Fire Pro Wrestling series, grapples are timing based. There are buttons for light, medium, and heavy attacks. At first, you can only attempt weaker moves, but as a gauge under your lifebar fills you can start bringing out the big guns. Once entirely filled it flashes, enabling you to use a contextual finisher. Take damage and the gauge depletes, encouraging you to take the fight to your opponent and build momentum. Out of grapples, the same buttons perform strikes, there's a dedicated run/Irish whip button, another to tag out, and (finally!) one dedicated to taunting. You can reverse grapples by pressing the same button they do when they launch a maneuver.
It's easy to see why changes were made; while button-mashing was perfect for the arcade, a timing-based grapple system makes more sense for longer playthroughs at home. The movement speed has been vastly increased too, making matches faster and more intense. Unfortunately it feels borderline unfair in multi-man bouts, as an opponent can rush over the ring in the blink of an eye to break up winning pinfalls. The CPU also has a habit of spamming ground-based submission attacks, only letting you return to your feet after devouring a good chunk of health.
There are four modes on offer. "Story Mode" should be your first port of call, as the first chapter functions as the game's tutorial. Taking control of Johnny Retro (Johnny Nitro/John Morrison in WWE, Johnny Impact in Impact!) you start at the bottom of the ladder after having both of your legs broken by reigning champ Zack Sabre Jr. Your Rocky-esque road to redemption pits you against a rogue's gallery of grapplers in a variety of matches, scripted by visual novel-style interludes. The script is smart, witty, and features references that hardcore fans will adore. It even has minor branching pathways, too. It's a shame, then, that the whole mode can be beaten in just 90 minutes, with little incentive to return.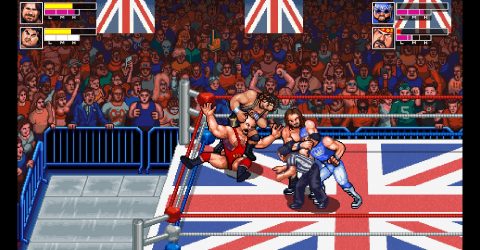 "10 Pounds of Gold" is similar to the Saturday Night's Main Event mode from WrestleFest, except this time you're wrestling solo in a variety of different bouts, including cage and multi-man matches. Eventually you face Nick Aldis, NWA World Heavyweight Champion, with the gold on the line. Beat him and, in a nod to the original game, you must run through more combatants in defence of your belt before a rematch with Aldis looms. Much like Story Mode, it's a lot of fun, but can be completed in around 40 minutes.
The "Royal Rumble" returns as the "Retro Rumble", and veterans will know what to expect; two grapplers start, with other wrestlers joining at regular intervals. Combatants can be eliminated by being thrown over the top rope, or pinned or submitted. In a major upgrade, now eight competitors can duke it out in the ring at once. There's a high score table, and a lot of enjoyment to be had trying to run the gauntlet with different wrestlers.
A standard "versus" mode rounds out the package, with an impressive amount of match types. As well as one-on-one and tag matches, there are three and four-way bouts, six and eight man tags, and the option to change the rules to cage, falls count anywhere, elimination, or tornado bouts. You can even defend championships. A handful of (easy) achievements add some extra challenge.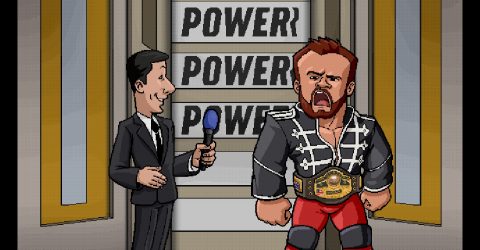 With limited single-player content, RetroMania Wrestling may seem like a game for pro wrestling die-hards only. This all changes, however, if you have pals to team with or beat on locally (unfortunately there's no online multiplayer). Much like the original, it's fantastic fun with friends, and where the game really shines. Coming full circle, it will be released on the iiRcade stand-up arcade cabinet, where it will find its natural home.
DLC is planned depending on the game's success. While the Story Mode comes to a satisfying conclusion, a cliffhanger promises quite a rush. Additionally, further fighters will be available, including Chris Bey, James Storm, and Mr. Hughes, along with more championship belts.