Released between Miracle World and the Master System version of The Lost Stars, Alex Kidd BMX Trial is the only title in the series to remain exclusively in Japan, probably because it requires the Master System's analog paddle controller, which was not released in other territories.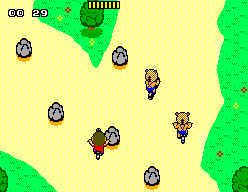 Alex Kidd shifts genres once again, with this one being a bike racing game. However, it is rather unusual, since there's no ranking and the only time limit involves reaching the end within 24 in-game hours. The goal of each race is simply to find the exit. Though the screen scrolls vertically, each stage is several screens wide, and loops continuously until you've found a tunnel to the next area. Most levels have several exits, each of which will take you to a different level from the others.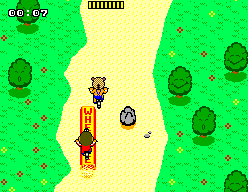 There are five stages in total, and the ultimate goal is to make it to Radaxian Castle. If you know what you're doing, you can accomplish this in a couple of minutes. Until you memorize the proper path, you'll probably just end up biking in circles.
The stages are filled with rocks, trees, cactuses, and other obstacles that will cause Alex to fall off his bike and lose a little bit of life. The exception is one level that takes place atop the ocean waves, where you ride on some kind of flotation device and need to avoid whirlpools.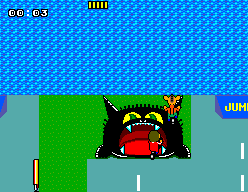 There are several opponents in the race, but they only exist to knock Alex out of the way. Unfortunately they are quite aggressive, and there's no direct way to fight back against them. When you run out of health you lose the game. Scattered throughout the stages are wheelie ramps, which will grant Alex invincibility for about a second as he pops a wheelie, and jump ramps, allowing Alex to leap briefly into the sky. Power-ups include onigiri to restore health, clocks to reset the timer, and jet packs that allow you to fly.
Alex looks the same as he did in Miracle World, though the enemies – including tigers and kappa imps – are all new. The background details are amusing, like the colorful faces on the trees, and the goofy looking exits.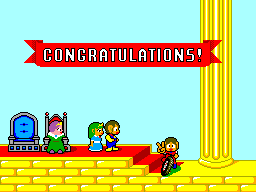 Finding a physical copy of the game and the controller is expensive, while playing the game on emulators, either using an analog controller or a mouse, makes it very difficult to control.