After farming out two separate version of Ys IV, Falcom finally decided to enter console development for themselves with the fifth Ys title, released solely for the Super Famicom.
Ys V begins as Adol lands in the region of Xandria, in the realm of Afroca (the Ys parallel to Africa). The red haired adventurer's reputation precedes him, and so Adol is contracted by a wealthy merchant named Dorman to hunt for some crystals. These crystals are said to unlock the secrets of Kefin, a city in the desert that disappeared over five hundred years ago. The desert has mysteriously been spreading, displacing and ruining some of the towns in the area. The knowledge of the people of Kefin, who were said to have discovered alchemy, will supposedly help save the land. Most of the game is a fairly standard "find the crystals" plot, but by the time Adol discovers Kefin, and uncovers the villains and their motivations, it becomes a bit more interesting.
Characters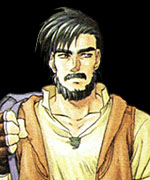 Stoker
A spirit from 500 years in the past, Stalker might seem sinister at first, but he actually supports Adol's quest, and occasionally pops up to elaborate on the backstory. He longs deeply for his fiancee, Foresta, who is encased in ice. The game's most tragic character.
At first glance, it's easy to tell this doesn't look like Ys. The thing about the series is that it always did an excellent job – with the technology it had – in transporting players into another land. In Ys V, it merely seems like Adol wandered into some other generic Super Famicom RPG. The graphics are clearly aiming to get away from the super deformed look of the other games – it's weird to see Adol with realistic proportions – but ends up looking comparatively dull. Even the menu system looks generic. Forget anything resembling cutscenes, either. On the plus side, the playing field has been expanded, seeing that the usual picture frame as been ditched.
The music is mostly orchestral, as opposed to the synth rock of the earlier games. Even though it's a huge change of pace, the soundtrack itself is still fantastic, with some themes rivaling even Square's SNES soundtracks, and the sound samples are very high quality. The familiar sound effects are the only things that have really carried forward from the previous titles.
Beyond the aesthetics, there are some major differences in the gameplay too. Gone is the "ram into the baddies" battle system, replaced with a more standard "swing your sword with an attack button" method. Conceptually there's nothing wrong with changing things up, but the combat here is still stiff and awkward. In the beginning, Adol can only stab his sword and it can be difficult to attack effectively, especially since you can't attack diagonally. However, other swords later in the game are swung at a wider arc, which makes things a little easier. Adol can also use his shield to defend, which gives a little more flavor to the combat system. He can also jump, which gives the level layouts more depth. However, there's only a few parts of the game that really possess any challenge, particularly a rather irritating section by a waterfall.
Some of the boss battles are annoying too. This was always the case in previous Ys games, especially since the bump attack system and off-kilter hit detection, but despite having an actual sword button this time, Adol moves too slowly to properly react. However, in the end it's much easier than previous games, because you can carry many more healing items to be used during combat, whereas previously you were restricted to one. This means that most battles can be one by getting as close as possible and hacking away, while taking potions when your health gets too low.
Rather than traditional magic, Adol uses "alchemy", but it functions identically. These are cast by equipping stones to your sword, then charging them up with the R button. While you're given your first spell – the standard fireball – you're expected to craft future spells on your own. This is accomplished by combining three different elemental crystals. Most crystals are found hidden throughout the environment, so it's a little annoying to randomly search every square inch of each area to find these. There are six different elements, and a total of 18 spells to use. While a relatively open ended system like this might sound good on paper, many of the spells are fairly lame, and you don't get to test them out until you've already used your crystals. Various enemies are weak or strong to different elemental magic, but otherwise there's not much of a reason to use it.
There are actually two different experience levels, physical and magical. The type of experience obtained depends on how you kill the enemy. Physical attacks will raise melee strength and HP, while magical attacks will raise magical power and defense. Gold is also not obtained directly from dispatching enemies, but instead many foes will drop gems, which are then sold at any store. You can only save at inns, but there is a quick save option that you can reload in case you get killed, which disappears if you shut the game off.
The major problem with Ys V as a whole is that it's so separated from its forebears. It doesn't look, sound or play like an Ys game, and even though the story has many of the typical elements, it still doesn't quite feel complete, especially Dogi is completely missing. It's not a terrible game in its own right, but the combat is clunky, and while the story has some good bits near the end, it still feels undercooked. Compared to other action-RPGs on the Super Famicom, it's strictly in the middle of the road.
The initial release was considered too easy by many, so Ys V Expert was released a few months later. Obviously, the major difference is that it's more difficult, but there are also some slightly redesigned areas, bug fixes, as well as a hidden extra dungeon. There's also a time attack mode, but otherwise, it's mostly the same game. This version was published by Koei, who had also been involved with the Super Famicom installments of Brandish.
Although Ys V was not initially published in English, a fan translation was released by Aeon Genesis in 2013, with localization by Deuce. It is only applicable to the original release.
Ys V: Lost Kefin, Kingdom of Sand

– PlayStation 2, Mobile (March 30, 2006)

Taito's remake of Ys V is probably the best of the PS2 remakes, if only because it actually makes some improvements on the source material. However, there are still some pretty severe problems.

It uses the same low-budget engine as the Ys IV PS2 remake did, though there are some minor gameplay tweaks. The three strengths of sword attacks are gone, although the combat is still slow and unwieldy. However, Adol can whip out his shield to defend himself, like the Super Famicom version, which adds a small layer of strategy. The enemies act in aggravating fashions, often dancing just outside of range of your sword swipes, which are still difficult to control effectively. It's more unbalanced than a typical Ys games, when you go through an area and find that some enemies are incredibly dangerous, while others inflicts only a single HP of damage.

The level design still chiefly consists of huge, flat, open spaces, making them feel one-dimensional even in comparison to the SFC game. The only area with any real platforming elements, the waterfall, is even more frustrating than the SFC version since it's hard to land on some of the smaller platforms. In many areas, it's difficult to tell one section from the next, especially the camera reorients itself on its own in arbitrary places. There's no map at all, which makes navigation even more confusing. Have you previously visited an area? It's impossible to tell! Thankfully, you can still quick-save wherever you want.

The magic system has changed slightly from the SFC version. Elemental crystals are found by defeated enemies, and you need a certain amount of each to craft different spells. You can then load a number of spell orbs onto your sword, and use them successively, as long as you've given them time to charge. It works slightly better than the old system, but they're extremely difficult to aim. There are only five elementals this time – four are used for stone crafting, while the fifth is used for upgrading weapon strength at blacksmiths. Stones can only be crafted by visiting Massea, whereas previously there were alchemists spread throughout the country. There are warp points throughout that let you jump back to Massea's cabin, although since the trip is one-way, you need to backtrack over old ground.

The storyline has been altered quite a bit from the original. In 2003, Falcom released Ys Complete Works, which detailed the original story draft for Ys V, revealing a number of elements that were cut out of the Super Famicom version. This remake reintegrates some of these aspects. The biggest change is that Dogi is now along for the adventure, who was mysteriously missing from the SFC game. Outside of the intro, he communicates mostly through letters found at different inns throughout the game. However, there's a new section where Adol and crew get locked up, and of course, Dogi is there to bust them out.

Most of the other story changes flesh out some of the characters and tie them more closely with the plot, some of which are entirely original and weren't part of the original design document. Dorman's motivations paint him as more than just a power hungry villain, and both Massea and Nina play more integral roles in the story. This version also makes reference to the Eldeen, the winged race that play a big role in Ys IV and Ys VI. This ties the game more closely to the mythology of the rest of the games, whereas previously it was almost entirely unrelated.

Not all of the changes are good though. Stoker and his lover Foresta are cut entirely. His story wasn't particularly important to the main plot, but his emotional angst helped make the original game a little more interesting, and his presence is sorely missing. Additional, many areas of the game are simply missing. Foresta Cave is gone, with the events therein moved to the later Nead Cave. The jungle and marshland maps, as well as the woodcutter town of Kokiriko, are completely absent. Ys V was not a long game to begin with, but the PS2 port is even shorter. There are also a few hugely irritating escort missions, where your AI companions are spectacularly dumb. Of course, if they get killed, you get a Game Over.

Some of the boss fights are different too. When Terra and her gang trap you in the arena, previously you just fought a boar, which ran around and wasn't terribly fierce. Here, you fight a gigantic dinosaur. In the battle for the water crystal, previously you fought a squid, but now it's a crab. Unfortunately boss fights are still awkward, because the hit detection is often dreadful.

Even though the graphics are still pretty underwhelming, the look and feel is closer to the rest of the Ys games, and there are plenty of nice portraits for all of the major characters. The music is comprised of pretty standard MIDI orchestrations, but they hold up favorably compared to the original version. (It also benefits at not having an Ryo Yonemitsu CD audio arrangement to compare it, which is where the previous PS2 incarnations came up dry.) There's plenty of voice acting too.

Overall, the Ys V remake is a mixed bag. Many of the plot additions are welcome, but parts of both the story and the world are missing. It definitely feels more like an Ys game, due to the art style and storyline tweaks, but it's still cheap and amateurish, and feels much sloppier than the SFC game.

Once again, Arc System Works was hired to create a downsized version for mobile phones.
Screenshot Comparisons