The Phillips CDi wasn't exactly meant to be a game console – rather, it was a "multimedia" player that was meant to act as a cheaper alternative to a PC, meant to be placed in the living room and acting as an intermediary step between VHS and DVD. Despite its inability to do much beyond playing video, developers published games anyway, most FMV-based, ranging from acceptable (The 7th Guest) laughably amusing (the Zelda CDi games and Burn: Cycle). One of the killer apps for the platform was meant to be Interplay's Voyeur, an adult tale of suspense, crime and murder, aimed an at audience far removed from those kiddie Nintendo games. It is also terrible.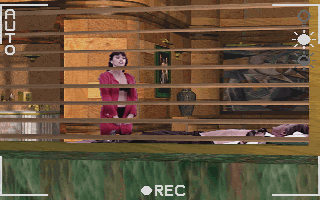 The future of the United States is in jeopardy, as nasty man Reed Hawke, CEO of the insidious Hawke Industries, is going to run for president. (There is an undue amount of emphasis placed not on the fact that he won, or even in a position to win, but in just trying to campaign, he is apparently a tremendous danger to millions of people.) He has invited his family to his fancy mansion for the weekend, under the assumption that they all support him. But he's apparently ignorant to how terribly they all view him (due to all of the environmental pollution and sexual molestation he's been involved with), and as such, a private investigator has been hired to take him down.
Conceptually, the game is the 1989 movie Sex, Lies and Videotape, taken literally. The entirety of the game involves sitting in your apartment, peeping on the Hawkes, and video taping everything, with the intent of using evidence against him. The video is much like the Tex Murphy games, where you have digitized actors acting in front of chroma key backgrounds, superimposed onto computer generated rooms. You are provided with a view of the exterior of the mansion and focus on every major room, though the game politely informs you when something is going on in a specific area by changing icons. The game is divided into time blocks that pass in accelerated real time, and since there's multiple things going on at once, it's impossible to view everything in the first go.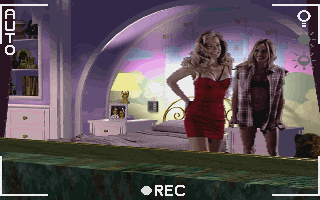 On a broad level, Voyeur is similar to Night Trap, Double Switch and Ground Zero Texas, in that you have numerous cameras to switch between. The major difference is that the Hawkes don't know they're being watched, so they never address the player directly. There's also no traps set off, nobody to shoot, and nothing to do but watch. The "game" portion comes into play when deciding what to do with the footage. Reed is not above murder and he can and will kill any of the four primary family members. (Which member is randomly decided, so the plot is slightly different every time you play.) So if it seems like one of them is in danger, you can send the tape straight to them. Guess right and you'll save their lives; guess wrong and Reed will intercept the tape, then send his secretary to kill you. (What kind of awful private investigator would put a return address on something like that? Why would you even stick around in that apartment?)
Alternatively, if you record anything particularly incriminating, you can send it to the police to have him arrested. This never works like it should though. Early on he'll openly confess to dumping harmful chemicals, and even if you blow the lid on this, it will, for a flimsy and contrived explanation, not be enough to stop his campaign. The entirety of Voyeur revolves around the good old terrible adventure game technique known as "trial and error", wherein you only know which scenes are essential by playing the game over and over. It's a short game, containing a bit over an hour of video total and lasting about half that length, but there's no way to save the game. You can technically click past scenes you've seen, but then it's not recorded, thereby forcing you to rewatch early scenes over and over. You can also use your super duper lenses to look at computer screens, books and other documents – with crystal clarity! – that may or may not be incriminating evidence.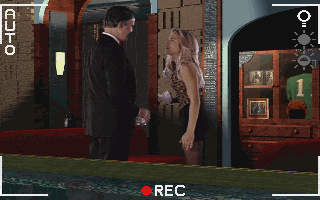 The writing and acting is, of course, hammy, melodramatic, and absurd. You know Hawke's sister is awful because she's snooty and racist (and also maybe sexually attracted to him?)! You know Reed's son is angry at him because he shouts straight at the sky! You know his niece is crazy because she has a leather fetish and is bicurious! The best scene of the game is when her "friend", who is wearing nothing but underwear and a "Hey! I'm a lesbian!" plaid flannel shirt, almost convinces her to experiment. Much of the humor revolves around Reed's kinky, role play-loving, sultry lingerie-wearing secretary, which you see played out in the very first scene of the game.
Naturally Voyeur's appeal to meant to be sexually provocative (you have to enter a code to start it (it's 3333)) and to give the thrill of peeping into other people's tales of sin and debauchery, but outside of the promise of sex and nudity (there's nothing graphic, with the worst of it being heard when the shades are drawn) it's really boring, and incredibly disjointed from a narrative standpoint. Voyeur's big "hey, I know that guy!" actor is Robert Culp, known for 60s spy comedy I Spy, and who later went on to redeem himself in the realm of video gaming by providing the voice of Dr. Breen in Half Life 2.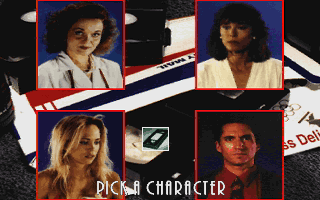 Most amusingly, the game ends with the below message, a piracy warning like at the end of movies. Oh, such lofty aspirations the 90s multimedia titles had!