The idea for an action RPG in the world of Virtua Fighter has been floating around since 1994. Both the animated series and Shenmue hinted at the possibilities, but a Virtua Fighter Quest shouldn't manifest until ten years after the first conceptions. It wasn't quite what most would have expected, though, but the Japanese title Virtua Fighter Cyber Generation ought to have been enough of a warning – only in case the spiky-haired twelve-year old on the cover wouldn't suffice to tell everyone that this wouldn't be much of a Virtua Fighter game.
The Virtua Fighter – Shenmue connection
SCREENSHOTS MISSING
While Yu Suzuki was doing martial arts research for Virtua Fighter 2 in China, the surroundings inspired him to dream up a RPG offshoot for his fighting game series, where Akira would go to China and have adventures like in a kung fu movie. The project would eventually transform into Shenmue, but some of the image on Akira's CGI Portraitdisc show him with the travel bag Ryu Hazuki would carry around in Shenmue II. He's also wearing a white T-Shirt and a red-and-black wrist band – exactly matching Ryu's attire in the Saturn prototype of Shenmue, before got his trademark leather jacket.
The cover brat is Sei, who starts the game just on the verge of becoming a Treasure Hunter – actually he's "hacking a server" with his buddy Hayami, but Virtua Quest's concept of virtual reality follows a very Tron-like world view, where abandoned servers are equal to ancient ruins, and retrieving lost data is an adventure that would get Indiana Jones excited. Other elements are borrowed from The Matrix, because many citizens chose to live in the virtual land Nexus, which is modeled after the real world. In fact, the only areas that look like the stereotypical "VR" space are the interluding tutorial sequences – every other stage apparently is just what the artists felt like creating at the time, be it an urban cityscape or a jungle. The starting hub where the Hunters Guild is located, on the other hand exudes a strong Phantasy Star Online vibe.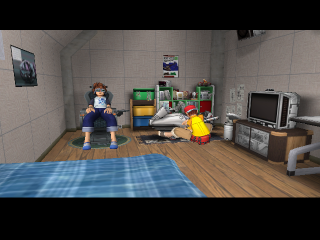 Despite its far-out story, the game is a rather traditional action adventure, so most of the time you fight your way through enemies, do the occasional platforming and explore mid-sized branching areas to find a series of objects. The game adopts all the modern platforming mechanics known since Prince of Persia: Sands of Time, including hanging on ledges, wall running and even a grapple beam that can hold onto sparkling lights. Only it's all a lot more clunky than in Prince of Persia. The fighting mechanics are actually pretty fun, especially since Sei's grappling beam is not only good for platforming, but he can also use to pull himself towards enemies, which helps a lot to keep up the pace of the battles. A decent amount of destructible objects further helps to accentuate the action.
Sei also gets a little sentient support unit that's not totally unlike the Mag in Phantasy Star Online. It constantly floats around him, and he can feed it with items to transform it into various forms with different abilities. Some protect him from damage with a shield, others discover traps or hidden items, or help attacking the enemies.
But how does Virtua Fighter factor into all this? Hidden throughout the servers are so-called Virtua Souls, long lost records of the contestants in an ancient martial arts tournament. When Sei comes across one of them, he gets transported into a VR arena, where one of the Virtua Fighters – the complete cast from vanilla Virtua Fighter 4 is in the game – spurs some fighting philosophy before challenging him to a sparring. If he wins, the virtual martial artist teaches him one of his trademark combat move in a horribly motion-blurred cutscene. Aside from his standard punch combo, which never changes, Sei can map six slots for special moves: A charging attack, a throw, a "floater" (typically uppercuts and other attacks that launch the enemy into the air), a "strike" to push attackers away, a dashing move and a jump attack. All these require him to first charge up his special gauge, though.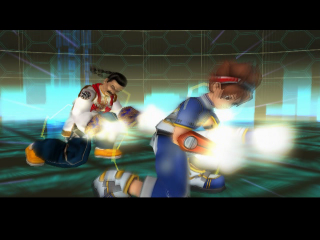 Some of the Virtua Souls also have key functions in the story – the first move Sei learns, Akira's Mouko Kouhazan, for example, allows him to break through a glass window to chase some enemies that have kidnapped his fellow Treasure Hunters. Finally, fighters that have been met once can be summoned for a devastating super move, but that comes at the cost of a big chunk from the player's own life bar. Some Virtua Souls are also locked in star-engraved boxes and require a Virtual Soul attack to open. Some can only be accessed through higher-tier attacks, while others are hidden well inside the stages. Every known server stays accessible to revisit, requiring quite a bit of backtracking and exploration to find all of them.
Without the inclusion of the Virtua Fighters, Virtua Quest would be simply a routine action adventure/platformer with not too interesting platforming and mildly interesting combat. The plot and characters are the usual verbose 3rd-class anime drivel: Sei only reluctantly agrees to become a Treasure Hunter, so he can pay his overachieving friend Hayami to build him an air bike for the big race he wants to partake in. But of course it turns out he's The Chosen One, and only he can obtain the powers to save the cyber world Nexus from evil adult hackers. The Virtua Soul fights and their fighting styles, however, are the greatest and most substantial piece of fanservice ever. The idea of a free-roaming brawler in the Virtua Fighter universe is actually great, and the fighting system, while much simpler, takes some subtle hints from its big brothers. It's just unfortunate that the story premise is so silly and so not becoming of the Virtua Fighter series.
Comparison Screenshots