Mobile Suit Gundam: EX Revue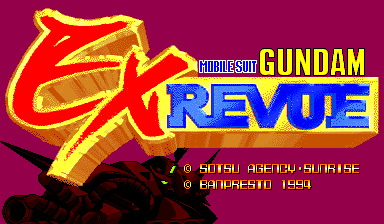 EX Revue, the second and last of the Gundam arcade games, is infinitely better than the first Gundam fighter. First of all, it has a larger roster, consisting of most of the pivotal characters from the One Year War. Most of the cast from the first arcade Gundam game appears here, although Sayla has been unceremoniously dropped, and the standard Zaku is now piloted by a faceless soldiers instead of Jene.
Characters
EX Revue has a more refined and combo-friendly combat engine, and insanely good enemy AI that'll have your palms sweating. It's also a lot easier on the eyes, with far more fluid animation and more realistic, robotic movement. One of the best things about this game is how vividly it recreates some of the most iconic scenes from the One-Year War. The amount of detail and dynamic action in the backgrounds is truly breathtaking.