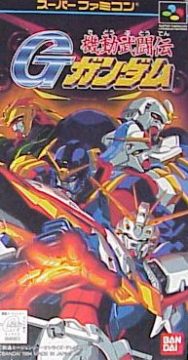 Kidou Butoden G-Gundam was the first console Gundam fighting game and that makes perfect sense because in essence, the entire G Gundam franchise was designed around the "world warrior" themed fighting games that were running rampant during the early 90s. The show was the first of the many "alternate universes" that were spawned after the conclusion of the Universal Century franchises, and was heavily scrutinized for its often boring, battle-themed plot, almost Pokemon-esque emphasis on techniques and its over-the-top, highly stereotypical and sometimes downright offensive character designs (i.e. Gundam Mexico is known as the "Tequila Gundam", wears a poncho and a sombrero, Gundam Maxter is an assemblage of American sports and western archetypes, etc.). If you don't take the show too seriously, it's pretty funny, but it'd be a lot funnier if the show didn't only stereotype other countries besides Japan. Where's the Businessman Gundam who fights with a briefcase and tries to steal the other Gundams' panties, or the Schoolgirl Gundam that constantly giggles and eventually gets assaulted by Tentacle Gundam?
Ah well. That said, G-Gundam is exactly what you'd expect from your average fighting game of the mid-90s. Nothing special, just another cash in on the Street Fighter phenomenon. The game is played out in tournament style, with varying numbers of characters to choose from depending on which mode you select. Story mode only allows you to play as the star Gundams from the show:
Characters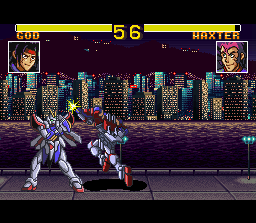 G-Gundam is a solid-enough Street Fighter clone, but it doesn't really do anything to establish itself. The fighting system is a bit clunky and the collision is just weird. It's almost impossible to do combos. There's also "super moves" you can perform when you're low on health, but these have extremely obnoxious command motions. A shining example of how little attention was paid to this title is the aforementioned throw glitch with Gundam Rose. If you get in close to an opponent and throw them, you can throw them again while they're still in their recovery phase, before they get a chance to attack, and repeat this until they're dead. You can do this to every enemy, even the last boss, and get away with it without a scratch.
Graphically, it looks decent for an SNES fighting game, but the animations are a bit stiff and some of the background elements, like the fog in Dragon Gundam's stage, can really bog the game down. The sound effects are really weird and sound more like human collisions than giant robots. On the other hand, some of the music is somewhat catchy, but nothing particularly memorable. All said, G-Gundam is a somewhat mediocre game based off of a somewhat mediocre show, and isn't really worth tracking down in cart form unless you're a collector.