Gundam Wing: Endless Duel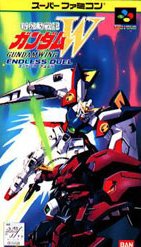 Shin Kidou Senki Gundam Wing: Endless Duel was published by Bandai in 1996 and released for the Super Famicom in Japan. From here on in, the Gundam 2D fighting games were designed by Natsume, known for a number of excellent 8-bit titles, as well as calmer fare like Harvest Moon. The anime takes place in a alternate timeline from most of Gundam, In the future man has colonized space. The Alliance rules the space colonies with a dictatorship, and it's colonies wish for peace. The movement for peace is led by a pacifist named Heero Yuy, who is the namesake for this game's hero. Heero Yuy is shot dead prompting the scientists who built a mech named Tallgeese, to turn rouge, training five mech pilots to get revenge against the Alliance. The series follows their exploits, whereas the fighting game just has awesome looking mechs beating the hell out of each other. In other words, it's perfectly suited for gamers who don't care about mecha anime but do happen to like 2D fighters.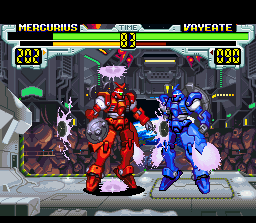 Much like G-Gundam, Endless Duel takes after Capcom fighting games, but does thing much better than its predecessor. It's basically Street Fighter Alpha clone which has elements of Capcom's Vs. series and maybe even a little Darkstalkers. Even though it doesn't really do much that has not been done elsewhere, it is not simply a inferior clone, like Visco's Breakers.
The fighting is what you'd expect from a Capcom style fighter. There is dashing, air blocking, air dashing (performed by tapping two attack buttons at the same time), lots of comboing, and juggling. There are a handful of differences, however. For instance, Endless Duel allows double air dashing, or a "vernier", a move which makes your mech float downward temporarily,after a air dash by holding down, or forward, or back. It is also possible to attack a opponent while they are on the ground, which is rare in 2D fighters. Its juggle combo system is more or less limitless and this, combined with extensive air dashing, allows for extensive air combos. It is generally among the more aerial combat based fighters ever made and has a very high playing field, extending about one and a half screens high.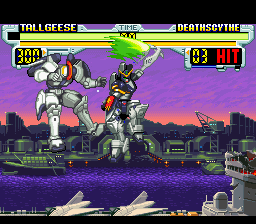 A very interesting game play element never seen in any other fighter are "vulcans". These are projectiles that every character other than Epyon has, which do very little damage but can be done by tapping a punch button whenever a cross-hair appears in front of your character. They will only go as far as that cross-hair, however. It also has a "power meter", which is depleted by supers or level two specials. Level one specials are performed with Y and B. Level two specials are performed with A and X. A level two special with deplete 100 points from your power meter and a super will deplete 200 points from your power meter. Your meter can be replenished my blocking hits, or executing specials or supers, or landing hits against your opponent or having your attacks blocked.
There are nice details, in the audio design, like the noise of the mech's joints when they move or the mechs slamming on the ground when they land. The music during the game's intro is a synthesized version of the anime's second opening theme, "Rhythm Emotion" by Two-Mix. All in all it is pretty energetic, well applied stuff that is appropriate for this game.
The game has a cast of nine playable characters in one player mode, and a boss character playable with a cheat code in the other two modes.
Characters
All in all, Shin Kidou Senki Gundam Wing: Endless Duel is one of the best fighting games for the Super Famicom. Definitely worth checking out for fighting game aficionados, even if you're not into Gundam.
Related Games: Mighty Morphin Power Rangers: The Fighting Edition

– SNES (1995)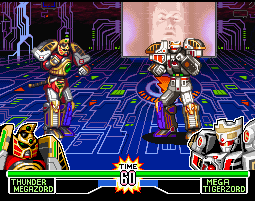 Roughly six months prior to releasing Endless Duel, Natsume had developed Mighty Morphin Power Rangers: The Fighting Edition for the SNES, exclusively for an American release. There are only eight mechs, the backgrounds are limited, and the screen size is cut due to an obnoxiously huge status bar. Even though it's not a particularly deep game, but compared to a lot of other Street Fighter ripoffs at the time, it's a remarkably well put together game. Endless Duel essentially uses a refined version of this same fighting engine, so Mighty Morphin Power Rangers: The Fighting Edition is more or less its predecessor. It's worth seeking out if you like the gameplay from Endless Duel, because it feels pretty similar, and also has pretty rocking music.