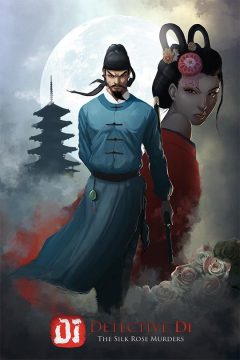 Detective Di: The Silk Rose Murders is a mystery point and click adventure game, channeling the same energy as classics of the genre like The Dagger of Amon Ra and Gabriel Knight: Sins of the Fathers. Unlike those games, however, Detective Di stars a legendary Chinese protagonist.
Di Renjie – a county magistrate who lived during China's Tang and Zhou dynasties – takes center stage in Canadian developer Nupixo Games' first major adventure game, which came out on the PC in 2019 following a successful Kickstarter and has since been released on the Switch. Players must guide Di at the start of his investigatory career as he solves a series of crimes, ranging from the death of a Korean diplomat to a trail of brutally desecrated bodies in China's then-capital city of Chang'an. As the game progresses, Di must put the pieces together to solve a larger conspiracy embroiling Empress Wu Zetian, the first and only female ruler of China.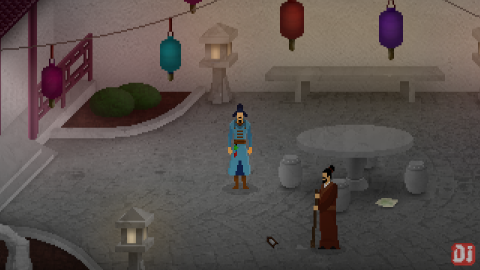 While Di Renjie might be a newcomer in the adventure game scene, the esteemed detective has made a potent mark in the literary and film worlds, and is often described as a Chinese Sherlock Holmes. Di became internationally known after the 18th-century story Di Gong An (Cases of Judge Dee) was translated into English by Robert van Gulik, a Dutch diplomat in East Asia. The story, roughly inspired by the real cases of Di Renjie, was published in 1949 as the Celebrated Cases of Judge Dee. Van Gulik and a variety of other authors, both Chinese and non-Chinese, would go on to write dozens of tales starring the titular judge, and actor Khigh Dhiegh played him in the 1974 television movie Judge Dee and the Monastery Murders, which notably starred an all-Asian cast aside from Dhiegh himself. More recently, celebrated Hong Kong director Tsui Hark filmed a Detective Di trilogy from 2010 to 2018, with Andy Lau portraying the detective in the series' first entry, Detective Dee and the Mystery of the Phantom Flame.
Minh Ta, the founder and main face behind Nupixo Games, was fueled by all of these media interpretations when it came time to flesh out Detective Di: The Silk Rose Murders. After developing smaller games in Flash for many years, Ta finally decided to build a beefier project, and drew from his Chinese roots for inspiration.
"It took a long time to settle on the idea of what this first major game would be about, but I knew I wanted to create something more personal – I wanted to tell a story that comes from my cultural heritage and background," Minh said in an interview. "As a native Cantonese speaker (I'm originally half-Chinese, half-Vietnamese), I've been watching Hong Kong television and movies since I was very young, so when Tsui Hark – one of my favorite directors – announced in 2010 that he was doing a Detective Di movie, I immediately took notice. Even though I had read a few of the Judge Dee books by Robert van Gulik some years before, it never really occurred to me that the character could have such wide appeal. That sort of reignited my interest in Di Renjie. And of course, the whole 'Sherlock Holmes of Ancient China' was an appealing notion to me. I joke about it now, but ultimately I found it helpful to tap into comparisons to the famous Victorian detective. The parallels are readily identifiable."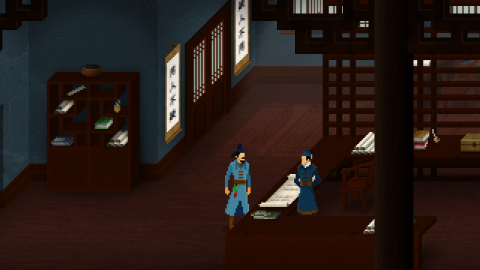 In developing Detective Di: The Silk Rose Murders, Ta focused on weaving an elaborate plot appropriate for a detective defined by his literary roots. The game plays out a bit like an Ace Attorney entry set in China, with Di travelling across crime scenes in Chang'an, interrogating suspects and slowly piecing together the connections between murders. Once enough clues have been uncovered, a "case reenactment" mode opens where Di walks his audience through the killings step-by-step, in a manner similar to the crime reconstruction sequences in Frogware's Sherlock Holmes series or Batman: Arkham Origins. The game absolutely excels at weaving a thread between all of its cases, and the overarching story deals with compelling themes of gender inequality as well as the perspective of Wu Zetian, who is well-remembered for her skill at governance and expansive spy network, but was also placed under close scrutiny because she was a woman.
"I took a little bit of inspiration from both old and new," Ta said. "When I think of classics like Day of the Tentacle, Grim Fandango, or Gabriel Knight, what strikes me the most is the fabulous writing – that's the high mark I try to set for myself. For newer titles like Ace Attorney or Professor Layton, I really admire how indelible those characters are."
Speaking of Professor Layton, the well-researched plot does get occasionally interrupted by overly-complicated puzzles which force Di to jump through hoops to advance the story. For instance, halfway through the game Di has to convince a fisherman to ferry him to a larger boat, but the fellow's spooked by floating lanterns that a nearby woman has placed on the water. To get the woman to remove her lanterns, Di must first decipher a coded letter from her sister, and the interruption to the narrative is more than a little obfuscating.
These foibles and a few instances of pixel hunting aside, Detective Di: The Silk Rose Murders stands tall among other point and click experiences, particularly due to its unique protagonist and attention to history. In a poetic full-circle, the game was also fully translated into Chinese, with all of its puzzles – several of which involve complex wordplay – localized and rendered in calligraphy.
"It felt quite gratifying to see the game take on new life in the form of a complete localization by a very talented team in China," Ta said. "Not only did they translate all the text, but they also went the extra mile to persuade a renowned calligrapher to hand-write all the in-game objects such as letters, signs, and so on. It was beautiful! Reception by the Chinese players was also immensely positive. Honestly, I was quite nervous at first, but by and large, I think they really understood what we tried to do."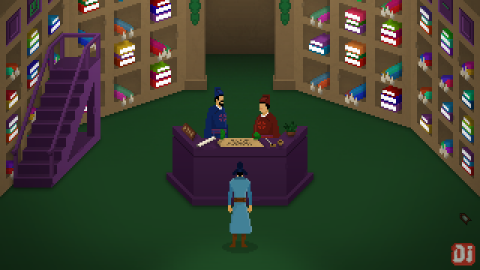 Ta is currently hard at work on a sequel dubbed Detective Di: The Midnight Kingdom. While the game has no definite timeline for release and Ta's lips are sealed regarding the full extent of Nupixo's plans for Di, considering the detective's enduring legacy in books and film, there's no shortage of game concepts to expound upon. If Nupixo Games keeps at it, Di Renjie could easily become as recognized in the world of adventure games as Laura Bow or Gabriel Knight.
"I really do love this character," Ta said. "And I can't tell you how much I appreciate the sentiment from players who would like to see more of him in our games. I hear you loud and clear!"