The advent of digital distribution in console games allowed for a wider variety of games to appear, including a boom of titles aimed to appeal to 8 and 16-bit gaming nostalgia. While the likes of Mega Man 9 and 10, Scott Pilgrim and Konami's Rebirth series celebrates the high points of the days of old, Sega's WiiWare title Pole no Daibōken instead seeks to mock it, as a tribute to the vast majority of underwhelming Famicom and Master System games that our rose-tined glasses have forced us to forget.
Pole no Daibouken ("Pole's Great Adventure"; the hero's name is also sometimes transliterated as "Paul") puts you in the shoes of a cowboy-type guy, whose girlfriend, Sharon, has been kidnapped by a ruthless poacher. In treading through six generic video game-esque stages, Pole must fight through legions of captured animals, who acts as enemies. Sort of. Most regular enemies are humans wearing animal mask, while bosses include gigantic lions, snakes, and polar bears. Whatever messages about the evils of poaching are totally muddled when you're massacring (admittedly, not exactly helpless) animals, but that's also the point. The cutscenes are displayed in a realistic-ish fashion – as realistic as four colors can allow, anyway – and completely clash with not only the cartoony "box art" (as shown when you begin the game on the Wii system menu) but the in-game graphics as well.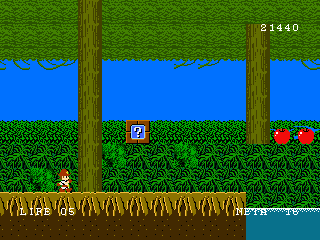 The gameplay itself is hardly special and is intentionally derivative. It uses a limited color palette, chunky, pixellated sprites, and a catchy yet slightly irritating chiptune soundtracks. Pole's main weapon of attack is a gun, which can be powered up twice. The land is strewn with bricks and question mark blocks – the only difference between this and Super Mario Bros. is that they need to be shot to be broken, rather than smashed from beneath. The landscape is strewn with apples, which will given bonus points, but nothing else. A single hit will kill you, but it's still an incredibly easy game. The focus is, instead, on the numerous silly gags.
Beyond parodying the loose grips on storytelling common in 8-bit games, Pole no Daibōken regularly skewers the more annoying flaws of the era. It can and will kill you suddenly and unfairly, some pits are literally so long as to be uncrossable, and it will even glitch out at some point. (This is not particularly frustrating from a gameplay perspective, because checkpoints are common and extra lives are all over the places.) Background tiles are reused or improperly implemented, and in one area overloaded with enemies, will begin to slowdown and flicker. Beyond that, other tropes are played with and subverted. On two separate occasions, the boss theme will begin playing, only to show said boss to be harmless and easily bypassed. Each stage ends with a Super Mario Bros.-style castle – one level plops you right in front it, leaving the only non-challenge to walk right through the door. Another stage is just an expansive stretch of nothingness that consists of nothing more than approximately two minutes of running forward. You can grab energy drinks, which will grant you temporarily invincibility, and as you charge through a legion enemies conveniently set up to enjoy this strength, the music breaks out into a silly sentai-type theme.
All throughout the game, every joke triggers an interjection from an unseen narrator, whose spoken lines also appear as large red text. Pole no Daibouken is rooted in a Japanese comedy routine known as "manzai". A variation of the wacky guy/straight guy shtick, as known to Americans in Abbott and Costello, it involves two men – one, the "boke", acting as sort of a dimwit, while the other, the "tsukkomi", points out the other's stupidity. In this case, the game itself acts as the boke, doing all manner of stupid things, while the narrator is the tsukommi, loudly overreacting at how ridiculous everything is. Obviously, when jokes are explained with gigantic letters and exuberant yammering, all sense of subtly goes right out the window. And unfortunately, it cannot be disabled, leaving it the most annoying aspect of the game.
Outside of the jokes, there's not much of a reason to play this game. Although it aims to be a kusoge, it's not blithely terrible enough to qualify, nor is it compelling enough to stand on its own. Like most comedy, the jokes fail to have the same impact the second time around, although getting friends to play it and watching their reactions is amusing. The game promotes replay value by making numerous jokes hidden – there are 100 in total, which are counted at the bottom of the screen and can be rewatched individually at any time – and a single playthrough will uncover approximately 75% of them. A second loop is substantially harder, at least.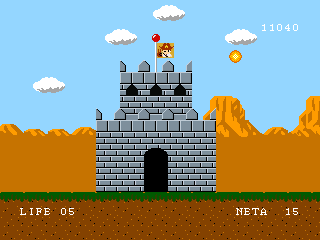 Pole no Daibōken was never localized, for reasons not explained, although they are easy to surmise. The manzai stuff will probably seem stupid to most non-Japanese, and some of the jokes get on the randy side, though either of these could've easily been toned down or eliminated without losing much. Due to Nintendo's nimrod approach to digital distribution, it is practically impossible to buy this game without purchasing a Japanese Wii or jumping through numerous hoops to hack your system and access the Japanese store. Since both Nintendo and Sega have spelled out that they do not desire your foreign money, please do not feel guilty about pirating it. However, if you are unable to play it, many of the most amusing jokes are listed below.
Links:
Siliconera A grouping of articles about the game.
Official blog In Japanese.
Official site Also in Japanese.
Game Lando A wiki detailing the locations of all of the jokes. In Japanese.
Gags
Stage 1
Stage 2
Stage 3
Stage 4
Stage 5
Stage 6