In 2008, Intelligent Systems went back to its roots and remade the original Fire Emblem for the DS. Much like their work on Advance Wars: Days of Ruin, the new look for Fire Emblem is a lot darker than the GBA games, using an entirely different visual style. While the supplementary artwork is provided by legendary manga artist Masamune Shirow (Ghost in the Shell, Dominion Tank Police, Appleseed), all of the in-game artwork is provided by someone entirely different. The sprites are all new, too, and they have a computer-rendered look to them. They're definitely more detailed than the GBA games, and just as well animated, but they're still a bit ugly. The soundtrack is mostly new, although there are a number of tunes that have been carried over and rearranged.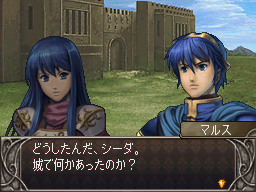 The missions are far more faithful to the original Famicom game than the missions found in Monshō no Nazo. There are a total of twenty-five primary missions, featuring all of the characters from the original game. Additionally, if you start the game on Normal mode, there's a new Prologue chapter with four brand new missions that not only act as a tutorial, but give some backstory to Marth's escape from his castle. Strangely, the game requires that you sacrifice one of your units in order to win one of the missions. (There's one brand new character in the prologue, so you can get rid of him if you want to stick to Fire Emblem canon.) There are also a number of new characters and side chapters throughout the game, but in order to obtain them, you also need to have a certain number of troops perish. This is pretty strange considering Fire Emblem fans are usually hardwired to make sure none of their units die.
The interface is just as polished as the GBA installments, so it's a huge step up from the Famicom and Super Famicom versions. There's the usual touch screen controls, as well as the upper screen used for tutorial info, stats, and battle scenes. Additionally, instead of individually checking each enemy's range of movement, there's an option to highlight all danger squares, making it easier to position your units so they won't be attacked. It's missing some of the options of the later games, like the rescue and shove commands, but instates the weapon triangle found in all of the games from Fire Emblem 4 onward. There's a lot more story and dialogue, too. You can still make quick saves in the midst of battle, which are deleted when you load them as usual, but there are now save points in most missions that allow to save permanently.
The most important new feature is the class change system. In the fourth mission, you can change the class of nearly all of the characters, with the exception of Marth and a few others. It's not exactly freeform – you're limited to a certain number of class types per battle, and of course, you need to purchase all of the necessary weapons. Additionally, each character is more suited to certain classes, as they have experience stats for each weapon type that increase with use. It's nowhere near as deep as Final Fantasy Tactics or other similar strategy games, but it adds a nice bit of flexibility.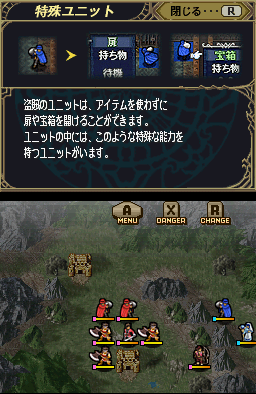 For the first time, you can also challenge another player through the DS Wi-Fi functionality, though like in most Fire Emblem games, how powerful a player's characters ultimately become is largely a matter of luck. Even so, it's a nice feature, if not entirely practical.
Overall, it's a fine remake, though since it is a remake of such an old game, it's a little hard to get excited about it. Compared to the later games, it's good to see the game stripped down of some of the elements that tended to get in the way (like the Laguz transformations), while adding enough new features to make it seem fresh. It was released early 2009 in North America with the subtitle Shadow Dragon, allowing English speakers to play through the story of Marth for the first time.
Screenshot Comparisons
Artwork