Most of Taito's Z System games were driving titles like Chase HQ. One of the exceptions, along with Night Striker, is Aqua Jack. Here, you control an armed boat, careening down lakes and rivers to take out a military full of vaguely Cuban/South American-looking military baddies.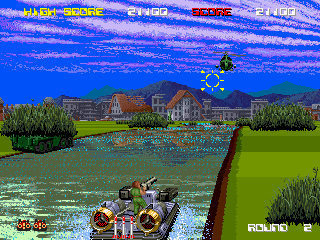 The joystick controls both the crosshairs and the boat's movement. There are four buttons. One is the main gun, which will lock onto most enemies when you target them (the "fire!" digitized voice makes the game feel a lot like After Burner on a boat). Another fires missiles, which does damage to everything around, although you only have a small number per life. The third button speeds up your craft, and the other, against any kind of physics, will make your boat jump on command.
The default speed of your vehicle is fairly slow. The leisurely pace actually makes it easier to attack, dodge, and destroy enemies compared to some of Sega's games, which were often such sensory overloads that they became overwhelming. However, it also takes forever to reach the end of the level, so you need to spend much of the game switching between low and high gear, zooming up in slow spots and slowing down so you don't careen into enemy fire.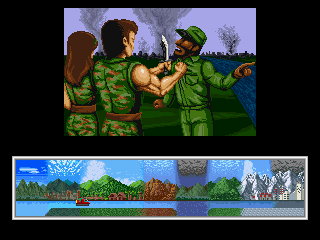 Some of the stages are open lakes, which give you ample space to avoid enemy attacks, but many of them are narrow rivers. While the scrolling effect is impressive, especially when there are forks in the water, it also makes it difficult to avoid fire, especially considering the speed with which many of the enemies attack.
There are also some technical issues with the scrolling and scaling – sometimes tanks that are on the river bank will seem to be floating on the water, depending on your perspective. The absolute worst are the pipes, which open and close at regular intervals. The hit detection here is very sketchy, making it far too easy to ram into them when it should be safe, or otherwise pass through them harmlessly when you should be killed. The enemy patterns are also erratic, sometimes appearing seemingly out from thin air or from beneath the river.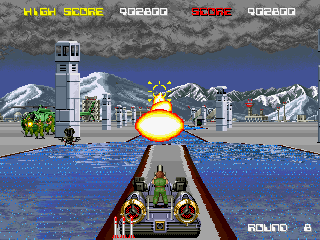 Still, it's a mightily impressive looking game. The water effects are borrowed from Night Striker, but they didn't get to shine there. Here, the water reflects both the color of the sky and the horizon background, along with other subtle wave details that make it look extraordinary for a game from 1990. As for the soundtrack, though there are only three songs and it's often overwhelmed by the sound effects, is also typically excellent Zuntata.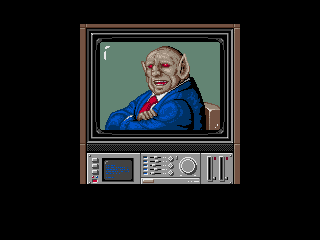 As a final bit of Taito fan service, the final enemy is revealed to be Banglar, the final boss from The Ninja Warriors.