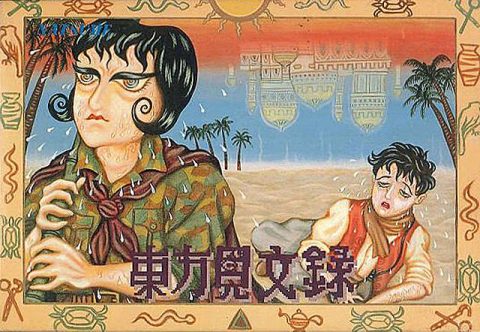 Touhouken Bunroku 
Developer: Natsume
Release Date: 1988
Platforms: Famicom
This article is part of our Japanese Obscurities feature. We put out a whole book about them, which is available as both a full color hardcover and a Kindle ebook from Amazon! If you'd like to see more of these features, please check out the book and if you enjoyed it, leave a five star review so we can do a follow up with even more interesting, offbeat, or historically important Japanese games!
The Travels of Marco Polo is a remarkably important book from a historical standpoint, given that it acted as an introduction for most Europeans into the mysterious wonders of Asia. It's used as the basis for Touhoken Bunroku, an absolutely insane title from Natsume, which dubs itself as "New Wave Psychedelic Adventure". The title means "Memoirs of the Orient", the Japanese name of The Travels of Marco Polo, though one of the kanji characters is switch to match the name of Bunroku, the protagonist. He's a brilliant but mad student at the The University of Southeast Asia's Department of History, Engineering, and Travel Studies, who dreams of hitting it big as a businessman. For his graduation, he decides to travel back in time to Venice in 1275, to meet up with Marco Polo, back during the time when the Western world believed that Japan (known as Zipang at the time) was filled with gold.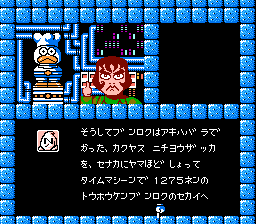 It's like most Japanese adventure games, in that there's a menu of verbs, but there's also an additional command to "punch", which is necessary in many cases but can end up getting the heroes killed if you try it on the wrong person. Marco and Bunroku's adventures are based on the actual tale, as they travel the Silk Road. But the game quickly devolves into bizarre antics, and the adventure eventually goes completely off the rails, especially seeing how Marco is relatively normal while Bunroku is literally an insane person. Characters, both major and minor, are killed violently and/or hilariously – one villain is killed by a crucifix of Jesus Christ, who gives him a Kamen Rider-style kick. There are plenty of parodies of contemporary Japanese culture – for example, someone who explains Islamic to the heroes in a parody of a real-life English teacher who appeared regularly on a morning TV show at the time. Bunroku stages an attack by creating a bazooka made from bamboo, and at one point, the duo parachutes out of the image screen into the text window. The game is infamous for its ending, where Bunroku screws up the historical timeline so much that he ends up being sent to time prison for meddling with history.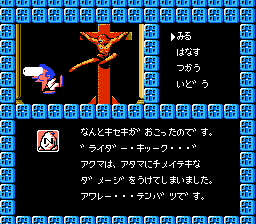 Natsume followed up this game with Idol Hakkenden, another ridiculous adventure game, though one focused on pop idol culture. They then shifted into action titles like Kage (Shadow of the Ninja) and Tokkyuu Shirei Solbrain (Shatterhand), which are more well known internationally. Bunroku does appear as an NPC in Natsume's Game Boy Color RPG Medarot 4, part of the franchise known in the USA as Medabots.