Most of the time, when you have a trilogy of games, you'll have the first game, which introduces a concept, the sequel, which expands and improves that concept, and a third game, which keeps that basic concept and polishes it a little. (Unless you're Nintendo, where the second game is something wildly different, and your third game is where you expand and improve your original concept.) That's basically what we have with SOR3, which isn't quite as much of a leap in quality from the first game to SOR2. That's all right, though, because SOR2 was such a great game that any major changes would have probably done more harm than good. It's hard to say it's the best of the trilogy, for a few reasons, but it's still definitely worth playing for what it does improve on.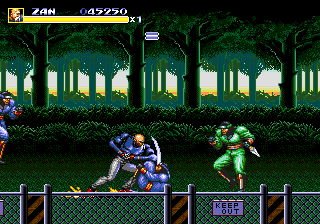 The game actually has two very different stories, depending on if you're playing Streets of Rage 3 or Bare Knuckle III. There are actually quite a few differences between SOR3 and BK3, much more than the two games before it.
Some time after the second game, Mr. X founds the RoboCy Corporation, a front company made to help him further his evil plans. With the help of the roboticist Dr. Dahm, Mr. X begins building robotic duplicates of city officials to replace the real ones. The police, once again, are mostly useless, as they're dealing with a series of bombs Mr. X has planted around the city to keep them distracted. Dr. Zan, a former RoboCy researcher, learns the truth about Mr. X's schemes, and joins up with Axel, Blaze, and Skate to beat up a lot of people and stop the Syndicate's plans once more. Adam is "too busy" to actually help out, only making appearances in the cutscenes. And poor Max doesn't even get that kind of excuse, aside from a very quick cameo in the ending.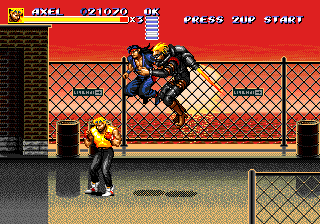 What's interesting about the plot here is that instead of leaving it confined to the manual and the intro, there are actually cutscenes to progress the plot. They're nothing amazing in terms of writing, but they at least offer some kind of pretense on why you're going around to different places and beating people up.
There's been a few changes and improvements since SOR2. The returning characters retain most of their moves from SOR2, although some characters have new moves replacing some of their old ones. All characters can now run by double tapping left or right, an ability that's no longer restricted to Skate. It helps give the game a faster pace, but the downside is that makes Skate a little less useful than he used to be. All the characters can also roll toward or into the screen by double tapping up or down, which is useful for the occasional last-second dodge. There's also a small meter to the right of each character's life bar. When it's full, you can use a special move without losing any health, and it'll recharge automatically after about three seconds. This is a pretty nice change, since it lets you go all out with your special moves a lot more without worrying about conserving health.
Every character also gets "Blitz" moves, which are basically upgraded versions of their dash attacks. To earn your Blitz move, you have to reach a certain score threshold on a single life. Each time you do this, you'll get a star under your health meter. A single star will increase the range of your character's dash attack, while two will give them a new, more powerful dash. Hitting the maximum of three stars further increases this new dash attack, giving you a very powerful move you can perform at will.
There's a bit of a cheat you can pull off if you happen to have a six button controller, however. If you hit the X button, and then quickly input a few directions, depending on the character, you can pull off your Blitz moves for free. It's a little harder to pull off the Blitz moves this way, but it helps. You'll probably have to use this method a lot more than your standard dash attack, because it gets really hard to hang on your stars right from the start. The Y and Z buttons on a six-button pad can also be pressed to perform your character's combo finisher and back attack, respectively.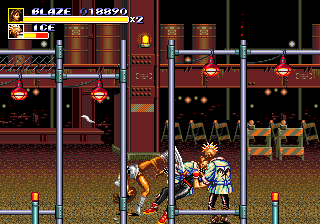 Every character also gets a few unique moves they can perform with certain weapons, which adds even more variety to the move set and makes weapon combat a little more useful. Unfortunately, weapons are a little less useful than they were in SOR2, as they now have a health gauge that drops whenever the weapon hits the floor or you hit an enemy with one. Once the gauge runs out, the weapon disappears, meaning you'll have to find another. The fact that it was so easy to lose a weapon from one good hit kept the weapons from feeling too overpowered, so this inclusion kind of makes it a little less fun to smack people around with a pipe.
Replacing Max's spot on the roster is Dr. Zan, who, as it turns out, is actually a badass cyborg. He can't really be classified as an "average", "speed", or "power" type, so he's a little more technical than the rest of the cast. He's also a cyborg, which means that he gets some cool moves like jet boots and hydraulic arms. He also doesn't pick up weapons like the rest of the cast, instead turning them into energy balls he can throw at enemies from a distance. His damage output isn't quite as good as the rest of the cast, but he has some great range on some of his moves, which makes him an interesting addition.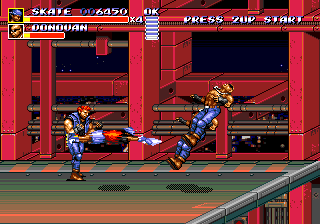 Aside from these changes, all of which improve on what was a pretty solid foundation to begin with, the basic gameplay isn't too much different. Once you've learned the new moves and gotten used to the speed increase, however, something else becomes very evident. This game is way, way, too hard. Sega, more than likely in some attempt to keep players from clearing the game in a single rental, jacked up the difficulty on the American and European version of the games immensely. Basically, what would have been "Normal" in Bare Knuckle III is the "Easy" difficulty, here, and it only gets worse from there.
All enemies are much more aggressive, in terms of how fast they move and how quickly they'll close in to attack. They also do a lot more damage, meaning that even the lowliest Donovan can take out a lot of your health when he suddenly dashes behind you and does a combo on you before you can react. The bosses are the worst for this, because not only do they get hit with the massive difficulty spikes the mooks do, they also tend to get double, or at times, even triple the health. This means that they take much longer to kill, so much so that you're likely to lose at least one credit fighting just one of the later bosses. While Streets of Rage 2 started off fairly easy, the difficulty curve it offered felt so right that a major change just feels wrong.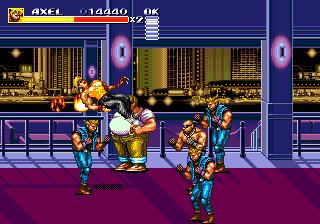 Aside from this infuriating design decision, the rest of the ideas both version offer still work fairly well. The small variations in terrain you'd see in the original game have been greatly expanded on, here. While the first two stages are pretty standard left to right affairs just like you'd see in SOR2, it's by the third stage where the game starts to throw a few curveballs your way. Stage 3 involves a construction site, where there are pits to toss enemies into, barrels that drop from above into anything in their path, and even a constant wind that pushes airborne characters backwards, all in one section of the stage. There's even a fun section where you get attacked by a Donovan riding on a bulldozer, where you have to smash through the barriers in your path while trying to keep the bulldozer back by hitting it. From this point on, the rest of the stages have plenty of hazards and obstacles to deal with while you're fending off mooks, and it helps the game more of a different feel than its predecessor.
Stage 6 is where all this comes to a head, as it puts you into a Syndicate death trap where the chief of police is being held. You're actually not put on as much of a rail, here, as you can explore the doors lining each of the base's hallways once you clear out any enemies hanging around. Instead of heading to the far right of the level, you're trying to find the two rooms containing the computers you'll need to smash to open the cell the chief's trapped inside. Some of these rooms are traps, however, and are just there to waste your time, like one where you have to fight off a group of enemies while dodging the electric spark moving around the room. You'll also have to use the elevator to switch between the different floors as well. Since the game doesn't give you a map or an indicator of which rooms you've entered, this can be a little disorienting your first time through. Especially since you're on a fairly time limit, and when it expires, poison gas will slowly start to kill you and the chief.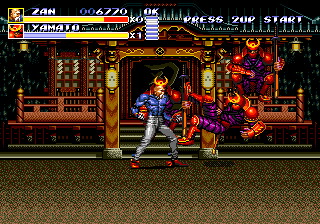 If the chief dies, however, that's not the end of the game. There are actually two final stages, depending on if you rescued him or not, and this will actually determine which of the endings you get. If you free the chief in time, the final stage will be through a secret Syndicate robot factory, where you'll find Mr. X's brain waiting for you. Yes, apparently after the second game, you didn't just kill him, you killed him so hard they had to take his brain out. From here, Mr. X will arm a bomb, and you'll be given only three minutes to take out his final robot. If you can manage to beat the final boss in the time limit, you'll get the game's best ending. If you're too slow, though, you'll get the game's worst ending, where the bomb goes off in the middle of the city, and it's further implied that this will destroy the reputation of the good guys.
If you don't manage to rescue the chief in time, you'll instead be sent to City Hall as your final stage, which Sega of America promises is not the White House in any way. If you end up here, you'll have a rematch with Shiva as the final boss. The ending you get for this isn't all that great, either. And as the Western version of the game assumes you're one of those dirty, game renting types, your game will get two stages short if you're playing on the Easy difficulty. Here, Mr. X will tell you more or less straight up tell you to stop being a wuss and play on the Normal difficulty. How very Konami of them.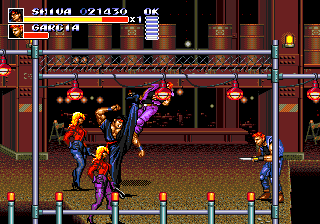 Once you've finished the game with the standard cast, you'll even have the chance to unlock a couple of secret characters, a brand new feature to the series. At some point during Stage 2, you'll end up in a fight with an evil clown and his trained kangaroo. If you can manage to take out the clown without killing the kangaroo, you'll actually unlock him for play next time you change characters. Roo, as he's named, is actually pretty interesting just for the novelty of beating up enemies with a shorts-clad marsupial, but he doesn't get as many moves as the rest of the cast. He's also completely unable to pick up weapons, which is fair, since he doesn't really have hands.
It's also possible to unlock Shiva for play by holding down the B button after defeating him in Stage 1, until the next stage begins. Much like Roo, he's also missing a lot of moves and animations that the other characters have, since he's essentially just using his sprites from when you fight him as a boss. It's still pretty cool to use him once or twice, given his boss status, but since he's also unable to pick up weapons, it's not very practical to use him. There's also one more secret character that you could find in Stage 1, but…well, while a Game Genie will bring him out for you, you're not really meant to encounter him in the Western versions of the game. We'll touch on that later.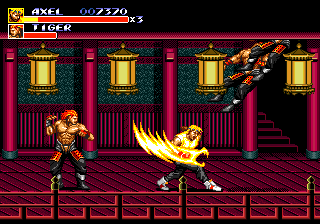 The Battle mode from Streets of Rage 2 returns, but it hasn't really had any major changes that make it any more fun or interesting to play. Again, it makes a nice distraction if you've cleared the game and seen all the endings, but it shouldn't be used to replace any real fighting games you've got in your Genesis collection.
The graphics have a bit more of a dark, gritty look to them, since there's a lot more use of shading in the characters and stages. It's actually a pretty good look that sets it apart from the more colorful SOR2, and they've even gone through the effort of redrawing the old cast to fit the new style. There's still some nice touches as well, like the way the chains in the first stage will sway if somebody hits the floor hard enough. Fitting with the darker tone of the game, Yuzo Koshiro has gone with a soundtrack with more inspiration by genres like industrial and techno. This is going to be a divisive issue for some people, since it's so radically different than the style of the first two games. While it does fit well with the kind of tone the game is trying to set, the actual songs themselves just don't seem quite as memorable. While some of the tracks are pretty good, like the dance club in Stage 2, some of them end up sounding more like noise patterns than anything. Part of this is due to the fact that many tracks were composed with a random music generator, which makes for a soundtrack that's alternatively unique and abrasive.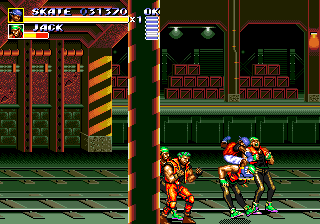 In the end, Streets of Rage 3 is a pretty high point for the series to go out on. It isn't really as much of a revolution as the original game to its sequel, but SOR2 was so good that it didn't need all that much improvement in the first place. What the game does offer, such as the new moves and interactive stages, set the game apart well enough from its prequel for it to be its own thing. The only real sour points are the insane difficulty the Western versions offer, as well as certain parts of the new sound track. It's hard to say for certain if Streets of Rage 2 or 3 is the better game, but the series couldn't have ended on a better note than this.
Streets of Rage 3 never got any ports to any other Sega systems, but there's still an alternate version that's very much worth looking into. The Western versions of the game are actually heavily edited versions of what Japan would get. While the first two games were never edited that hard, maybe a name change or two, or a panty shot removed, they were still mostly identical no matter which version you played. Here, the two versions are so very different that they're both worth playing through just for comparison's sake.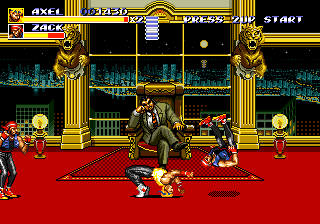 Here, the game starts with the redundantly-named Wood Oak City being devastated by a nuclear weapon containing a radioactive element called Rakushin. The Syndicate ends up stealing a large quantity of Rakushin, and then goes on to kidnap the high-ranking General Petrov. While the original Petrov is against the use of Rakushin, Mr. X sends in Shiva as an impostor in an attempt to start a war so that the Syndicate can smuggle the Rakushin they stole. And you know that fancy looking government building you go to for the "bad" Stage 7, the one that looks like the White House? Surprise, it turns out that it's actually the White House. No matter which of the endings you get, the heroes manage to expose the fake general and stop a full scale war from breaking out.
So, there's absolutely nothing in BK3 about robotic duplicates, and nothing in SOR3 about any nuclear weapons. It's hard to say for sure why the plot ended up being changed so heavily. Maybe Sega of America thought there were too many political overtones with the main cast trying to stop a war, or maybe they thought the old story was too complicated. The new story isn't really that bad on its own, but the original plot means that the stakes are a little higher than some guy trying to take over some city for the third time.
The most notable change is that the difficulty isn't nearly as brutal as it gets in the Western versions. Since enemies aren't quite so aggressive or take as much damage, the difficulty level is a little more in line with SOR2. The other biggest change to the gameplay is that there's a new mid-boss in the middle of Stage 1, who can also be unlocked as a secret character. After taking out a few of his mooks he sends in, you'll end up in a fight with Ash, who even comes with his own, very odd theme. Ash is…well, he's a very uncomfortable stereotype, given his outfit and mannerisms. Despite his less than threatening appearance, however, he's actually really strong when you use him as a playable character, with his basic combo being able to take out an entire life bar. Once you get past the initial awkwardness of playing as him, however, he's not all that fun, as he's got the smallest moveset in the entire game. If you really want to play as him, there's enough of his code in SOR3 that you can play as him just fine with a Game Genie.
There's also a lot of minor visual and audio changes to the game, such as all of the characters getting a different palette for no discernible reason. Some of the female enemies have also been changed so that they're wearing a little more, as well. Some of the voice clips in the game have also been re-recorded so that they're in English, which is a little odd, considering that they never bothered to in SOR2. It's not that the Western version is that bad. The single biggest problem with SOR3 is that it's just far, far too difficult, which makes BK3 the definite version of the game. Thankfully, there's a translation patch for Bare Knuckle 3, meaning that it's perfectly possible to play both versions for yourself.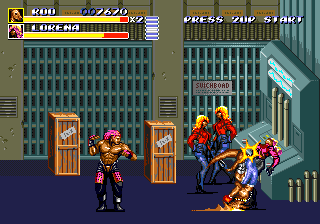 While it's exclusive to Xbox Live, the Sega Vintage Collection is probably the best way to go for this series. All three of the games in this collection come with some great extra features like leaderboards and online play, something you won't be able to get with Sonic's Ultimate Genesis Collection. You've even got the option of playing Bare Knuckle 3, in its original Japanese form.
Screenshot Comparisons
Female Censorship Screenshots
Japanese Screenshots