Based off a Japanese novel series by popular author Yoshiki Tanaka, Arslan Senki or The Heroic Legend of Arslan is a video game adaptation published by Sega in 1993 for the Mega CD. At its core it's a strategy game, although like many other titles at the time, it mostly uses the CD medium for its cutscenes. It acts as an accompaniment to the anime OVA and fills in several plot points, since it was never completed. The anime was released in the US on VHS – the game, unfortunately, never left Japan.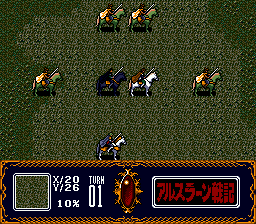 For those unfamiliar with the anime, the story begins when Arslan, the Prince of Pals (think Persia), goes into battle with his father, King Andragoras, against the Lusitanian army. Pals' army is quickly wiped out as the Lusitanian's soak the battlefield with oil and set it ablaze with magic. Darun, Arslan's trusted advisor, manages to save Arslan and in the process finds out that Lusitania was assisted in their trickery by one of Pals' generals, Karlan. Arslan and Darun can only assume that King Andragoras is dead, so now they must find faithful allies, and recruit those who are still loyal to Pals into their ranks to go up against an army of 50,000 or better.
Characters
Upon starting the game, one will be greeted with an animated sequence which introduces Silver Mask (Hirumes) talking with some wizard about Atropartene, where the initial battle takes place. You are then introduced to Arslan and Darun discussing the upcoming battle amongst themselves. Riding to catch up with the army who has begun their assault, Arslan comes upon the flames of the battlefield, set ablaze by the Lusitanians,and gasps in horror. At this point before you are taken to the Battle Conditions screen.
On the surface, The Heroic Legend of Arslan is similar to a strategy RPG, and so this screen gives you a basic synopsis of what has lead up to the battle. These include the conditions you need to achieve victory, and the conditions that will cause defeat, the latter usually being "Arslan is Killed". However, unlike a lot of the strategy RPGs of the time, this is not done in a screen with tiny figures, nor as a scroll on a background. Each screen has an image on top, sepia-toned, showing off the characters, often in a still of the last frame of animation, sometimes not. Kinda cool and very cinematic.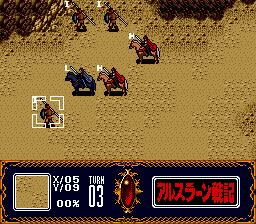 At this point the game starts proper. For the most part, The Heroic Legend of Arslan is very similar in concept to Fire Emblem. The action takes place on a square grid-based terrain, and the maps are usually two to three screens wide and long. Most the maps are pretty bland and dark, or brown, but considering much of the game takes place on mountains, at night or in the desert, it's forgivable. The small details on the maps help to make them a bit more interesting, or disturbing as in the first map with what is obviously the bodies of burnt soldiers. It's not fantastic looking, but it is prettier than Dark Wizard, another similar game for the Sega CD.
When two characters fight, it zooms to a close up of battle, with each of their life meters displayed below. These in-battle sprites are larger than what one gets on the world map (which aren't even that tiny to start). These animations are actually quite varied for the time period they came out, with different designs for each unique character and soldier type, as well as their weapons, when they take a hit and when they die. And in fact, some of the characters actually have a few animations, such as archers who can also double as swordsman having both animations for their bows and for their swords. There is even a separate animation for many characters when they are unmounted, Darun actually being armorless in one of these. The only problem to this screen is the fact that it's sort of tiny, with huge black bars on either side, and the fact that the bottom fourth is taken up again by a small menu showing each character's name, lifebar and a jewel in the middle of the two combatants.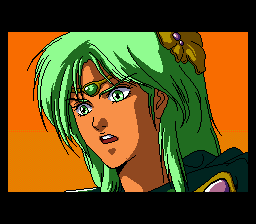 In contrast to Fire Emblem though, it's greatly simplified. There are no long stat trees or weapon triangles, nor are there special attacks, magic or items of any kind. Some characters ride on horses and others have ranged attacks, but other than the offense/defense modifiers provided by the terrain, it's all quite straightforward. That's not necessarily to say it's bad, because you still need to formulate a good strategy to win, but those accustomed to other strategy RPGs may find it a bit lacking. It doesn't help that certain battles can occasionally boil down to the luck of the draw, which is especially evident even in the first battle.
The main aspect that sets this apart from everything else is Arslan's presence on the battlefield. He's not directly controllable, nor is he technically an NPC. He has a set of commands assigned to him – Status, Usual, Battle, Defense, and Stand By. Most of those are self-explanatory, but for maybe two of them. "Usual" either commands Arslan continue with his previously given orders or to retreat to his nearby generals (usually Darun, Narcasse and Guibu), while "Stand By" will keep him in place, though he will attack if there is an enemy in a square he can reach. Everyone else in your squad is controlled by the player with commands such as Move, Attack, Status, Advice and Function. Of course, you'll quickly find out that you'll mostly be using the same two commands for Arslan throughout the game if you don't want him to die, but that is part of the strategy, and figuring out when to break from those commands is also essential. Even without Japanese knowledge, the interface is straightforward enough that you can become comfortable with it just by messing around.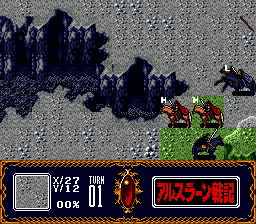 The big draw of the game is obviously the cutscenes. The visuals are not quite as clean as some of the other titles on the Sega CD (like Lunar, which was released a year before), and that the colors are very dark and a bit dreary, especially when compared to their source material. But the sequences are quite fluid and better animated, and in some cases, a bit longer than other RPGs on the same system.
Like a lot of Sega CD games, the game uses the redbook audio capacity to its advantage, putting in several minute and a half to two minute tracks with high quality orchestral synth. Each tune fits the situation, or the country one is in in the case of music played during some of the cutscenes, and overall this is one of the better soundtracks on the Sega CD. These tracks can be played outside of the game without feeling like you're listening to "video game" music. The only issue in game is that there is, like with many of the Sega CD games at the time, a small break as the CD reloads the track after it has finished.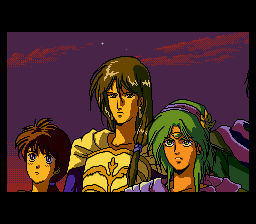 Of course, by now you must be thinking that it sounds as if this game has more negatives than positives, but that depends on where you're coming from. Hardcore SRPGers will be disappointed, but more casual fans, the kind that Sega's Shining Force was made for, will adjust to it more readily, even though it's still not quite an easy game. It was obviously made more for anime fans than gamers, but it's still pretty far from the generic licensed games during the era.