ADD PASSWORDS TEXT FILE
On December 4, 1988, NEC released the PC Engine CD, thus beginning the wave of CD technology that the 90s would soon see. One could argue that this was one of the most important technological advances for video games, as CD ROMs allowed game developers much more room to experiment. Not only could CDs hold more data than cartridges (700 MB compared to 1-2 MB), but developers could do more with video games that would not have been possible on cartridges at the time. A lot of developers, realizing this, began including very elaborate cutscenes to showcase the technology. Sometimes, these cutscenes were anime-esque stills (barely animated, if at all) layered over a game gamers already knew, like Dracula X: Rondo of Blood (platformer), the Lunar games (RPG), or Snatcher (adventure). Most of the time, though, games became little more than interactive movies, whether they were the old QTE fare being ported over to modern systems (Dragon's Lair, Ninja Hayate, Time Gal), or the dreadful live action stuff (Night Trap, Sewer Shark, etc.).
Yumimi Mix falls in between those last two categories. Developed and published by Game Arts (the same developers behind Lunar, Silpheed, and Grandia), the character designs, storyboards, and script were provided by manga artist Takemoto Izumi. The game was only released in Japan for the Mega CD, FM Towns, Saturn and Windows, though only in Japan. Regrettable, perhaps, but understandable. The game was little more than a Choose Your Own Adventure-style game, except your choices hardly matter. Read this FAQ carefully, for instance, and you'll see that any choices that significantly impact the plot only arrive in the third act. American gamers at the time might not have been receptive to this game design. (They still aren't, if all the flak a game like Depression Quest got is anything to go by.) Combine this with the cost of hiring translators and new voice actors, and it's easy to see why this game never left Japan. That said, Yumimi Mix still enjoys its place in video game history. The game finds itself at the center of a lot of trends going on in the 90s: cinematic trends, technological trends, anime trends (especially magical girl anime), etc. It might not be a notable game, but as a historical product, Yumimi Mix is worth looking into.
On first glance, Yumimi Mix looks like a normal slice of middle school life. (Actually, the first glance looks more like a look at a pony-themed game completely unrelated to this slice of life motif.) Yet not long into the story, mysterious monsters begin pouring out of their dimension and into our own. Our main characters must figure out what's going on, how to stop it, and perhaps most importantly, how any of this relates to them. The characters include:
Characters
As these descriptions demonstrate, the characters have very little to their names outside their anime archetypes. Sakurako will never be anything other than bitchy; Rie will forever be shy; Buchou is forever a goof, etc. Perhaps this explains why the game's best moments don't lie in its slice of life motif. You can more or less predict how the story pans out based on your first impressions of these characters, and, sadly, the game doesn't offer much beyond that. This isn't to say that the story is dull or boring; it has some funny moments. Especially memorable are the few times when the characters break the fourth wall and tell the narrator to shut it. And because of the simple nature of the story, it's hard to hold anything too strongly against Yumimi Mix. That said, these normal, everyday moments leave a lot to be desired.
Fortunately, the supernatural elements are there to balance things out. It's not because they do anything different from generic convention, though. Yumimi Mix still fits the magical girl format to a T. Nor are these moments here because of what they do. The monster designs consist of simple, squishy shapes. This means they're cute, but otherwise, aren't much to look at. Likewise, Yumimi's encounters with these creatures consist of her wrangling up the monsters and quickly disposing of them into the nearest dimensional rift. Not terribly exciting.
So why play through this story? Because of how this all interacts with the normal and the everyday. These supernatural elements clash with the realistic in the strangest ways, like Rie's nuzzling. It's oddly compelling; you want to see just what the hell Yumimi Mix can cook up next. Not to mention how inherently ridiculous the premise is. A single phrase to catch one's attention is "interdimensional horse lovers." It's an accidentally smart mix that more people should be aware of.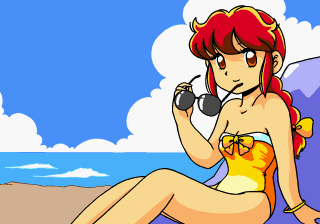 But Yumimi Mix's most prominent feature would have to be its graphics. At the time, its meticulous character detailing and vibrant colors would have made Yumimi Mix a technological showcase. Just compare it against another Game Arts title: Lunar: The Silver Star:
Despite only being a year apart, Yumimi Mix clearly comes out the better looking game. Throw in the high level of high quality voice work, and this would have been a powerful demonstration of the then-nascent CD technology. True, the art isn't perfect. At a distance, the characters can be off-model, even by the game's own logic. Yumimi's hair demonstrates this well. Although her hair is a muddy red (more saturated when she transforms), it can be anything from bright red to very clearly brown in some scenes. Some of the faces can also be off-model, both up close and at a distance. But given what Yumimi Mix has accomplished so far, it's hard to say that contemporary audiences would have held this against the game too severely.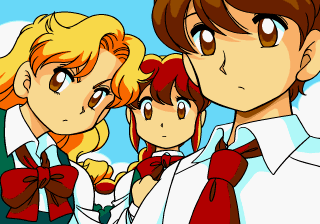 This cannot be said for the animation. Or, more specifically, the lack of any. This is how the game maintains its high level of detail: by making everything a still shot. True, there is some animation, but it's either very rare or very minor. You'll more often see a character standing in a dynamic pose while their mouth flaps open than you will a character moving in a complex way. The game even points this out when the narrator says something to the effect of, "This isn't a manga, it's a game!" It's a little disappointing, to say the least. The art's still nature sucks a lot of technological wonder out of the graphics, and some action out of the story. (After all, how much action can you have without movement?) Although this could be easy to look past today, at the time, the lack of animation could have been a deal breaker. In fact, it might make some of the other flaws with the art that much more glaring. Poorly detailed faces mean little when characters are animated and I'm focusing on their movements. But still shots don't grant that luxury, making the simple dots and lines the game says count as faces much more egregious. Compare this against a game like The Faces of Evil. It had both high levels of detail and animation. Granted, they were often the wrong details, but that game's animation demonstrated what was possible at the time. Then again, that game had only ten minutes of animated material, and you would only see maybe ten seconds of it at a time. Yumimi Mix had ninety minutes of material played (more or less) nonstop.
This probably explains why the game had to cut so many corners with its art, and why the game ended up the way it did. Yumimi Mix seems to have been a moderate success for Game Arts. Yumimi Mix would also serve as the blueprint for the also-obscure Dinosaur Island. As part of the anime scene, Yumimi Mix is a decent primer on magical girl tropes and general anime conventions. As a Game Arts title, it serves as a sort of missing link between Lunar: The Silver Star and Lunar: Eternal Blue. And as a movie game, Yumimi Mix demonstrates both the allure and the limitations of the genre, helping to explain its eventual decline.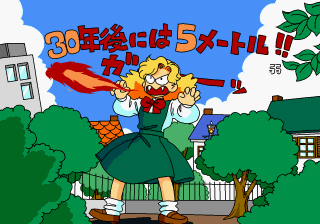 Some months into the Sega Saturn's life, Game Arts rereleased Yumimi Mix for it under the title Yumimi Mix Remix. Despite the name, though, very little is remixed. The game uses the exact same level of technology that the Sega CD did, to the point where the game looks identical. The intro song might be cleaner, but that's about it.
The only substantial difference is a new side-game called Yumimi Puzzle. It's a simplified mahjong solitaire variant that uses simple shapes and colors instead of the usual mahjong symbols. Your reward for solving each puzzle is a piece of bonus artwork and another puzzle. Some of the art comes from scenes in the game, but just as much was made specifically for Remix. In fact, these images appear to be stored as, well, images in the game, as opposed to the cleaner animated stuff the vanilla game offers.
There are 40 puzzles to solve in Yumimi Puzzle, and while the early ones start off easy enough, the later puzzles are fiendishly difficult. With that in mind, here is all the art Yumimi Puzzle has to offer, and the passwords needed to unlock them. (Yumimi Puzzle uses a password system, oddly enough. This is despite both Remix and the original Sega CD version using a save system with multiple slots.)
After this, Yumimi Mix faded into obscurity, save for a rare Windows port, which is basically the same as the Saturn version, and a scant few Vocaloid renditions of the opening/ending songs.
Links:
Full playthrough of Remix on YouTube
Video of FM Towns version