The 3D over-the-shoulder corridor sections were definitely the weakest part of the original Contra – so much so that Super Contra ditched them completely – but that didn't stop Konami from evolving the idea anyway. Devastators takes commandos that look identical to the Contra dudes and places them on long 3D corridors. Rather than advancing screen-by- screen, you can walk forward by holding Up, as the background slowly scales toward the screen. It's a cool effect, especially since you can see your goal way in the horizon, as it slowly gets larger as you march towards it.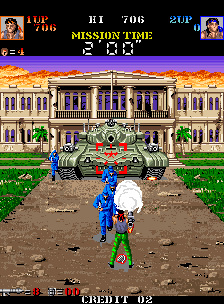 The landscape is filled with sandbags and other bits of debris that can be used as cover, although strangely, you can walk right through them. (This appears to be a glitch in MAME, as this is not possible on actual arcade boards.) When you're close enough you can shoot right over them, while enemies need to slowly trudge around them to attack, putting you at a distinct advantage. Your arsenal is strangely limited, consisting only of a standard rifle, a series of grenades, and a rocket launcher, which is used automatically on certain enemies that are outside of your normal range. Most boss fights require the use of the rocket launcher, but your ammo is limited, requiring you to take out smaller foes constantly to refill your supply.
It's not a bad game, but the action is curiously slow paced. Your commandos don't walk very fast, nor do they have any evasive maneuvers – you can't even jump – so it's hard to dodge enemy fire. Further, the way you barely inch forward makes it feel like you're running at a mere snail's pace.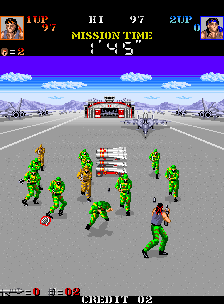 The Japanese title of the game is Garuka, written in ateji, a way of spelling out foreign words using kanji, much like the titles for Contra and Salamander. The literal translation doesn't mean much, something like "hungry flowing calamity", but some people have speculated that it's supposed to be "Gurkha", referring to the people from Nepal and northern India, possibly indicating the game's jungle setting. It's pretty clear, based on the way the characters look, that this was meant to be a spin-off of Contra.