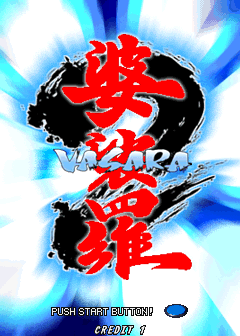 Visco's follow up to Vasara was their last game and came out only a year later. It made a few changes to the original Vasara while keeping the overall formula intact. It feels more streamlined than the first and offers more challenge, more bosses, and even more firepower.
One of the biggest changes in Vasara 2 was the removal of bombs. Vasaras were obviously far more powerful than bombs in the first game, but they did not come up as often. Vasaras completely replaced bombs and collecting the now blue jewels slowly filled up your Vasara meter. Unlike in the last game, Vasara 2 gives you three Vasara meters to work with, making them more functional to rechargeable bombs. You do not even have to charge up an attack to use them anymore, you just press the new Vasara button.
The story is also set before the first Vasara, making Vasara 2 technically a prequel. None of the characters from the first game return, though there are similarities. Each of the new playable characters has his or her unique feel that makes the game feel a bit different from the first. Oda Nobunga is the villain in this game and is aiming to take over Japan. It is up to five of the most powerful warriors to stop him.
Characters
One of the more noticeable improvements over the first Vasara is the retooling of the Prestige Kill System. Each level has a five bosses – the first four are usually subcommanders or powerful mercenaries and the last boss of each level is a general. The subcommanders each give you a large flag with their face on it, giving you a larger multiplier than the smaller flags acquired by using you melee attack on popcorn enemies. At the end of each level, all of the bosses killed are totalled up and you get a bonus depending on how many have been destroyed. This makes for a total of thirty bosses spread out across six levels. Their designs are varied, ranging from classic fortresses covered in turrets just waiting to be dismantled, to giant robot samurai, to powerful battleships floating through the sky. Even though the bosses in Vasara 2are varied and common, you do fight a few of them more than once through the course of the game. Also, some bosses are only on screen for a few seconds before embracing cowardice and retreating. Missing an opportunity to defeat one can be very bad for your score, as Vasara 2 is all about killing as many bosses are you can in a level.
The large number of bosses results in standard enemies being relatively uncommon. There are not very many moments when you are not fighting a boss while plowing your weapon through storms of bullets. Additionally, there are new, purple bullets that cannot be broken, unlike the normal red ones. Vasara 2 is certainly more challenging than the first one particularly because it has two difficulties, the harder of which has a second loop. The last level still takes you back to a checkpoint if you wish to continue, as sort of a tradition from the first game.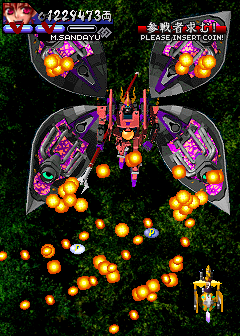 Unlike the first game's final level, Vasara 2's last stage does not disappoint. All five of the bosses are challenging, including the penultimate foe. The level is full of amazing moments and culminates in the player's character having a brief but important talk with Oda Nobunaga. All of them say something different and what they say can range from comedic to emotionally charged. It adds a lot to the atmosphere and makes crushing the final boss feel like even more of an accomplishment.
The Vasara series is usually overlooked due to Visco's reputation for poor shooters. Just when it seemed like they were getting it right, Sammy bought Visco in 2001 and started work on games for the SSV arcade board (Sammy, Seta, Visco). Ten years later, Vasara is for the most part forgotten. They're pretty original games and are well worth a look for anyone interested in a less conventional shooter.