Up until the mid-'90s, most of Disney's video games were licensed out for other companies to develop, apart from a few educational titles and interactive CD-ROM audio books. It was therefore going to be very interesting to see exactly what Disney's own development group, Disney Interactive, were going to deliver when it was known in 1995 that they would start to develop their own titles based on Disney's characters and films. The first title Disney Interactive developed was an all new Donald Duck game which broke from the mold and delivered something quite different and in some ways was bold in both visuals and tone. Donald in Maui Mallard was first developed for the Sega Mega Drive by Creative Capers Entertainment under the Disney banner, but was only released in Europe and South America for that platform. This was because Nintendo had struck an exclusive deal to have the game solely on the SNES in North America. The SNES port came one year later and was ported and co-developed by Eurocom. The same year that the SNES version was released, an enhanced version was released on PC, again developed by Creative Capers Entertainment. Several years later, in 1998, the game was ported to Game Boy by Bonzai Entertainment.
Donald stars as the private eye Maui Mallard, who is on vacation on a tropical island deep in the Caribbean, when suddenly the mysterious idol Shabuhm Shabuhm goes missing. It turns out Shabuhm Shabuhm is the guardian spirit of the island and without his protection, the island will be blown to smithereens. Maui takes the case and decides to investigate the mysterious abduction, and the clues leads to a haunted mansion which is where the idol was last seen, which in turn leads Maui to a native village. The inhabitants of this village, the Muddrakes, don't take kindly to Maui's presence and actually try to sacrifice him by throwing him into the nearby volcano. What the Muddrakes don't know is that detective Mallard actually has a secret identity – he is also a bo staff wielding ninja. They decide to put him through the "Test of Duckhood" to see if he is worthy of saving the island, and if he is, it'll be up to Maui to save them and retrieve the idol from whomever stole it.
Maui Mallard is quite the departure from any other Donald game, let alone Disney game before it. The image and likeness of Donald is now used like an actor portraying a character, and Maui Mallard acts nothing like you would expect Donald to behave outside of a somewhat hot temper. Mallard is depicted as a PI loosely modeled after Tom Selleck's classic character Thomas Magnum, and is described as cunning and brave detective with a soft spot for beautiful women who continuously breaks his heart. He has the aforementioned hot temper, as hot as his gun in fact, and always wears his trademark red Hawaiian shirt and blue cap no matter where he goes. The approach to the game is strikingly dark, with mentions of sacrificing, cannibalism, not to mention the very uncharacteristic use of a gun in a Disney game, a company that has always had a staunch stance against the depiction of violence. The gun is a bug gun which shoots different kinds of fire bugs, and the way Donald shoots this gun is strangely aggressive and accurate, making him an excellent marksman. The enemies are plenty and have lots of variety throughout the game, often leading to several different kinds of bad guys per level. The way they are depicted also departures from Disney's usual light hearted tone, with grim evil spirits, boney butlers cute but incredibly mischievous Muddrakes, ninja ducks and most surprisingly of all, zombies. If walking dead in a Disney game was not surprising enough, they actually lose limbs and flesh per shot taken from Maui.
Disney games bring in a ton of material for artists and developers to look into for inspiration which leads the majority of them to look excellent and Maui Mallard is no different. The graphics are what you would expect from a game based on the largest animation company in the world – absolutely gorgeous. The backgrounds have a ton of detail and is layered far back to give a sense of vast jungles and decorated windows, and Maui can often go behind or in front of many of the different set pieces that are placed in the foreground and background. The sprites are all drawn from animation cells and contains more animation frames and detail than most games on a 16 bit console. Every frame is carefully drawn with no expenses shed, and the simplest action like ducking down or jumping flows with finesse and Maui never remains static. Even if no button is pressed on the controller, Maui will start looking at maps, aim his gun around or do tricks with a rubber chicken. All the enemies too feature as much detail as Maui, leading the whole game to feel like an interactive cartoon almost. For a game with so much detail, it also manages to show a lot of different objects and sprites at once on screen with virtually no slowdown, which is very impressive, especially on Mega Drive.
All the levels are connected by a storyline which is told between each level. Maui will either think to himself or other characters will address him during these cut scenes, which is stylishly done on a small patch of jungle with the twilight only showing the silhouettes of the characters. Even the levels themselves present a sort of narrative that Maui follows based on what is told through the pre stage story, and every stage feels very much part of an overall story rather than just being a device to get from A to B. The levels mostly take place at night with thunder and rain coming down hard which creates a very distinct and dark tone to the overall game along with the creepiness of the bad guys Maui encounters. The stages are quite diverse, with the clues and objectives taking the detective through mansions, jungles, shrines, villages, volcano caves and ghost ships. Some of these stages play to the strengths of both Maui and his ninja alter ego, with Maui being able to shoot in all directions, use different kinds of ammo and use hooks to project himself into the air, while the ninja can climb narrow spaces using his staff as well as swing and jump across gaps by hooking it to spikes in the background. At certain times, Maui is the only choice because of the stage using a gimmick tied to him, like bungie jumping on vines using his shirt. If enough treasures are collected throughout the stage, a bonus stage is unlocked upon completion. Each stage gives a password so that players can pick up where they left off.
In order to change into the ninja, Maui must collect ying yang emblems. These fill up his ying yang meter which dictates how long he can remain in his ninja outfit, due to a spell put upon him by the Witch Doctor on the island. During ninja mode, which is activated by holding down A, the meter drains continuously like a countdown and the ninja must be used moderately to ensure it doesn't run out. Once it runs out, Maui turns back to normal and must search for more emblems. His ammo is also limited, and being trigger happy isn't always the best idea. When the ammo runs dry, all the gun does is shoot bubbles, which does no harm and has no use whatsoever other than to remind Maui to find more bug ammo. The ammo can also be combined for customized firepower. Most of the stages are side scrolling mazes where Maui must find the exit signs to progress onto the next section, though there are several offset stages which makes use of gimmicks like bungee jumping and shrinking. Both in terms of art style and game design, Maui Mallard shares a lot in common with Shiny's Earthworm Jim, which was released two years prior to this game. Both Maui and Jim makes use of hooks to swing themselves around, both games feature bizarre stages and organic designs, not to mention bungee jumping stages and both characters makes use of an oversized and powerful gun.
The soundtrack was handled by Academy Award winning composer Michael Giacchino. Before Maui Mallard, Giacchino had worked on two other Disney video games, Mickey Mania and Gargoyles. It's pretty clear it wasn't Maui Mallard that won him the most esteemed award in the showbiz, but it is nonetheless an enjoyable mix of styles and is at times quite atmospheric. The music has a cheesy tropical jazz vibe to it with touches of kitch to create a fittingly hokey soundscape. The compositions are for the most part stellar, if not a bit too much on the ambient side of things, but the Genesis sound chip holds the songs back from fully growing out and showing their full potential, always sounding a bit flat. Giacchino won the Academy Award for the music in Disney Pixar's Up! in 2010.
Sadly the game suffers from what seems to be the Duck Curse in that Mallard is sometimes just so unresponsive and floats unnaturally around. The controls themselves are easy enough to learn and logically mapped, but it is again the jump that holds the game back to such an extent that it affects the overall enjoyment. The momentum of the jumps is almost as bad as in Mahou No Boushi, with Maui just never getting the desired air time or reach. Granted, it is far from as problematic as Mahou No Boushi, but Maui has a tendency to float too far or even jump in place. Another big problem is the distinction between background and foreground, or rather the lack of distinction. For a game with so much detail and lush graphics, it comes around to often be its worst enemy. Several of the stages are pretty long and with the added frustration of not clearly being able to tell what is what, they can become extremely difficult to navigate. The dark tone and style of the game starts to wear out when the stages become an endless maze of foreground rocks or trees which is hard to tell if it's really a wall or just in front of a passage, some ledges looks like they should be able to be climbed and used for elevation, but turns out to be simple background objects. It can become a real mess and in the darkest areas of the game, there are times when Maui will be behind solid black foreground structures, leading to several seconds of a completely black screen as it seemingly scrolls along Maui's run. The scrolling also hangs a bit behind his movement, which can lead to some unseen deaths since the screen didn't keep up properly. There is also nothing that aids Maui in figuring out the way to go, which is pretty annoying for a game that makes use of such large levels. The gun projectiles are also as tiny as a pea next to the sun, and makes it hard to know when you are actually hitting some enemies, especially the airborne kind.
It's a commendable effort to try and use Donald to portray an all new character and make use of a darker, more mature tone aimed direction to attract a wider audience. There's tons of potential in the game and it really does at times have its moments of brilliance, but halfway through it falls apart underneath the weight of its own material. It is one of the most gorgeous games ever made on the Mega Drive, and it should be praised for how much it really pushes the system to its limits, being always fast and always vibrant and never slowing down, being consistent from start to finish with a proper 50's detective and pulp comic vibe. It's just a long, tough and frustrating road to that finish. In early 2011, Noe Valladolid interviewed both composer Patrick Collins and artist Oliver Wade, who revealed that art for a sequel were made, but plans were ultimately cancelled.
Donald in Maui Mallard never made it onto the Sega Genesis in North America. The SNES version shows a huge improvement on both graphics and audio, with more colors, a bit more detail on Maui and a beefed up soundtrack. Some attempts were made to give a bit more distinction to certain objects, but both the controls and the level design remain pretty much as confusing as they were on mega Drive. The soundtrack is the best improvement out of all, and the music finally has its chance to be heard as it should, and it sounds absolutely awesome. There are several changes to level layouts and details throughout the game, like the bosses having stronger colors with darker outlines, and some levels shortened and retooled for better pacing. A pre-stage text screen is also shown with information on how much treasure is needed to access the bonus stages. There are also some advanced light effects found at certain times. Not all changes are for the better however, with some details being removed like the coliseum fight against the Muddrake warriors where the background now just shows a single row of spectators, while the Genesis had a sold out crowd who even shows signs as Maui fights. Some of the bosses also lose a sense of grittiness due to the brighter colors and more cartoony look.
In a move that proved fatal to the potential success of the game, the decision was made by Disney to remove all mentions of Donald Duck in both ads, in game product and the manual and change the name into Maui Mallard in Cold Shadow. This was done for two reasons. Disney was rather nervous of the reaction of many watchdog groups in America of seeing Donald handle a gun and starring in a game which has such a distinctly different tone than anything he has been in before. Disney also felt that Donald's image had lost some steam with the young crowd at the time. There was serious discussion of launching a Maui Mallard cartoon series as well, and Disney had high hopes for the game to launch this new property, again much like Earthworm Jim. Due to the impending release of Nintendo 64 just mere months after the release of Cold Shadow, the flawed marketing of removing Donald's name and poor timing of release made it a massive flop for Disney, and all plans for future media and game installments were cancelled. The PAL release kept the original title for the SNES release.
The only other US version released was the PC version. This was a greatly enhanced port based on the Genesis version featuring high resolution graphics, new effects and added details. The soundtrack was also redone with high quality samples and is redbook audio, meaning any CD player can play the tracks like an audio CD. Donald's name was also reinstated into this version, though Maui Mallard was completely removed from both title and in game dialogue, with all characters addressing the main character as "Donald". The PC version does not work with any operating system past Windows 98.
Long after it had become clear that Maui Mallard was a failed experiment, it was ported onto the Game Boy in 1998 by Bonzai Entertainment. It is a beyond terrible port with some of the worst controls experienced on the Game Boy. The graphics are messy and confusing and the music is an embarrassment, consisting of tone deaf melodies and noise. There is also no password feature. Stages were shortened down and changed to compensate for the smaller screen and some bosses were changed, like the metal spider on the first stage being changed into a real spider in the attic. The Maui Mallard name returned in this version.
Screenshot Comparisons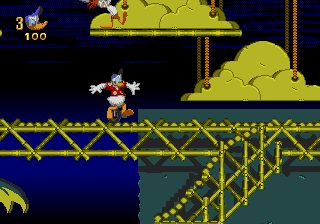 Genesis
[/caption]
Maui Mallard 2 Designs
In Valladolid's interview with artist Oliver Wade, several designs are shown of what would be Maui Mallard 2. The story, game design documents and character designs were all done due to the amount of work that was put into the supposed launch of Maui Mallard media, but once the first game failed to gain any sort of success or recognition, the game and anything related to Mallard was quietly cancelled. The interview can be found here.