Some people, particularly baby boomers from the 1940s and 1950s, when they think of Gunsmoke, usually think of the long-running vintage Western that aired on radio and TV from 1952-1975. By the time the TV version ended its run on the CBS television network, it became the longest-running prime time, live-action drama to air in the United States, with a grand total of 635 episodes. Even as of this writing does it continue to hold that title. But other than the Western theme, Capcom's Gun.Smoke (note the dot in between the words gun and smoke) has no connection to the radio/TV show.
Gun.Smoke is pretty much the younger brother of Commando, which was also made by Capcom. Except that unlike Commando, which was a run-'n-gun military shooter, Gun.Smoke was a vertically-scrolling shoot-em-up set in the old west. But that's what makes this game unique, because shmups are usually set in outer space, so it's not common to play a shmup that is set in the old west, where the main character keeps on running, even when he's in the same position. Then again, this idea had sort of been done before in Nichibutsu's arcade classic MagMax, a horizontally-scrolling shmup set in space, in which the main character is a robot.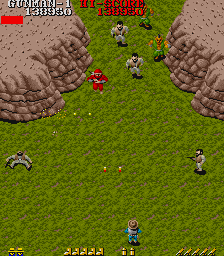 Although it was never as popular as Commando, and was largely forgotten years later, Gun.Smoke is by no means terrible. It is a fun game set in the old west with a sort of unique twist on the shoot-em-up genre, even if it is very similar to Commando. There were several different versions of this game, but the ones that most people have played were the 1985 Arcade version, and the 1988 NES version, both produced by Capcom. These two versions have different gameplay elements to offer, depending on your preferences: The former for its non-linear, but hard-to-beat levels, and the latter for its linear, but easier levels, and significantly-expanded gameplay. The arcade version was designed by Yoshiki Okamoto, who later went on to create Final Fight and Street Fighter II.
Running on the same hardware as Commando, Gun.Smoke shot its way into Arcades in November 1985. In this game, you take control of a bounty hunter named Billy Bob, who is armed with two pistols, and your task is to track down ten of the most dangerous outlaws in the old west. Along the way, you will have to fight off the common enemies as well, such as gunslingers, demolitionists, snipers, riflemen, and, in the 6th round, Indians.
Gun.Smoke's most peculiar feature are the hero's flexible shooting capabilities. The arcade cabinet uses three buttons, of which the middle one shoots straight ahead, while next to it are buttons that shoot at an angle in each direction. From here on it gets interesting: Pressing the middle button in correspondance with any of the other, makes the angle more flat, while both outer buttons allow for a stylish move with each gun pointing in the opposite direction. No combination allows to shoot backwards, though, guaranteeing much grief for the player in the later stages.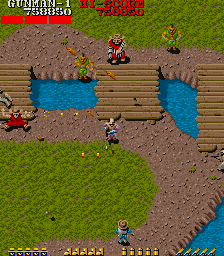 Each round contains a lot of barrels, and if you shoot at them, you may uncover items that will raise your score, such as money bags and bottles of whiskey, and even power-up items. They consist of rifles that will help increase the range of your bullets, boots that will increase your speed, and bullets that will increase the speed of your shots. You can also collect special items, such as dragonflies, Cows, and the Capcom yashichi symbol, which will give you an extra life. There's also the POW symbol that will kill all enemies on-screen. But watch out for the cattle skull, because picking it up will take away one unit from your boots supply, your bullets supply, and your rifle supply. You also lose one from each, if you lose a life. There doesn't seem to be any limit to how many boots, bullets, and rifles you can collect, so try to collect and hold on to as many of them as you can (although the effect is limited to a certain number, more can be collected as spares). On a side note, the barrels, and some of the items in this game, even appeared in other Capcom games, such as the Arcade and NES versions of 1943.
Normally, you can only take one hit, but you can also find a horse that can take up to three hits, despite not being able to come with you to the next round, even if you a defeat a boss while riding on one. For some reason, the horse doesn't appear in round 5. If you lose a life, you will start at the last checkpoint. You'll know you're about to reach the boss, when you suddenly notice a change in the music. While fighting the boss, you have to make sure to fight off the endless swarm of enemies that will do their best to distract you from defeating the boss. They won't stop coming until the boss has been defeated. Once you've defeated the boss, you'll then be treated to a short, but cool sequence of bullet holes appearing on the wanted poster, as you claim your prize. After that, it's on to the next round.
The Cast

Billy Bob
The main character. He is a 21-year-old bounty hunter, who must shoot his way through 10 levels. He is armed with two pistols, and wears blue. He's also the main character in the NES version.

Master
Round 1 boss. He wears a hat with a blue scarf, a blue shirt, and brown overalls. Whenever he is hit, he gets on his belly to avoid your shots.
Weapon: Winchester (a.k.a. rifle)
Prize: $10,000

Roy
Round 2 boss. Wears red clothing, and has an unlimited supply of throwing knives. He can do backflips to avoid your shots.
Weapon: Throwing knives
Prize: $12,000.

Ninja
Round 3 boss. Wears red, and can disappear and reappear in just about anywhere. He throws shurikens at you, while he's in the air.
Weapon: Shurikens (a.k.a. darts)
Prize: $15,000

Cutter
Round 4 boss. A bald-headed man with a U.S. Calgary-like uniform and gloves. He will try to cut you up with his razor-sharp boomerangs. However, you can stop them, by shooting at them.
Weapon: Boomerangs
Prize: $15,000.

Pig Joe
Round 5 boss. A shirtless fat slob, who has dozens of dynamite sticks strapped around him. Because he also spits out fireballs, he is said to be a fire-eater, as well.
Weapon: Dynamite sticks
Prize: $20,000

Wolf Chief
Round 6 boss. The chief of a corrupt Native Indian tribe, he wears a feathered headdress with red clothing.
Weapon: Shotgun
Prize: $80,000

Goldsmith
Round 7 boss. He wears a blue outfit with a brown jacket, and rolls on the ground to avoid enemy attacks. He usually shoots when there is some distance between you and him.
Weapon: Double rifle
Prize: $20,000

Los Pubro
Round 8 boss. A Mexican bandit with a sombrero, a light blue vest and blue clothing. Carries the same exact weapon as Billy Bob.
Weapon: Double pistol
Prize: $25,000

Fat Man
Round 9 boss. A big, shirtless guy. What else is there to say about him?
Weapon: Machine gun
Prize: $30,000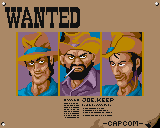 Wingate Family
Round 10 bosses. They consist of a father and two sons. The sons can be taken out easily, but it's the father that must be defeated in order to beat the final round. Much like Master, Father Wingate will get on his belly whenever he is hit to avoid your shots.
Weapons: Machine guns (sons) and rifle (Father Wingate)
Prize: $80,000
Be prepared to constantly die! This is one of the toughest shmups ever created for the Arcade. If you're lucky, you may be able to beat the first 4 or 5 rounds, but when you get to round 6, holy shit is it hard! Not only do the enemies keep on coming, but there are two instances where the screen will stop scrolling, and you'll have to fight off some enemies that the boss keeps throwing at you. Yes, round 6 will always be "that one level". This game is definitely not for casual gamers, it's for those who like to be challenged, as unrelenting as it may get in this game.
The graphics in the levels are nicely detailed, especially the mountain and landscape levels. It lacks in variety, though, and the same set of ground tiles for almost all levels get old very soon. The animation is also pretty fluid too, mainly the way Billy walks, and the way the enemies appear on screen.
The soundtrack for this game, while not the greatest you'll ever hear, is well-suited for the on-screen action. The best tracks are the shared main BGM for rounds 1, 4, 7 and 9, and the main BGM for rounds 2 and 5. For a 1985 Arcade game, a staggering 28 different tracks, all composed by Ayako Mori, were used. The soundtrack also includes three different versions of the round clear BGM. All bosses are identified by different theme songs, but for some reason, Cutter and Goldsmith have the exact same one. On August 25, 1986, Alfa Records released the entire soundtrack as part of Capcom Game Music Vol. 1. Also included were two previously unused tracks.
All rounds in this game begin the same way, except for round 2, which begins with a short cutscene of a train heading north, with Roy and his henchmen on top of it. After you beat the final round, you are treated to a hilariously-written Engrish message, which also tells you to look forward to Capcom's next exciting game, which turned out to be the Arcade version of Section Z. Happy, happy, very happy indeed.
In 1986, this game was licensed to Romstar for U.S. distribution. Some U.S. versions omit the boss rundown, as seen at the start of every other variation of the Arcade game, and swap rounds 3 and 6, so that Wolf Chief now comes after Roy, and Ninja now comes after Pig Joe. This alone makes the game even harder than it already is.
This game was ported to a few home computers, such as the Commodore 64, the Sinclair Spectrum, and the Amstrad CPC. The Commodore 64 version is the only one to follow the structure of the arcade game, but it doesn't do it very well. It has been shunned as one of the worst C64 games ever, but it's not that bad. The biggest problem are the awkward controls, as walking left or right shoots automatically, but when shooting straight up, the fire button has to be pressed. Of course the various "special moves" are not in this version, which sets the trend for all other contemporary home ports. All the other computer ports are dealt with in a seperate entry below.
Thirteen years after its original release, the Arcade version appeared on Capcom Generations 4: Blazing Guns, along with both Senjou no Ookami games (Commando and Mercs respectively) for both the PlayStation and Saturn. Those versions are close renditions to the arcade version and offer three screen modes: Mode 1 zooms out the whole screen so that it fits on the 4:3 scale, which makes everything small and pixelated. Mode 2 sacrifices a bit of the height for a cropped view that fits the TV screen, aligned to the left with status information (score, lives, etc.) at the right. Mode 3, finally, is meant for monitors that can be turned upright and display the game faithfully to the original.
Both versions also have an arranged CD soundtrack (which sounds much, much better than the original and takes a Morricone-esque Spaghetti-Western style) and a gallery, which in the Saturn version is mostly used for stuff you'd see in a manual (character profiles, a scan of the arcade flyer, etc.), while the PS1 has some exclusive artwork. Gun.Smoke was also included on Capcom Classics Collection Vol. 1 for the PlayStation 2 and Xbox, and on Capcom Classics Collection: Reloaded for the PlayStation Portable. Like many Capcom arcade classics, Gun.Smoke was also ported to mobile phones. Here the hero fires a constant stream of bullets at all time, with the lower row of keys toggling the different shooting modes. The graphics are also redone and filtered on higher resolution phones.
Gun.Smoke (ガンスモーク)

– Famicom Disk System, NES, MSX (1988)
In 1988, Capcom, in an unusual move, decided to bring the Commando-inspired shooter to the Nintendo Entertainment System in America and Europe, and the Famicom Disk System in Japan. Much like the NES versions of Section Z, Legendary Wings, and Strider, Capcom made something completely different.
For one thing, there is now a storyline built around it. The game is set in 1849, during the height of the Gold Rush era. One day, The Wingates raided the town of Hicksville, and killed the sheriff. That's where you, Billy Bob, come in.
Not only is the storyline different, but so is the gameplay. There are now only six levels: Town of Hicksville, The Boulders, Comanchi Village, Death Mountain (not to be confused with Zelda's Death Mountain), Cheyenne River, and Fort Wingate. In each level, not only will you have to fight off the common enemies, but you'll need to obtain the wanted poster. If you don't have it, the level will go on forever. Like before, you can also pick up money bags to raise your score, and collect boots and rifles to improve your shooting and speed. The POW symbol that will kill all enemies on screen and the dreaded cattle skull also return in this version. Finally, there are two different yashichi symbols this time around: The white-on-red ones that give you an extra life, and the white-on-blue ones that give you temporary invisibility. Left dying in the desert are the special button combinations, just like in any other of the home ports, due to the limitation of two action buttons.
Another thing that's different in this version is that the points you earn are no longer just for getting a hi-score; they now have another purpose. Each level has two different general stores, one run by a man, and another by a woman. In the first one, you can purchase four different weapons: A shotgun worth $6,000, a smart bomb that can only be used once worth $8,000, a machine gun worth $10,000, and a mag num worth $20,000. The other one offers bullets for your weapons for $1,500 each, a Horse worth $20,000, and the wanted poster that you'll need to reach the boss of each level, but for an incredibly-high price (kinda stupid how the asking price for those is often higher than the bounty). Like before, the Horse can also take up to three hits. If you lose a life while you're carrying a weapon, you'll automatically lose it. The general store is one of two ways to get the wanted poster, the other is by locating it in a hidden location in each of the levels. The boss fights are done in the same way as the Arcade version, and like before, once you defeat the boss, you are treated to a short animated sequence of the wanted poster being shot, this time to a much cooler victory tune. Also, as a nice little touch, the common bandits that are usually dressed in green, will wear differently colored outfits depending on the boss. They will wear purple during the 4th boss, gray during the 5th, and light green/light blue during the 6th. The levels and the gameplay aren't the only things that are different in this version. They also dropped four of the ten bosses, and redid all of them.
The Cast

Bandit Bill
Town of Hicksville boss. Much like his Arcade counterpart Master, he gets on his belly whenever he is hit in order to avoid your shots. However, he now wears a red shirt and blue jeans.
Weapon: Rifle
Prize: $10,000

Cutter
The Boulders boss. Same as his Arcade counterpart, he throws boomerangs at you. However, he now wears a baggy blue sleeveless shirt and red pants.
Weapon: Boomerangs
Prize: $12,000

Devil Hawk
Comanchi Village boss. He's completely different from Wolf Chief in the arcades. In this version, he's shirtless, and throws fireballs at you.
Weapon: Fireballs
Prize: $25,000

Ninja
Death Mountain boss. In this version, he wears purple, no mask, and sports a pony-tail. Also, his shurikens can now split into little pieces.
Weapon: Shurikens
Prize: $20,000

Fat Man Joe
Cheyenne River boss. Here he wears a gray armor plated shirt. Also, his new named is loosely-based on Pig Joe in the Arcade version. Capcom simply took "Joe" from his name, and added it to Fat Man's name.
Weapon: Bomb gun
Prize: $20,000

Wingates
Fort Wingate bosses. In this version, the Wingates are now two identical outlaws with different-colored capes (light-green and light-blue respectively). In addition, Capcom gave them a new wanted poster, by taking Los Pubro's and adding a slash over one of his eyes. Once you defeat the first Wingate, the other appears.
Weapon: Machine guns
Prize: $30,000
Gun.Smoke on the NES is a much better and less-frustrating game than its Arcade counterpart. There's more to do, and the levels are also a bit more interesting this time around. The first level is set in the alleyways, the second level is set in a deserted valley, the third level is set in a Native Indian village, and the fourth level takes place below the mountain side, where you'll have to watch out for the rolling boulders. Unlike in the Arcade version, where you only fought one Ninja, in this version, you'll also have to fight regular Ninjas as well. The only thing that would have made both versions even more awesome was fighting robots in the old west. But Ninjas are still awesome. The fifth level takes place in a forest. You can also slosh through the water, where enemies will also appear, by foot or on he horse. And finally, in the sixth level, which is set in a white fortress, try your best to stay alive, because the bullets blend in perfectly with the white floor.
The music, composed by Junko Tamiya (Strider, Sweet Home, Little Nemo), is catchy and better than the Arcade version, with the best tracks being "Town of Hicksville", "Bandit Bill", "Stage clear", "Death Mountain", "Cheyenne River", and "Fort Wingate". The "Cheyenne River" theme is kinda reminiscent of the theme song to the old TV show CHiPs. The music can get a bit repetitive, though, if you don't have the wanted poster and end up looping the level over and over again.
The graphics are nicely detailed, especially the backgrounds for the Comanchi Village and Cheyenne River levels. The animation is a bit limited, though, especially for Billy Bob. In the Arcade version, wherever you moved him, he was automatically facing that direction, except for the bottom-left and bottom-right directions. In this version, he only faces in one direction, regardless of wherever you move him. Also, unlike in the Arcade version, where you had three shot buttons, making for a possible eight different directions that you can shoot in, you can only fire in three. B button fires left, A button fires right, and A + B at the same time fires straight. The game has to be completed three times in order to get the best ending, in which a simple message says "THE END."
This version of Gun.Smoke was first released in Japan on the Famicom Disk System, and was soon followed by a version on the NES for both the American and European markets. The NES and FDS versions are virtually identical, but with some slight differences. Like most FDS games, there are loading times in between levels. There's also no player demonstration like in the NES version. The font in the FDS version was the traditional Capcom font, as seen in most of their NES games, while the font in the NES version was the military-style, as seen in the Arcade version. For some reason, the words for the opening storyline "In 1849" was changed to "In America" for the NES version. The wanted posters for the outlaws originally had an Anime look, and Bandit Bill's shirt originally had an open collar. In the NES version, they were given a realistic look, and a scarf was added around Bandit Bill's neck. After you beat the game the first two times, there is a Japanese message that tells you to beat the game again. This was thrown out in the NES version.
The most noteworthy difference in between the two versions is the music. It becomes evident as soon as you defeat Devil Hawk. Because of the limited memory on the disk cards, the level 1 theme is recycled in levels 4 and 6, the level 1 boss theme is recycled as the boss theme for levels 4 and 6, the level 2 theme is recycled in level 5, and the level 2 boss theme is recycled as the boss theme for level 5. This makes much of the music in the FDS a tad annoying, and inappropriate for much of the on-screen action. Not long after the FDS was released, improvements were made to NES and FC cartridges. This gave Capcom the opportunity to add six new tracks for the game's soundtrack: "Bandit Bill", "Death Mountain", "Ninja" "Cheyenne River" "Fort Wingate" and "Wingate". These additions make the NES version of Gun.Smoke much better than its FDS counterpart.
In 1990 the Korean company Prosoft produced an unauthorized port of Gun.Smoke for the MSX compatible Zemmix console. It appears to be derived from the NES version, but unfortunately isn't preserved and ultra rare like most Korean 8-bit games, so hardly anything is known about it, otherwise.
Screenshot Comparisons