Every system has its prized rarities; killer titles which for whatever reason didn't have a wide enough distribution so end up both sought after and difficult to find. Faselei! fills that role on the ill-fated NeoGeo Pocket and NeoGeo Pocket Color (for the remainder of this article we will also be omitting the superfluous exclamation in the title). Receiving a low print run and released just before SNK went bankrupt, it was (along with the hardware) apparently removed from store shelves. Although later put back on the market to liquidate stock, demand still outstrips supply and so it goes for comparatively high prices on eBay – though these have noticeably come down over the years.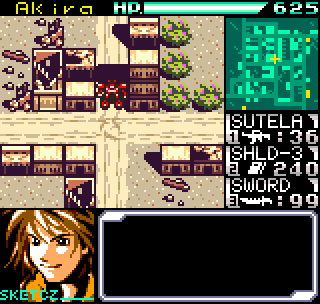 In a nutshell Faselei! is a turn-based strategy-RPG where instead of controlling several characters to perform a single action in alternating turns, you control one character (a giant mecha) for several actions in each turn. You do this by queuing each of your actions and then letting them play out against the enemy's queued actions. The premise is that your mecha (or Toy Soldier, referred to as a TS), has a CPU which starts off with the ability to remember 5 actions, and can be upgraded to queue 6 and later 7 actions. Each action meanwhile is based on a series of "program chips" you collect.
For example, if you want to move forwards one block, you drop the FW chip into your first free CPU slot, and then you can perform a different action. If you want to move forward three blocks on the map grid, you drop that same single FW chip into the first three slots. Chips available include: Forward, Turn Left, Turn Right, Slide Left, Slide Right, Dash Two Blocks, Turn 180, Reload, Use Item, Fire Weapons 1 through to 6, Call for Backup, Charge Weapons, Raise Shield, Drop Mines and quite a few others. Of course you start off with only the basics and need to purchase more before they can be used, but once you own a chip you can use it as many times as you want.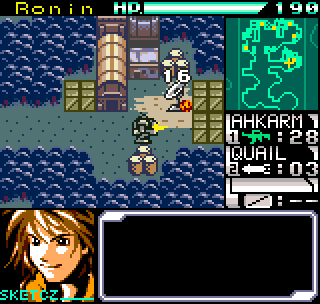 For best results you need to anticipate how the enemy will react and plan for it. It's an ingenious system which works better than you'd expect it to. If you've ever played Skies of Arcadia's ship-to-ship battles, which also required the queuing of actions, you'll have a fair idea of how this all works. After missions you'll receive EXP with the potential to level up and increase stats, and also money with which to fund new gear. There's a store for pilots and you can buy improved Toy Soldiers (there's over 20 models by a variety of manufacturers, each with different stats), better weapons, a more powerful CPU, more chips, ammo and repair items, plus bigger backpacks to store such items.
It's apparent developer Sacnoth was very fond of this project, because it's been developed with a lot of passion. Besides the complex and well thought out strategy mechanics of the battle system, there's a cool fully vocalised intro song (though heavily compressed to fit on cartridge) and several cinematic cut-scenes, plus some extremely detailed and gorgeous sprite work. The NGPC had a very low resolution, but we've doubled it for screenshots to show how exquisite everything looks. The Toy Soldiers do resemble toys as they plonk around with some adorable walking animations done in miniature. You can also see broken flights of stairs in ruined buildings, there are tiny villages in the jungle stages, and every character no matter how minor has their own distinct face portrait. Even the menus are slick and compact – it all feels really well designed.
The story meanwhile is also reasonably complex for a handheld title. Set in the year 2099 the world is still recovering from World War III, and many countries are in the grip of anarchic uprisings. As ace pilot of the Faselei mercenary group, you and your team are hired by the rebel army of Middle Eastern country Istar to overthrow the current dictatorship and bring freedom to all. You'll be up against the regular army and its generals, as well as rival mercenary group The Jackals. There are hidden connections between certain characters to discover and few of them are wholly good or evil. The moral ambiguity keeps things fresh, as it's clear you're not always fighting the bad guys. As can be expected during war there will also be casualties, and considering how quickly new characters are introduced to the story some are killed off just as quickly. This keeps the pacing quick and prevents boredom.
Characters
For all the acclaim it receives though, Faselei! isn't without its problems. For starters, not only is its pacing quick but it's short, very short – around 8 hours tops, depending on how good you are and how much time you spend on the extra side-missions. There are only 13 story missions, and the last two are technically just one long one without saving (TIP: before starting mission 12 make sure you have spare supplies in reserve, since while you can refill your backpack for mission 13, you can't visit the shop).
Actually, in a way the brevity is a good thing, since it masks some problems that eventually pop up. The game's strategy mechanics excel when you're underpowered, having to rely on terrain and clever tactics to outmaneuver a superior enemy. When it works, it works incredibly well. But even without grinding through the optional side missions (which are just randomly generated enemies on previously completed maps) you'll very soon be maxed out. Once this happens there's little reason not to just rush in to the adjacent block and pump away with the most powerful weapons, letting your extra armour take any damage. Only the final two stages prove difficult since there's a lot of enemies and you're not able to carry nearly enough spare ammo. But even then this is an artificial handicap, and the solution isn't better tactics, but wading in close, using the chip to triple weapon strength, and then bumping away with melee weapons. Also, the ability to choose different mecha is redundant since the Hauser models are quite clearly the most powerful without handicaps, and they're not much more expensive. You can also unlock a whole bunch of secret weapons and extra mecha by playing the side-missions, but the game becomes so easy anyway there's not much point.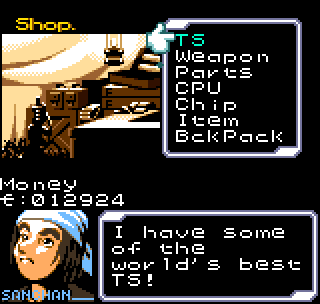 None of these criticisms are game breakers though – certainly everyone with an interest in strategy games should spend a weekend completing it once. It's a wonderful little game. But it's sad that a great concept didn't receive wider recognition or a sequel. What Faselei! really needs is a massive update, on PSP or Vita perhaps, with more of absolutely everything. Until then, it's emulated beautifully in RACE if you want to play it on your PSP.
There is also a two-player mode, which potentially sounds like the greatest thing ever. But you'll be very lucky if you can find another person with an NGPC and copy of the game to try it. For those emulating, there doesn't appear to be a way to link systems.