Dune 2, released in 1992 by Westwood Studios, is largely credited as being the progenitor of the real-time strategy genre. Of course it wasn't actually the first, as it merely codified certain conventions that were used in later titles, and there are a fair number of games that precede it. One of these is Falcom's

Lord

Monarch

, released in 1991. Many aspects will be familiar to real time strategy game fans, but it plays very differently from the descendants of Westwood's classic.

Lord

Monarch

is technically part of Falcom's Dragon Slayer series, the seventh entry to be precise. It wasn't actually advertised as such on the box though, and it's nothing like any of the other Dragon Slayer games, because (A) it's not an RPG, and (B) there are barely any dragons in it. Like all of the other games in this grouping, it was designed and programmed by Yoshio Kiya.
Each level of

Lord

Monarch

places you on a square map, in control of a single kingdom, fighting for territories with three other kingdoms. At first, each has only a castle, but quickly needs to expand outwards in order to expand their population. Eventually you'll expand and touch borders with one of the others, requiring you, at some point, begin taking their territory and eventually destroy their castle. Once you've taken down all of the opposing kingdoms, then you win the map. Combat is pretty simple – when opposing units collide into each other, the weaker unit is destroyed and the stronger one remains. The maps are often not symmetrical, giving the kingdoms various territorial advantages and disadvantages. There are three different zoom levels that give you various views of the level.
Much of the game works on its own, governed by set algorithms. One of the major things you have direct control over is the tax rate – money is needed to build things, but if the tax rate is too high, then you won't be able to produce any more workers. Therefore, you constantly need to switch it back and forth to suit your needs, but otherwise the building of structures and creation of units is handled automatically. Technically you can take control over a single unit at any time, though this is mostly used for specific tasks like building (or destroying) barriers and bridges. Instead, you can set the AI of all of your workers to do a specific task, like building in certain area, or setting them to aggressively attack the enemy. Technically there is only one type of unit, which has set strength and health values based on assorted factors (primarily your overall population, who are used for both building your villages and destroying others. But you can command your workers to continuously pile into a single unit, eventually growing more and more powerful as more clamber into it.
The most important unit in the game is the leader unit. It's easily the most powerful single unit in the game, whose strength and health is also governed by the kingdom's population, but to a much larger extent than the regular folks. Once it's killed, then that kingdom is destroyed. In order to win each level, is that you steal land from your opponent, eventually strengthening yourself and weakening them, until the time is right to strike directly at them. You can directly move your leader unit, but every move it makes over the map will deplete its health, plus whenever the leader leaves the castle, you cannot collect any tax revenue. Taking your leader into combat is a gamble, since, again, if it runs out of health, then you lose the whole map, regardless of how well built up the rest of your kingdom is.
There are a few other strategies to note – namely, when you begin a map, you can ally yourself with one of the other kingdoms, so they won't attack you. Obviously since the goal is to annihilate everyone else, this truce probably won't last very long. You have a limited number of days to win each map before the whole thing is declared a failure. When you complete on, you're graded on the amount of days remaining, as well as other factors (amount of the map you've claimed before destroying the last leader, among others), which in turn can give you a bonus or penalty. The amount of days is then carried over to the next map, so there's an incentive to perform over the course of the whole game.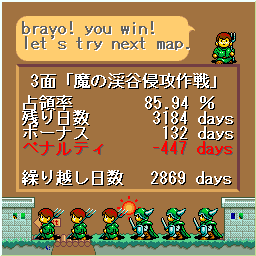 Lord
Monarch
is an unusual game because it doesn't focus so much on small conflicts so much the overall flow of your strategy, such as when and where you send your units to attack, or knowing when to withdraw. There's very little randomization and the entire game is governed by simple algorithms, so in many ways, it's just as much of a puzzle game as it is a strategy game. You can set the speed at any time, slowing it down for whenever you need to concentrate on a small task but speeding up when you want to see how your strategy plays out. It's a little overwhelming to get a handle on how things operate, but once you do, it's a lot of fun to set your little kingdom expand quickly and then crush your enemies with a simple command.
There are also several types of themes for the graphics in

Lord

Monarch

, changing the look of the units and the board tiles, as well as the music. The opening levels have a standard medieval theme, but there are lots of odd ones, including ones themed on demons, robots, fast food, and others. These don't have any effect on the gameplay though, as these are just for changes of scenery, and many of the later ports add in new ones or switch things up. The soundtrack is quite good, as with most Falcom games, with plenty of upbeat, peppy, and catchy tunes. They're unusual for a strategy game but they fit along with the pace.
There are tons and tons of ports and release of

Lord

Monarch

, though there's not much that actually changes from its initial release. The first version, just called

Lord

Monarch

, was released in 1991 for the PC-98. Advanced

Lord

Monarch

was released shortly thereafter, which includes new maps, an advanced mode with improved AI, and a different way to calculate ranks. Both of these versions were ported to the FM Towns with enhanced 256 color graphics, along with CD audio support. Both PC-98 versions have map creators. Most of the later versions don't have this ability, but fanmade map creators were produced. The interface in these versions is pretty clumsy, because it's difficult to switch between the map screen and the status screen – you need to hit buttons on the keyboard to access it.
The first console release was on the Super Famicom, courtesy of Epoch. While it's playable with a controller, it works much better with the mouse. The graphics take a hit, due to the low resolution of the system, though the zoom function does use some cool Mode 7 scaling effects. It's a little sluggish too, as the fastest speed is still fairly slow. There are a few extra themes exclusive to this version, including youkai, animals, and demons. Unlike the PC versions, you can only save between maps, not during them.
The Mega Drive version is called

Lord

Monarch

: Tokoton Sentou Densetsu ("Complete Battle Legend"). It was produced by Sega-Falcom, the joint venture that also brought Popful Mail and Sorcerian to Sega platforms. The visuals have been given a complete overhaul, with colorful characters, and it both looks and sounds like the Shining Force games, another popular strategy game series on Sega's 16-bit platform. It was actually developed by Omiya Soft (Front Mission Gun Hazard, Culdcept), with music arranged by Masaki Tanimoto, who typically worked with music studio Two Five. It included maps from both of the original and Advanced versions, plus a unique story mode with 32 more maps with different goals and new characters.
In general it's much better than the SFC port, though outside of the new, cartoony designs for some of the leader units, it doesn't include the wide variety of themes from other versions. Like the SFC version, you can also only save between levels. It's also one of the few Mega Drive games compatible with the mouse.
The PlayStation port, released in 1998, is subtitled Shin Gaia Oukokuki ("New Gaia Kingdom Chronicle"), and was published by Toshiba EMI. Like the Mega Drive version, it also has its own unique story mode with different characters. While the visuals are technically more advanced than the 16-bit ports, they lack the charm of the Mega Drive port.
It's based on the original game but has 100 totally new maps, including some fanmade ones. It also includes a story mode similar to the one found in the Mega Drive game, though the actual plot and characters are entirely different. It includes four leaders with their own scenarios.
Lord

Monarch

was also brought to Windows platforms starting in 1996, initially developed to work on Windows 95. Though there are many releases with different names, they're all pretty similar, and all geared towards expanding the audience of the series. Many of the graphics have been carried over from the FM Towns version, though due to the higher resolution, it can zoom out much farther. It's also been
designed to work with the Windows user interface, so you can view, reposition, and resize any of the various status or map windows to your liking. It supports both MIDI and redbook audio, plus it adds cute little voices for the characters when you click on them. It's still a little clumsy compared to contemporary RTS games, but it's a marked step up from the PC98/FM Towns versions.
Lord

Monarch

Original is based on the original game, though it uses the algorithms from the Advanced version, with some tweaked maps to take the changes into account.

Lord

Monarch

First is a budget priced version of

Lord

Monarch

Original released in 1997, with a lower difficulty level.

Lord

Monarch

Pro is a port of Advanced

Lord

Monarch

, though it has music taken from an assortment of other Falcom games, including Ys, Sorcerian, Brandish, and Dragon Slayer: Eiyuu Densetsu.
Lord

Monarch

Online was released as freeware over the internet. It's basically the same as the other versions but features totally new maps. Despite the "online" in the title, there is no network multiplayer. A fanmade map editor was created for the previous Windows versions, and this version can play those maps. This is also the only version of

Lord

Monarch

translated into English, which also included an extensive online manual. Since there's no real story in any of the computer versions, the only thing you need to know are the menu commands. Therefore, you can practice on the English version, and then use that knowledge if you want to play the other Japanese versions.
Monarch

Monarch

is a spinoff (and arguably the closest it ever got to a real sequel) of

Lord

Monarch

that changes the perspective from an overhead one to an isometric one, which also takes terrain height into account. The graphics have been completely redesigned to take this into account, instead of just recycling stuff from the early 90s, so it's the best looking version of the game. Other than this, it plays pretty much the same as the mainline games. As part of its visual reinvention, there's also a new mascot character, the cutesy "Mona" rabbit-like character, who helps teach the rules of the game. In addition to regular 52 levels, there are 8 tutorial stages and 5 hint stages. An unofficial map editor released in 2008.
Minna no Romana is a series of three budget releases, published in 1999. Each of them includes almost all the maps from the Original, Pro, and Online versions, respectively, with an easier difficulty. There are 149 maps total across all three editions, and includes added Windows accessories. Minna no Mona 2 is a re-release of

Monarch

Monarch

with lower difficulty level and added Windows accessories like clocks and screensavers.
Lord

Monarch

Special Original & Pro was released in 2002, and combines both the includes the original and advanced versions into a single package. There were also mobile versions released in 2004 and 2005. The versions sold on digital distribution site Project EGG are emulations of the original PC98 releases. Despite being initially designed for Windows 95, the Windows ports play nicely even with modern operating systems, even up to Windows 10. Versions sold on Project EGG are emulated versions of the PC98 versions, probably due to potential incompatibilities with older Windows systems. A handful of tutorial maps are included with the free versions but extra maps can be purchased. There were also m
obile versions released in 2004 and 2005, with a handful of maps built in for free, and the rest available for purchase.
Links:
Screenshot Comparisons