We have games about games, and we have games about the people who play them, but Divekick is a strange beast that makes itself about a subculture of gaming fans. The entire identity of this game was born from the fighting game community and its many sub-sections, and it is impossible to fully appreciate it without a bit of understanding of that culture. But it goes beyond just humor and creates its own play style no other fighting game can say it has. Where more and more fighters try to complicate things with move lists and complex combinations, Divekick goes in the opposite direction and simplifies it to the most core mechanic.
See, in Divekick, you do one of two things about 90% of the time. First, you dive. Then, you kick. First person kicked loses. As the original trailer states, two buttons, no joysticks. Just dive and kick. That sounds like it would be an empty experience, but it's not. Divekick is brilliant in its minimalist design, using it to make the small differences between the cast of characters count all the more important and game affecting, and tossing in some very simple meter powers to keep things just modern enough not to scare off a casual audience. In fact, it's more inviting. I don't think I've ever seen such a good beginner friendly fighter since Super Smash Bros, and like that game, it does take time to master.
First, you have to figure out which character you gel with best, and there's a lot to choose from, all a parody of someone or something in some way. And this is where we start hitting that cultural barrier of understanding hard.
Characters
As you can see, this is a game made for a very particular audience in mind. There's a lot of discussion in fighting game circles about the necessity of the basics, and Divekick takes that to heart in design. The initial idea was a simple fighting game with two characters and bare-bones, two button fighting, but that foundation was expanded significantly over development, giving every fighter a special trait or trick that set them apart, taking notes from more complicated fighters out there, but never losing the two button concept. The idea of divekicks being the central move comes from an injoke about how central divekick attacks are to so many play styles, the characters have their identities and even tier formed by similar character rosters, and the game is loaded with background references and nods to both fighting games and the world of tournaments. It's a game made by fans, for fans, yet with mechanics that are simply universal.
You can learn Divekick in under a minute, but there's still so many variables every match, keeping it fresh. With all the more complicated features removed, the game plays out either as a twitch based offense battle, or a mental chess game as each player tries to read out the situation and try to get in that one hit as fast as possible. Because nobody has free movement, you have to keep in mind descent speed, arcs, and angles, or you will die very fast. It's a game that punishes button mashing significantly, but not so much that new players can't grasp it. Battles being so quick also helps out, as the game never wears out its welcome too fast and never gets that frustrating when you find yourself on a losing streak because you can bounce back rather easily.
The game is also an interesting look at the fighting game community, from their lingo to their major personalities. But it also comes across as bizarre gibberish if you're not familiar with that very alien world of salt and inside humor, which is actually a bit of a disservice to the mechanics. Still, it really is worth it to try and understand, though the humor does get a bit thick. Kick screaming "SHARK'S TALE" in pain or a loading screen quote making a Back to the Future reference are things anti-comedy is made out of, but it never reaches that subversive level of humor regularly. It's actually a tad too on the nose when you get the humor, and some gags get annoying pretty fast (like the stereotypical voice of Kung Pow). It's very, very stupid humor, but it's at least aware of that and gets chuckles more from inside jokes. S-Kill's dialog is absolute gold if you have any understanding of tiers and Seth Killian's history.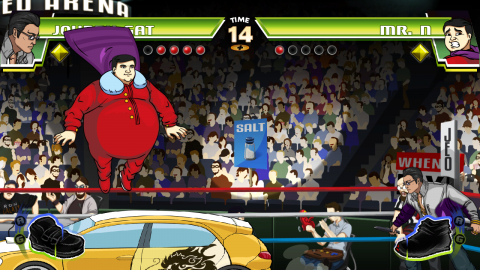 It's a tad surreal that the people behind this would go on to work on the rebooted Killer Instinct series. The music is pretty good (with S-Kill's theme standing out as just plain badass with great guitar riffs), but the art is quite amateur outside Johnny Gat's design. It's a game ridiculously rough around the edges, but I think that works for it. It's like some lost Adult Swim comedy made for a very niche audience, and that's charming in its own right. If anything else, it's a rare look into the world of fighting game enthusiasts, and that's a subject we could have anthropologists study for years.