Clock Tower (Super Famicom)
The ever-popular survival horror genre has seen a many entries since the '80s. Ranging from interactive horror novellas to innovative formulas that combine unconventional elements with popular gameplay, it has become about creativity to help the game reach the famed atmosphere they're named after. It's worth mentioning that most of the developers were influenced at the time with the Cthulhu mythos, born from the mind of H.P. Lovecraft, and later by Edogawa Rampo. Both authors focused their efforts into detective-like characters, who step on to dangerous grounds to uncover a mystery.
As times progressed, Western cinema started to emphasize slasher flicks, providing thrilling experiences surrounding an inescapable death dealer, who'd leave splattered crime scenes straight out of a coroner's nightmare. The Asian counterparts came in the form of psychological horror that better played with emotions and setting dark tones to instill fear and paranoia into the viewers. Both concepts saw hybrid incarnations in late '80s gaming that tried to approach every aspect known at the time without being able to actually set a standard.
This "standard" was supposedly born with Resident Evil in 1996 (the game which eventually defined the genre as "survival horror"). Capcom's masterpiece borrowed elements from classics such as Sweet Home (released by Capcom too, in 1989) and Infogrames' Alone in the Dark (which by 1992 had effectively blended puzzle solving and real-time combat in 3D environments) into a cinematic experience with the best from both games, combined with a clever B-Movie feel, even using live-action cut-scenes with horrible acting to boot. Most games later on tried similar formulas (like Blue Stinger or Silent Hill) and while many survived and became even better than Resident Evil itself, most others became action games with a "horror" setting only as a theme.
But before deviating further from the '90s, let's talk about our main subject. Human Corporation was a Japanese companywell known for their unique and innovative games. In the late '90s their library was expansive, with mostly sports games, especially the Fire Pro Wrestling series, and also games with unconventional themes, such as The Firemen or Septentrion.
Long before the company folded and their crew started working with cousin enterprise Spike (among others) with similar titles and interactive novel-like games for the PS1 (like the Twilight Syndrome saga), young director Hifumi Kono created a little gem on the SNES, one which would soon become one of the milestones of survival horror: Clock Tower.
Near the end of September in 1995, Human released Clock Tower for the Super Famicom. The game tells the story of four girls from the Granite Orphanage (a place in-game located in the valley of Romsdalen, Norway) who are adopted by the wealthy Ms. Mary Barrows. The girls are soon taken to the Barrows Mansion on the outskirts of the city, an awe inspiring Victorian manor, which is overshadowed only by an amazing clock tower that's built into one of its wings. Upon arriving, the new foster mother departs to look for her husband while some of the girls gossip about in the living room. The heroine, Jennifer, wanders off to look for Ms. Barrows, only to return and find that everyone has disappeared during her absence. Now alone, Jennifer is tasked with surviving and solving the mystery surrounding eerie mansion she's supposed to call "home".
As the game progresses, you'll uncover many parts of the plot. You'll find your friends dead (or endangered) one after another. There are a number of branching paths and scenarios, so some of them can be saved, if certain conditions are met. While stumbling around, you'll also learn about the sordid Barrows clan, Ms. Barrows's sinister plan to feed the newly adopted girls to her other children, and Jennifer's own past. Everything comes together beautifully over the course of the game's short length. Every decision or discovery Jennifer makes has grave consequences in the end.
Clock Tower plays like a point n' click interactive novella. The player directs Jennifer via a cursor and can interact with hot spots. Much of the game is spent exploring and inspecting items around the mansion, though there is some quick dialogue with surviving characters and briefly animated (but well executed) cutscenes.
Left on your own, you're to check every corner of the mansion to find clues, solve puzzles, obtain items to advance the plot, and avoid the game's main stalker, the Scissorman. This 10 year-old garden shears-wielding incarnation of horror is Ms. Barrows' son and main executioner through the whole adventure. Setting an unlikely effective tone for horror, "Bobby", as is technically his name, cannot be killed by any means (at least, until the end) and must be avoided. Thanks to the point and click interface and some imagination, you should be able to find objects or hiding spots within any of the manor's rooms to trap the killer or otherwise allow you to escape. This proves to be one of the cleverest ways of inflicting panic into the player, by making Jennifer unable to defend herself from the armed killer (which is fairly realistic given the circumstances), and forcing you to find sanctuary within the backgrounds.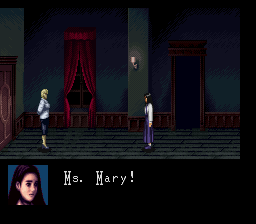 But be warned: not every place is safe. With this said, sometimes your cover will be blown (with horrible consequences) and extreme measures will force you to fight back. This is where the game highlights another clever mechanic – the Panic button. When faced with immediate death, Jennifer's portrait will flash (indicating the "Panic Mode"), prompting you to mash one of the controller's buttons in order to avoid danger. While not all hazards require you to mash buttons (others will have you equipping items, clicking hotspots at key times, and even using perfume to fool a guard dog's nose), it will make you feel that your life is on the edge.
Clock Tower had to have convincing visuals and sound in order to achieve the necessary mood, and the game does a pretty good job of it. Akiyoshi Iijima's crew creates the Barrows estate as gracefully as possible given the limits of the Super Famicom. Every piece of pseudo-Victorian furniture, particle of glass, smoke and even the most mundane stacks of hay are faithful pixel renditions of their real counterparts. There are in-game cutscenes, and some of them are even animated. Additionally, all of the rooms can have random or fixed events. Sometimes paintings will cry blood, glowing eyes will be seen through a window, or curtains will be randomly blow in the wind, all scaring the hell out of Jennifer, who will react accordingly.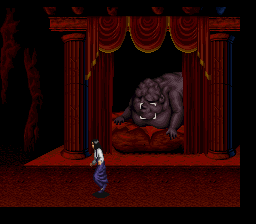 There are portraits for each of the characters during dialogue, many of which seem to be based on digitized photos. The character sprites look fairly decent with some annoying inconsistences (such as Jennifer being the only one who has eyes while the others are either faceless or have a "line" of darker tone of their skin) but are well animated, especially the Scissorman. Artist Kuniomi Yoshida created a very lively killer, with a wide variety of animations – he can get his scissors stuck in doors (and subsequently tear the door off its hinges), gets into blade-to-hand struggles while attempting to kill Jennifer, falling out of and jumping from many dark places, even doing a little victory dance when successfully knocking her down. He's a completely twisted piece of work.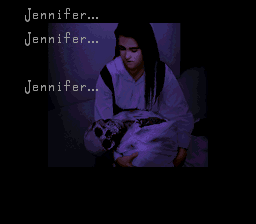 As for the sound, composers Kouji Niikura and Kaori Takazoe do a fantastic job with the soundtrack. "Don't Cry Jennifer" (the Scissorman theme when stalking you) is the most iconic tune since it's the one that breaks the mansion's silence and forces you to deviate from your current task in order to stay alive. The sound effects are equally as effective. The victim's screams are piercingly painful, mechanical laughs haunt many situations, rats scurry about cages, and unnerving old mannequins groan. The dry clasp of the scissors coming to tear Jennifer's flesh will forever serve as a warning of the impending doom that roams around every dark corner.
It is no secret that Clock Tower borrows many things out of Italian cinema. To be more specific, Dario Argento's films. Phenomena and Disturbia were landmarks of what would later take shape inside of the head of Hifumi Kono, who has mentioned in previous interviews his love for old horror movies and how he wanted Clock Tower to feel like one.
While Clock Tower doesn't follow these movies exactly, it does contain some key references that the director probably felt he could use during given situations, making it not only a more "scary ride", but to actually achieve a more "movie-like" experience that would add that special touch that has made Clock Tower such an important game for the genre. So many details are obvious, like the setting, which pits adopted orphaned girls living in a huge building during the late '70s (under the tutelage of woman who Ms. Mary eerie resembles), and also the killer, who in both cases is a deformed or burned infant wielding deadly weapons. Additionally, the developers modeled the characters of the game to look like the ones in the movie. For instance, Jennifer Simpson is obviously based on Jennifer Corvino (Jennifer Connelly's character) from Phenomena while the Scissorman is lifted nearly directly from 1981's movie The Burning.
In a nutshell, Clock Tower is a box full of unlikely surprises, packed with multiple endings (where most of them have you ending up dead, like expected), clever mechanics, a deep twisting plot and randomized item/room placement that keeps itself fresh every time you play. Breaking so many rules at the time, this game manages become a paragon for future horror games to look up to, and still holds the banner of being one of the most thrilling experiences the genre can offer.
There are four different incarnations of Clock Tower. After being released on the Super Famicom, it was later ported to the PlayStation, Windows PCs, and the Wonderswan with the added subtitle "The First Fear". These make minor changes, including the addition of a few full motion videos (in the CD versions), an added dagger weapon (dummied out of the SFC release) that can be used to take down a new enemy, and an additional location behind a door that was previously locked. There are also a few other minor scenario additions.
The graphics have been slightly upgraded for the PlayStation and Windows ports, but the changes are so minor as to be almost imperceptible. Some effects are noticeably different though, like the way the steam is rendered in the bathroom. The sound is also different across each version, with the Windows version stuck with MIDI music, and the effects in the PS1 version sounding slightly less satisfying than the SFC release.
The Wonderswan version is obviously the weakest one, having been reduced to black and white graphics and using only chiptune sound effects. It plays much slower too. Most of the atmosphere is ruined too, though it is interesting to see how such a complex game is rendered on much less powerful hardware.
None of these versions were ever officially released outside of Japan, however, the Super Famicom version was translated into English by fans.
Comparison Screenshots