Armed Police Batrider is probably the closest shooter equivalent to SNK's The King of Fighters. There's heavy emphasis on using teams and features crossover characters from both Mahou Daisakusen and Battle Garegga. There's even a team edit mode that lets you mix and match characters however you see fit. The only series Raizing missed is Soukyuugurentai / Terra Diver.
The plotline involves Manhattan being plagued with unprecedented levels of crime and overpopulation in 2004 (which must've seemed like the distant future back when this game was made), so the government turns to the Gigantech corporation. Gigantech makes an artificial island called Zenovia, designed to fight crime and overpopulation. Gigantech also promised to help keep Zenovia under control with its giant robots. By 2019, Zenovia has become a slum and Gigantech is producing powerful weapons in an attempt to remove itself from the government. Nine "zero cops" are sent in to stop this.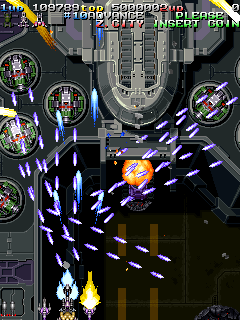 The original characters for Armed Police Batrider are the most interesting ones. They all ride hover bikes and are separated into three teams: Police Team, Psychic Team, and Criminal Team. Police Team is composed of violent D.D., who is reminiscent of Dirty Harry; Shorty, a girl that has really cool homing missiles; and firebird loving Jyuji. Psychic Team has Maria, a girl with a bomb in her head; Golden, a man with some kind of supernatural power in his eyes; and Strawman, a very tall, quiet man that can talk to trees. Criminal Team is composed of Birthday, a bank robber that apparently loves buzzsaws; Tag-T, the leader of a hoverbike gang; and Adam, a depressed serial killer. There are nine hidden characters – Silver Sword, Grasshopper, Flying Baron and Wild Snail from Battle Garegga, and Gain, Chitta, Miyamoto, and Bornnam from Mahou Daisakusen. All of these were previously playable in their respective games, but includes one new character that is exclusive to Batrider. Her name is Car-Pet, an NPC from Kingdom Grand Prix that you could blow up for fun. In Batrider, she is fully playable. It's an interesting mashup, to say the least, playing as a flying carpet that can blow up giant robots and helicopters.
Characters
Armed Police Batrider also borrows bosses from the games it crosses over with. The Battle Garegga baddies, Black Heart and Glow Squid, surprisingly don't seem too out of place next to the rest of the bosses. The Mahou Daisakusen bosses, however, look particularly goofy, as the art style totally clashes. A great example of this is the highway level. Imagine chasing a gigantic, futuristic tank down a highway, while powerful robotic squids enemies jump out from every direction. Then, out of nowhere, a ninja attacks and starts using his ninjitsu to make walls of fire and throw giant burning shuriken. It's obviously not meant to be taken seriously, and it's charming in its own way, but it does ruin the tightly detailed thematic consistencies that made Battle Garegga and Soukyugurentai such amazing games.
One of the best parts about Armed Police Batrider is that it tunes up Battle Garegga's rank system. In Battle Garegga, you start the game at the lowest possible rank and have to be careful not to let it get too high. In Batrider, you start the game at the highest rank. While it's nowhere near as insane as Battle Garegga at the highest rank, it still fills the screen with bullets and will try its very best to kill you unmercifully. There is one catch, though – you can way to lower your rank by grazing. This is when a projectile passes through your sprite, but misses your hitbox. It can be very good for scoring, as it gives you extra points, but it's obviously also very risky. By lowering the rank, grazing can be key to your victory.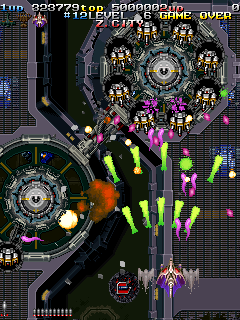 There are other methods taken to try to make Armed Police Batrider easier and more accessible to new players. There's a training mode that features slower bullets, less levels, weaker bosses, and an auto bomber attack. Normal mode is quite a step up in difficulty, and Advance mode adds in the final level and is the only mode that offers endings. There is one last mode called Special, which is a boss rush mode where your ship is always at full power. Arrange mode can be enabled through a dip switch, letting you mix and match levels, just like in Battle Garegga. Sadly, your customization is far more limited. You only get to choose what order you play the airport, sewer, and sky levels while the rest of the game is untouched. If arrange mode is off, then the order of those three levels are randomized.
The scoring system from Battle Garegga is back too. Chaining medals to make them larger is a bit easier here, partially due to how there are more enemies. One humorous aspect was added – if you miss collecting the largest medal, the announcer will shout "No!" It makes screwing up a bit less of a downer because it sounds so ridiculous.
The bombing system is the same as Battle Garegga as well. Of note, the auto bomber in training mode only fires full bombs, meaning that picking up small bullets is even more important to clearing the game than the other modes. Additionally, there is a new charge shot. You activate the charge shot by not firing your main weapon, which will cause a force field will form in front of your character. Once released, your options will freeze in place and start firing faster until time is up and reverted back to hovering around your character.
Armed Police Batrider is a fantastic game. It offers something for the inexperienced and the hardcore alike, and it offers more depth and customization than most shooters. Neither the visuals nor the music is quite up to the levels of Battle Garegga – it has a post-apocalyptic look that is a bit less unique, and the spritework isn't quite as impressive, plus the music is only average, despite the boss theme having an awesome name like "Let's Ass Kick Together". Alas, this one never saw release on a home console.
Returning Bosses
Bashinet
Black Heart
Glow Squid
Gob Robo
Hayate
Tsumuji