Novels & Manga
YU-NO.1: Mitsuki
(ISBN 4-87709-191-2)

YU-NO.2: Kanna
(ISBN 4-87709-205-6)

YU-NO.3: Sayless
(ISBN 4-87709-245-5)

YU-NO.4: YU-NO
(ISBN 4-87709-281-1)
While YU-NO never received any sequels or additional ports past 2000's Windows release, a set of four novels were made based on the game. Written by Kamishiro Hajime, a prolific writer who would later go on to work on the Gundam Wing and Disgaea novelizations, these novels were done under supervision by Kanno. The novels follow the games storyline with some deviation and changes made to allow for the change to a book format. The run lasted through 4 novels, which include some illustrations taken from the official guide book. The books were published by KSS and released over the course of 1998, with the last volume being released on the 3rd of December.
YU-NO Manga Cover
(ISBN 4-87025-379-8)

Page 21

Page 30
During the fall of 1998, a manga was also released between the 3rd and 4th novel. Published by Enix's Monthly G Fantasy publishing company, the manga was handled by Mario Kaneda of Girls Bravo fame and is notable for deviating from the original storyline in many aspects. The narrative has been centralized, the characters have been made lighter and the plot is simplified in order to fit the single volume comic structure. Opinions have been mixed on the manga, with some feeling that the thrilling absorption of the original plot being gone, while others feel it manages to use the liberties taken to make for a good single issue story.
Soundtracks & Audio Drama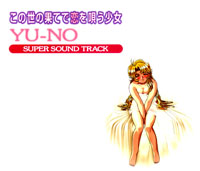 YU-NO SUPER SOUND TRACK
Due to the popularity of Umemoto's YU-NO score, a number of CD soundtracks have been released over the years.
The first was released in 1997 and was again only available to those who sent in a form to Elf found in YU-NO original packaging. Dubbed the A girl who chants love at the bound of this world - YU-NO SUPER SOUND TRACK. This release was an double disc arrangement compilation, handled by Keishi Yonao who is most famous for his work on Asuka 120%.
Music Selections (Download)
Growth
Impatience
Love 2
Manifestation
Mitsuki
Quickening
Sorrow
YU-NO

| | |
| --- | --- |
| YU-NO - A girl who chants love at the bound of this world. | Sega Saturn Promo Sampler |
The second CD release was released 1 day prior to the release of the Sega Saturn game. A girl who chants love at the bound of this world - YU-NO Original Sound & Voice Collection is a 3 disc soundtrack, holding the Sega Saturn port of the soundtrack, as well as voice clips of each voiced character on a separate 3rd disc. A sampler was given out with a magazine prior to the game's release as well.
An audio drama was scheduled for release by KSS alongside the novels by Kamishiro Hajime in 1998, titled "A girl who chants love at the bound of this world - YU-NO: The Day After". There is very little information on this particular release to be found, with the little info that is available stating that it was to be a drama CD with the cast of the Saturn game. While the name would suggest that this is some sort of continuation, there is no information that makes this fact clear or not. The album was cancelled one week before the release date of December 23rd, 1998, with an apology being sent out to those who pre-ordered the CD.
Ryu Umemoto's original FM synth version of the soundtrack has not seen any official CD release despite its popularity and influence.
OVA
| | | |
| --- | --- | --- |
| YU-NO D1 Cover | YU-NO D2 Cover | YU-NO US Boxset |

The hentai animation industry usually picks up popular licenses from manga and visual novels to capitalize on the success and make an animation based on the art style found in the games. Elf had earlier seen great success with this formula, allowing both Words Worth and Doukyusei to become very popular adult animations. For most games, this works well since their stories follow just one road and usually involves the main characters freely going from having sex with one girl to the next (or cat-newly-transformed-into-a-woman, in the case of True Love). With YU-NO, that is not exactly the case, but yet Elf licensed the property to Pink Pineapple in 1998 to be made into a four part OVA series.

Apart from the name YU-NO, very little similarity is found between the game and the OVA, being based primarily on Kaneda's manga instead of the video game. There is no parallel universe storyline to be found, rather focusing on a parallel fantasy world, and the reflector device has now been changed into a sacred ring. Furthermore, several central characters are written completely out of the story and are never seen despite their central role in the game. Takuya himself no longer harbors any inner turmoil or repressed emotions, rather he is a good hearted goof with a highly functional libido. Most of the female characters show up (and undress) within minutes of each episode, however their alignments and purpose is severely simplified or altogether changed.

For those who played the game, the OVA is little more than a complete slap in the testes, completely devoid of anything remotely similar to what made the game so captivating in the first place. The story is completely illogical and nearly impossible to follow, as it fumbles around trying to keep some continuity between the sex scenes. Worse yet the sex scenes aren't even well done as the ladies laid on the bedsheets look considerably off compared to the way they look the game. Characters which before had no relations to one another now even have strong lesbian overtones for reasons that are never clearly explained. Maybe worst of all is just how one dimensional all the characters are, even with the lack of parallel universes and changing personalities, they don't even seem to have one single personality and Takuya is the one that suffers mostly from this from being such an interestingly troubled protagonist to being a complete cliche. The OVA does however have many recognizable locations taken straight from the game. The only voice talent from the Sega Saturn game to reprise their roles for this animation were Miki Shinichiro and Koyama Kimiko.

The OVA is the only official YU-NO merchandise released in the West, under NU-Tech's license. It was released on a DVD set in 2003 and comes with a photo gallery feature.


YU-NO (OVA)
Translation
In 2011, YU-NO was for the first time ever made available in English. This was done not by Elf, but by fan translation group gathered on TLWiki, a wiki whose primary purpose is to translate visual novels and some of the projects there even went to be officially localized with either Jast USA or with Mangagamer. TLWiki serves as a publisher of the patch, and the individual members of this particular patch are:

? Translation: Phar
- Translation Check: Phar
- Editing: Spin
-- Image editing: EchoMateria
- Hacking: Kingshriek
- Proofreading / QC: Izmosmolnar, KViN, Tsumori, Balcerzak

Simply labeling this as a fan translation would be cutting the work done by the team quite short, as this patch does much more than simply translate the text into English. Developed over several years, and basing itself upon the Elf Classics Windows release, the game now is transformed into a sort of ultimate edition of the game, a complete version if you will, and goes deep into the code to achieve this. For one, all the voices from the Sega Saturn version have now been inserted into the game, bringing the voiced dialogue and upgraded sound effects over to the PC platform. One of the more dissapointing aspect to the original Windows release was the omission of the voice cast in order to remain a 1:1 conversion, so the translation team took it upon themselves to do it justice, and created custom tools for the game to be able to play back the voices in a size efficient format.

Also, the exclusive content from the Sega Saturn has now been lifted from that version and properly inserted into the Windows game, bringing not only the additional dialogue that took place instead of the sex scenes, but also keeps the sex scenes intact, giving the scenes at times more insight and even more depth than before. Additionally, a good number of the new Sega Saturn CG has been implemented as well, though some have been left out due to resolution differences between versions. The PC-98 special disk scenario is now reinserted into the main game once again, removing the need to complete the game once to unlock it. The censorship both in text and image blur has also been completely removed and reverted back to its natural PC-98 style. Ryu Umemoto's original FM score could finally be re-recorded and mixed properly for this patch.

The translation itself is mostly spotless and is very well done as expected from a TLWiki project. Translating YU-NO is no joke, with not only a highly complicated storyline in a foreign language, but also massive amounts of theory and subtle complexities along with lengths of quantom physics research material, making the process as hard as counting the number of strains of fur on your cat. But from dialogue to theory and observational description, the translation is solid through and through, and has seldom an error to be found, having gone through multiple proofreading sessions. There are a few peculiar wordings and small grammatical errors scattered about, though very few and far apart, and hard to spot unless you are intent on finding them due to them. For eroge aficionados, the translation is also very well done when it comes to all the sexual puns and innuendo, and Takuya is quite lewd in his choice of words.

A game worthy being called one of the finest of all time, also needs a translation patch meeting its high mark of quality. Fortunately for all the fans and those eager to play the game, The team's patch is of the absolute best quality, going above and beyond many what most translation patches do, and goes to great length collecting all the material from each version and assembling them into a complete package. Some will maybe be a bit let down that the patch is not for the original PC-98 version, but that shouldn't be much of an issue, due to the fact that the Windows game is a straight port, and the voice patch is not obligatory. Ryu Umemoto personally gave his support and blessing to the creation of this patch, though he did sadly not live to see it released.

The results of the team's hard work is incredible and comendable, bringing a title that even the biggest localisation teams would struggle to get a proper grip on to a worldwide audience. It speaks highly to their professionalism and patience that they endured the time it eventually took to finally bring the patch to the public, but rest assured it was well worth it as they have put out one of the finest examples of fan efforts in video gaming.


YU-NO Fan Translation (Windows)


YU-NO Fan Translation (Windows)


YU-NO Fan Translation (Windows)
Additional Translation Screenshots
The Western world had to wait 15 years for YU-NO to chant love, but now finally it is available for all to enjoy and for everyone to discover a true masterpiece. Even after all those 15 years, YU-NO remains just as revolutionary as it did in 1996, and its name still evokes a strong reaction in Japan, not soon to be forgotten or surpassed. Its soundtrack also still speaks with a voice of life, bringing moments of fear, moments of anger, moments of love and moments of serenity.
Thanks to Izmosmolnar and Phar for assitance and their work on the YU-NO translation patch.
TLWiki - Wiki where the YU-NO translation patch is hosted along with other games and information.
Abel Group Blog - Kanno's blog for his Abel Software company.
Related Articles