Teddy Boy Blues isn't the only Sega game to feature a Japanese idol. Vic Tokai's UFO Senshi Yoko-chan ("UFO Warrior Yoko-chan") stars Yoko Minamino, who was most well known for her starring role in the Sukeban Deka TV series, before beginning a singing career. The concept of the game is vague, but based on the ending, it seems like Yoko must fight her way out of several odd, parallel worlds.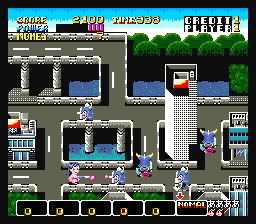 Each world is divided into halves. The first uses an overhead perspective, as you guide Yoko through a short maze. These each consist of a few screens that wrap around in both directions. You can rush straight for the goal, but killing enemies will yield gold coins, which can be used at a shop to purchase extra weapons and other bonuses. You're under a time limit, though, so you can't spend too long powering up. The second half is a standard side-scrolling platformer sequence, culminating in a boss battle. There are four worlds altogether.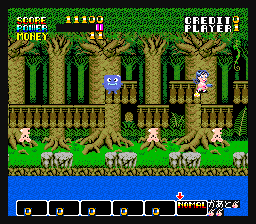 In many ways, UFO Senshi Yoko-chan isn't terribly good. The maze sections aren't all that interesting, and become tedious if you want to spend a few minutes grinding for cash. The side-scrolling sections are awkward, not only because the screen autoscrolls, but Yoko moves automatically, too. That means that you have to babysit her along narrow ledges so she doesn't careen right off. Your life bar is short, and you can generally only take two or three hits. Plus the jumping just doesn't feel right – Yoko immediately leaps into the air, stays flying for a split second, then careens back downwards.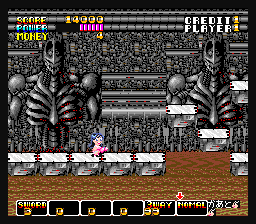 Ultimately that doesn't matter too much, however, because this game is absolutely insane, and full of pop culture parodies and other oddities. The first enemy you meet is based on the hero from Dragon Quest, complete with a companion slime. Later enemies include Godzilla, zombies, and robots. There are aliens that pilot UFOs, which you can hijack and ride for yourself, while a magical sword, granted at the end of the first stage, acts as a smart bomb. The "parallel worlds" theme means that each level looks completely different, and is often quite dark, with one featuring a terrifying robo skeleton statue in the background.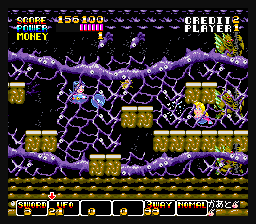 Even when the game tries to be scary, though, it undercuts itself – the last level is filled with purple tendrils with eyeballs, but it ends up looking more like a first grader's art project. This same level has you fighting demons, then a cutesy mermaid jumps out of the bottom to attack. Plus, all of the music is based on actual songs by Yoko Minamino. They're well rendered in chiptunes, sans vocals, but they're tonally inappropriate for an 80s arcade game. Overall, playing the game is a struggle, but it's worth it just to see what bizarre things it will throw at you.