Turrican was created in 1990 by Manfred Trenz, a legend in the Commodore programming scene and at that time employee of Rainbow Arts. He is the man responsible for The Great Giana Sisters (a Super Mario Bros. clone so good Nintendo took legal actions to see the game retired from shelves) and Katakis (one of the best R-Type clones ever, equally involved in legal troubles, but later led to Trenz programming the official port of R-Type). In addition to concept design and character creation, he personally programmed both Turrican games for the Commodore C64. Back then, it was the most successful home computer in Europe (outside of Britain), although its successor, the Amiga, was rapidly gaining support. The Amiga versions of both Turrican games were developed at the same time, by now-famous (and sadly defunct) team Factor 5.
What's so special about Turrican, anyway? Well, in a time when all the best action games came from Japan and were often bound to the console market only, Turrican showed that a computer action game could be just as good, if not better, than console games.
---
The Name of the Game
Turrican may sound like a play on the word "hurricane," but as the story goes, Trenz had actually derived the title for his game from the Italian surname "Turricano," which he found in the phone book of Duesseldorf, much like his earlier Katakis was named after a Greek restaurant. Rainbow Arts actually contributed to the confusion by insisting at first to rename the game to Hurrican, as evidenced by first coverage in the magazine 64'er (issue 1/1990), including a one-level demo on floppy disk. Fortunately, Trenz could eventually convince his bosses to revert the name change.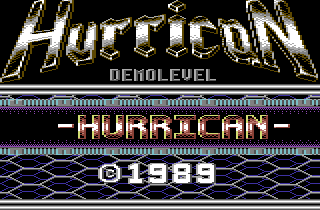 ---
The best way to describe Turrican would probably be a well-conceived crossing between Metroid and Contra. From Nintendo's classic, Turrican got the idea of huge labyrinth levels, and not least the ability to transform into a ball. From Contra, it got the immense firepower and the fast pace of the action. Factor 5's Julian Eggebrecht has also gone on record stating that the obscure arcade game Psycho-Nics Oscar was also an influence, mostly for its visual design. Giana Sisters had shown that Manfred Trenz was also quite fond of Super Mario Bros., and some of the more more cartoonish elements from Shigeru Miyamoto's creation made it into Turrican as well, like the blocks that provide powerups when bumping one's head against them (although alternatively Turrican can also just shoot them to rubble). All these elements together gave birth to a quite unique style of gameplay. Rather than just completing each stage, the real thrill for the player was to fully explore it, uncovering every secret spot, hidden room or invisible passage. "Action shooting-search & find-exploration-blast game," the creator labeled his invention when he first tried to explain the concept to the public – an unwieldy moniker, perhaps, but there was no more fitting one.
Sadly, Commodore computers didn't enjoy much popularity in the US in 1990, so Turrican remained pretty much an European phenomenon. It's influence, however, reaches farther as one would imagine: The original Duke Nukem games weren't simply inspired by Turrican, they flat-out ripped graphics out of the Amiga games. It is conceivable that Turrican was the initial spark for the whole subgenre of the Apogee / Epic MegaGames brands of explorational platformers, and in consequence responsible for the trend that dominated the first wave of first-person-shooters with their labyrinthine worlds full of secrets. One wonders if there might even be a little bit of Turrican in Sonic the Hedgehog…
The first game is the start of a legend. The nameless hero in his Turrican assault suit must find his way through five worlds, each consisting of two to three stages. The suit can sustain a certain amount of damage, but be aware that this is not your regular energy bar: since there's no invincibility time upon getting hit, energy is sucked up constantly for the duration of direct enemy contact. That said, the arsenal given should provide sufficient means to keep cyborgs and aliens away from the suit: It comes packed with weaponry. Since joysticks for home computers used to feature only a single button, many weapon systems had to be outsourced to the keyboard.
Turrican's main weapon is a rifle than can shoot both a spread gun and a straightforward laserbeam, which can be switched and increased in firepower by picking up power-ups scattered throughout the stages. Besides action game regulars like health packs and a temporary force shield, there are lots of secondary weapons too: The Power Line, a vertical flash that departs from the hero to the left and right, grenades that do massive damage to everything on screen when they hit walls or enemies, and mines that can be released while ducking. By holding down the fire button, Turrican can unleash a lightning whip, a very powerful beam that can be turned 360 degrees. It starts out fairly short, but can be extended with upgrades as well.
But the suit's most exciting feature certainly is the Metroid-inspired ability to morph into a buzzsaw, the Energy Wheel (or Gyroscope, both names were used), that just keeps running at an exhilarating speed, damaging everything in its way. Imagine a spiked, Sonic-fast and really angry Marumaru and you're close. Its usage, however, is limited to three times per life, so it's important to use it wisely: since most stages do incorporate a lot of verticality (once again similar to Metroid, or Kid Icarus), a single wheel could either mean a very useful shortcut or get stuck right at the next rock.
Despite the Metroid influence, the world of Turrican is broken up into separate stages, but these are huge, and designed to give the illusion of being part of a greater whole, and each of them is structured like a maze. The time to explore is limited, though, and it's easy to get lost and die by time limit. With experience however, players could remember very rewarding paths leading to hidden bonus rooms, often loaded with extra lives. But lives are lost at least as easily as they're found, as the stages are riddled with pits and spikes and enemies. Thankfully though, the hero always respawns right where he died until he runs out of extra lives.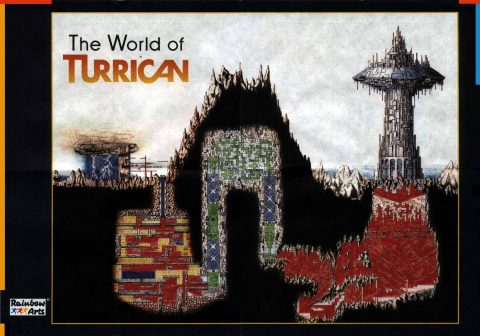 The first world is a futuristic city-like structure built on a barren land, the second a creepy underwater dungeon. Then follow two vertical forced scrolling stages, where Turrican flies with his jetpack. The fourth world marks another recurrence in the series: the Alien-like environment inspired by H.R. Giger art. The final world is a giant tower that leads to the boss, the three-headed MORGUL (Multiple ORGanism Unit Link). Except MORGUL itself, who's just a boring old square rock with a face, fought three times throughout the game, the bosses are equally impressive: There's a huge iron fist called the Gauntlet that flies above the hero's head to stomp him, a giant piranha, and an almost screen-filling alien abomination with teeth-baring mouths everywhere.
Turrican in its time was a splendid example of programming prowess by Manfred Trenz, the first program on the C64 that supported fluid 8-way and parallax scrolling superior to those supported by 8-bit consoles like the NES or Sega Master System, and a ton of other visual effects and programming tricks. When entering caves, the background gradually fades to black, water splashes when jumping into and out of it, and the animations are just splendid for an 8-bit computer.
People who casually heard about Turrican's achievements and boot up the C64 game in an emulator full of anticipation are in for a surprise, though: There is no music at all during gameplay. Apparently Trenz had used up all of the Commodore 64's power for the fluid controls, the huge stages and the graphic presentation. Some of the later stages do feature music, namely the auto-scrolling jetpack scenes, but the sound effects are all that is heard for the majority of the game. So although much of the game's fame is rooted in it's excellent soundtrack, the soundtrack most are familiar with isn't even featured in its original version, and yet it remains one of the most impressive games for Commodore's 8-bitter.
Already while Trenz was putting the finishing touches to his C64 masterpiece, a group of former Rainbow Arts programmers that should soon become world-famous as Factor 5 started working to bring the game to the Amiga and Atari ST platforms. Those versions introduced completely new graphics (the back of the European box still shows a screenshot with a sprite more similar to the C64 Turrican), even more responsive controls, and of course the grand soundtrack by Chris Huelsbeck.
The Amiga port, programmed chiefly by Holger Schmidt, was the superior one, while Thomas Engel's Atari ST version had to compromise with slightly muffled-sounding music and omitted animations (like the waterfalls). The visible area on the screen was also smaller, which factored significantly into enemy spawning and the frequency of requiring leaps of faith (which unfortunately all versions do).
Both the 8- and 16-bit versions of Turrican were terrific hits. Turrican was praised by critics ("Turrican has won more international design awards than any other video game" according to an Accolade advertising) and quickly ported to many other systems. The only other one by Factor 5 was for the Amiga-based CDTV, bundled with Turrican II. Both games are identical to their "regular" Amiga counterparts, though, not even CD audio was added. All other ports were made in the UK: The Britains (represented by Probe) first provided for the Amstrad CPC and ZX Spectrum, as one would have expected. While neither port can brag with the technological brilliancy of the C64 original, the Amstrad version is still one of the more impressive games on the system, and certainly one of its most fluent action games. The Spectrum port is as Spectrum games are, but still playable.
A team called The Code Monkeys then handled console ports to the Sega Mega Drive/Genesis, GameBoy and TurboGrafx-16, released by Accolade under its Ballistic label. All these three ports share a cover illustration by Julie Bell (for some reason it bears her husband Boris Vallejo's signature on the covers, while the couple's homepage attributed it to Julie). The Genesis one is the only complete port, but SEGA hardware couldn't do justice to Huelsbeck's awesome soundtrack – at least not in Code Monkeys' hands. It seems that they were aware of this, and purposely raised sound effects volume to cover a poor music translation. Also, they opted for some strange controls: Turrican didn't need a jump button on Amiga (you just had to push the joystick up), but one was added for the console ports. The catch: Pressing up still makes the protagonist jump, which doesn't work as well with a gamepad, resulting in many accidental jumps. An option to exclude one or the other certainly would have been appropriate. The extra weapons are also accessed in a really unintuitive way: The "C" button cycles between them, and the standard fire button ("A") is used to fire them. Thus it's almost impossible to use them effectively in urgent moments.
The PC Engine port is hurt by the limited size of HuCards. The few music tracks in this version do sound noticeably better than on the Genesis, but there's only a music track for each world, whereas the other 16-bit versions had one for each stage, and even worse, an entire world (the third one, with the jetpack stages) is missing. As many have noticed, however, this Turrican is the best handheld version ever – provided you have a PC Engine GT/TurboExpress. Both of these console ports also have very off timing and as a result are much more difficult than the computer versions.
The Game Boy port is actually the most decent porting job among The Code Monkeys' versions, at least considering the hardware limitations. The game is incomplete just like the PC Engine version, yet it's amazing that they left the rest of those huge levels intact. Playing them on a tiny, badly contrasted screen as the original Game Boy had doesn't exactly work in the game's favor, though. The controls also respond rather slowly.
---
It's all about the music
Shortly after the original C64 game, an Amiga version was released, featuring highly improved graphics and a stunning soundtrack by Chris Huelsbeck. It's safe to say that this man is largely responsible for Turrican's success, his soundtrack is that good. Turrican is damn fine as an action game can possibly be, but the reason it will remain forever in games' history is because of its awesome music score.
Active on the C64 scene since 1986, Huelsbeck first worked with Trenz doing music and SFX for Giana Sisters and Katakis. A year later, he converted R-Type's music for both C-64 and Amiga. Chris Huelsbeck is the reason why The Secret of Monkey Island on Amiga sounds so much better than any other version. After becoming a living legend for the Turrican soundtracks, he composed for other interesting titles, such as the cool shoot-em-up Apidya, Jim Power, and the weird Tunnel B1 for Playstation. When Factor 5 moved from Germany to California, he followed them as their in-house musician and continued to make music for Factor 5 throughout its existence.
Since 1991 Huelsbeck produced several audio CDs; a Turrican Soundtrack was released in 1993. Despite the name it was not an OST, but a rearranged album with remixes from several Turrican games. Currently he is producing a huge, Kickstarter-funded Turrican Soundtrack Anthology.
Sources and Links:
Screenshot Comparisons