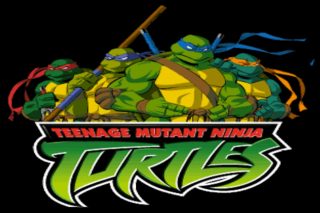 Every single word in this title is a lie. There are no teenagers, no mutants, no ninjas, and no turtles. Well, there actually be may turtles – it's hard to tell. In this made-in-Vietnam bootleg product for the iPhone and iPod Touch, you control a blob that is colored in some manner of green and brown. Your morass of illegibleness has a gun though. The Teenage Mutant Ninja Turtles didn't have guns, did they? Probably not.
As the "Game Over" screen indicates, though, you are actually a commando of some sort. The goal is to shoot things, which seem to be other things that look like your character, but a different color. They crawl out of holes from any old random place on the screen, including the sky. The background is straight from the NES version of Contra, except there are two spots which have been blurred by a Photoshop filter in an incredibly pitiful attempt (maybe?) to mask its source material.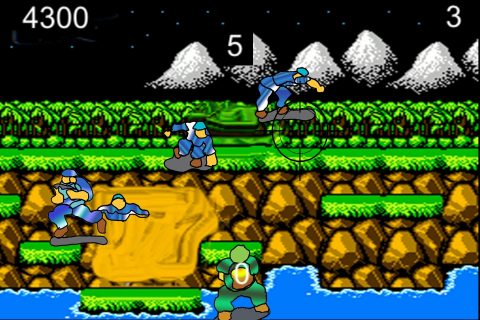 It's essentially a Cabal clone, where you shoot enemies by tapping the screen and control your character with the tilt sensor. The best part is when you tilt too far, your amorphous avatar falls off the screen, never to be heard from again. The bullets are red squares – this may be intentional. The enemies attack with large, white rectangles – this is probably not intentional. The screen is filled with numbers which appears to be inexplicable at first glance, and determining their meaning is probably the most fun to be had in the game. (Spoiler: The number in the upper right corner is your number of lives, which counts up from zero. The number in the center are the vague coordinates of wherever you're shooting. The number on your character indicates his action state – zero for standing, and various positive and negative numbers when he's moving.) Also, when you "lose", it fails to reset the high score.
So here we have a title that features a relatively popular license in its title and on its title screen, despite not only having nothing else to do with them and clearly not owning the rights to do so, but a game that rips major assets – badly! – from a very recognizable Nintendo game, in a derivative product that's in an alpha state, released to the world for $4.99. In order to find this sort of thing in a previous era, you'd have to trawl the marketplaces of those countries with all but the flimsiest of grasps on copyright law – but for awhile you could find it available at your fingertips on the Apple App Store! That's not the worst part – the game was released on August 18, 2011, and was available for a whole six weeks before the press caught wind of it, alerted Apple and had it taken down. To contrast, MolleIndustria's Phone Story, a perfectly legit, workable game that happened to be heavily critical of Apple, was removed from the store after a mere few days. Censorship, as it turns out, is far more important than dealing with products that exist solely to defraud unsuspecting parents.