Shatterhand is one of those fairly decent games that's overshadowed by its ridiculous Western box art. . A man with very stupid looking retro sunglasses punches at the viewer with his cyborg hand, showing bits of a metal skeleton underneath. He yells as he does it and has hair going every which way, yet he's dressed in a white T-shirt and has nothing of note in his design to suggest he's some sort of badass warrior hero. It's almost mesmerizing how bad this box art is, and somehow transcends into becoming good.
The localized story in the manual is about as cheesy as the box art suggests. A group of former military renegades called Metal Command, lead by one General Gus Grover (yes, really) are using cyborg technology to take over the world (of course!) and a New York detective named Steve Hermann is the only one who can stop them. He lost his arms to them, but gained new robot arms and became Shatterhand, because he can shatter robots to death with his robot hands.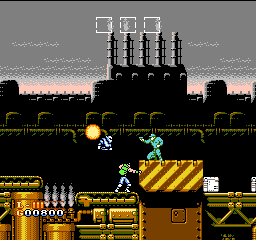 However, Shatterhand was originally a licensed game based and named after the live-action special effects focused superhero show Tokkyuu Shirei Solbrain ("Super Rescue Solbrain"), in where a specially trained squad of police in power armor fight evil and protect Tokyo, and while that story was equally as cheesy, it wasn't quite as purposefully stupid. The original story was indulgent, but the localized one reads like something a child came up with after watching too many action movies and Stan Lee interviews, and has a charm all its own. The localized version even completely replaced the Carnival level with the Submarine stage, simply because that wasn't masculine enough. The bosses between this area and Area C were swapped in Shatterhand, with the old carnival boss being changed from female twins into a monster duo.
The game was developed by Natsume, so it has the same basic look and feel as some of their earlier NES titles like Shadow of the Ninja. The game opens with the Factory level, after which you can choose between five different areas: the Refinery, Submarine, Filtration Plant, Anti-Gravity Research Center, and the Ravaged City. After beating these, you're led to the final stage, Missile Command. There's no real bonus for beating levels so you can tackle them in any order you choose.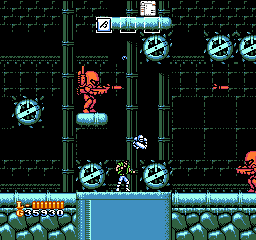 The game proper has you go right and punch everything until it explodes, a novel change from the then usual formula of go right and shoot everything until it explodes. This includes the occasional wall that will get in your way, which completely explodes after a few knocks. Punching is just that much more satisfying for the personal connection it creates between you and a robot's dumb face. This one mechanical change screws with normal design sensibilities in every way imaginable. Steve doesn't have as diverse a move set as characters in straight up beat-em-ups do, so he's stuck with a jump and a straight forward punch, with his game playing like some sort of Mega Man title with a switch to dangerous combat over dangerous platforming. Continuing to punch makes a three hit combo, and the third, slowest, and most powerful hits starts to repeat, which is useful, but not that useful when you remember that Steve is kind of fragile. Taking eight hits sounds great, but the levels are designed to destroy you as quickly as possible, not helped by a sizable amount of enemy types with multiple attacks and a ridiculous amount of health each. You also just take damage from touching an enemy, which makes your main method of attack far more dangerous than it would normally be in a proper beat-em-up. You need to constantly keep spacing and timing in account with your actions, or you are going to die a lot.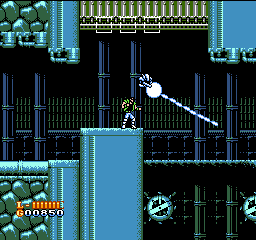 Steve gets some help from little robots, though. You can summon them by collecting three power-up blocks, either as alpha or beta symbols (you can punch them to switch between them), for nine in total. Different combinations of blocks results in a different robot, and they all have their own situational uses, ranging from swords to grenades They attack when you do, and give you some much needed range you'd otherwise lack. Collecting the same combination of blocks while you still have the robot you summoned also allows you to wear a metal suit for a few seconds, giving you powerful fireball punches and invincibility, and your little robot buddy will come back when time is up. It can be enthralling to smash through so many creatures that caused you so many headaches before.
The bosses are varied, including a ghost and a fishman, but they will be a true test of your skills, especially if you don't have a robot to help you out. Trying to punch them out without dying is no easy feat, especially with how many hits they can take. Other than that, you can collect coins (P chips in the Japanese version) from enemies and punch-able boxes, which can be used on pads at certain points for increased damage and health recovery. This is the one area where the game is kind of frustrating, as boxes sometimes hide grenades that explode and take one health from you. Nothing ruins your day quite as fast as an unexpected explosion when you really needed to summon a robot, though with some repeated plays, you can know which boxes are trapped.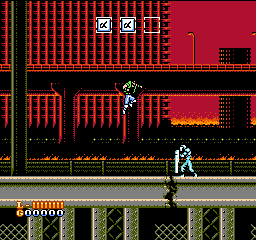 The game doesn't have Mega Man 2 level design brilliance, but it's by no means cruel. There's a good amount of space on screen, so you have the time to plan your actions. The game also has unlimited continues, so while it can be infuriating (some enemy placement is maddening), it can be overcome. There's also some mechanics that are surprisingly complicated for an NES title, like jumping and hanging on metal fences in the background and moments where gravity reverses. The game throws just enough at you to constantly feel fresh, showing a cinematic flair not often seen at the time. For the era and console, the sprite work is incredibly impressive.
The ideas at play in Shatterhand deserved to be revisited with modern technology, if only to recreate the 80s/90s action movie/tokusatsu aesthetics and the concept of punching robots to explosion death. While it's more notable for its ideas than execution, the game proper is one worth looking at. It shows what the NES is capable of, as one of the later releases in the console's life cycle, and stands the test of time rather well through a pretty tight understanding of satisfying level design, only devolving into needless anger here and there.
Screenshot Comparisons