Nippon Ichi's Rhapsody was a bit of an anomaly when it was released in America in 2000. As much as statistics will try to tell you that there are a significant number of girl gamers out there, it is still very much a boy's playground. Rhapsody is an RPG about a sixteen year old who talks to puppets, and sits around waiting for her gorgeous prince to sweep her off her feet. There is also singing. Lots of it, complete with Broadway-style dancing and silly lyrics about being "true to your heart".
Needless to say, this did not go over very well. To the average PlayStation owner, this had all of the appeal of a Barbie game.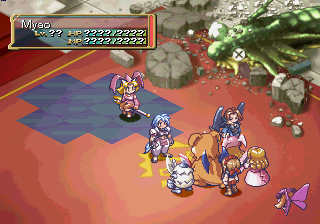 While Rhapsody was meant with indifference in America, the overwhelming cuteness found an audience in Japan. Known as "The Puppet Princess of the Marl Kingdom", there were two more installments in the series, plus spinoff mahjong and puzzle titles. Nippon Ichi stayed unknown outside of Japan until Atlus translated Disgaea, their breakout strategy game. Since then, the company has opened up operations in America and several of their games have been localized since. This includes La Pucelle, another strategy RPG based on the Marl Kingdom universe.
All of the Marl Kingdom games are 2D, with the exception of the PS2 game, which uses sprites on 3D backgrounds. They're hardly technical marvels, but the excellent artwork by Yoshiharu Nomura surpasses most any RPG in the 32-bit era. There's also a uniquely goofy sense of humor that permeates all of the games – one of the characters, a sweet, innocent little girl attacks with magnums and machine guns, while another calls upon unholy storms of pancakes and flan. Combined with all of the quirky characters – including an extremely likable group of villains – give the Marl Kingdom games a pleasant charm unheard of in most RPG epic angst fests. Even the melodrama is very tongue-in-cheek.
Long ago, in the small Orange Village in the Marl Kingdom, lived a young peasant girl who dreamed off finding a prince…
Characters
The battles are all fought on a tile-based grid, similar to most strategy-RPGs. In addition to controlling Cornett, you also command an army of puppets, who can be recruited throughout the game. However, all of the fights are extremely simplistic, even at the highest difficulty setting. All of the enemies are extremely weak, and there's rarely a time you need to put any effort into combat, short of walking up to a foe and attacking them. Cornett can also play her trumpet to strengthen her companions, which slowly builds up a power meter. As it increases, you can perform a variety of amusing special attack, such as summoning a rain of sugar candy or attacking with gigantic pieces of flan. Outside the battle scenes, the game is fairly straightforward, although all of the dungeons are plagued with painfully repetitive scenery. However, almost all of the monsters are recruitable as party members, and there are a few subquests to find extra puppets.There's very little in the way of voice acting, although the songs are available in both English and Japanese. Despite the hokey lyrics, the melodies are surprisingly catchy, and the singing in both languages is well done. The translation is also first rate, with lively writing, splendid characterizations and lots of humor. There are a few Working Designs-style references that may bother some people (Etoile makes an amusing Matrix reference after giving Cornett a beatdown), but none of them are particularly out of place.
Rhapsody ultimately relies on its humor and characters, because the actual gameplay is a bit vapid. Still, it's a charming little game if you can get past that.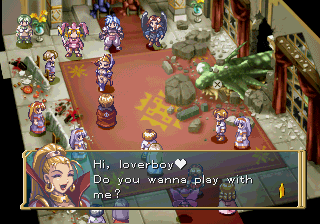 After its initial release in Japan, a cheaper edition called "Marl Kingdom +1" was published, featuring an art gallery and sound test, as well as a bonus CD. The American release also has these features, but instead of the fan CD, Atlus included a soundtrack featuring a wide selection of vocal and instrumental songs from the game. The Japanese PS1 Books release does not include any bonus CDs.
Rhapsody was also ported to the Nintendo DS in 2008. Although the core game is the same, the tactical battles have been changed to the more straightforward system found in Little Princess and Angel's Present. Kururu is also a playable character now, and there are a few mini-games. The Japanese version has a couple of additions, mostly notably, the integration of the first chapter from Angel's Present, where Cornet tracks down Elly's mother, and a post-game chapter focusing Sherie, taken from the fifth chapter of Angel's Present. Unfortunately, both of these were cut out of the English versions. What's strange is, all of the songs were left in Japanese in the English release. The reasoning behind this was that Nippon Ichi was unable to redub the songs for the additional chapters into English, and wanted to keep them consistent. But since the extra songs went missing entirely, what was the point? The North American version also has a few fatal glitches, suggesting the localization was extremely rushed.
Links:
Nippon Ichi Japanese Website Has complete sections for all of their games.
Nippon Ichi America The American division, also a good website.
Ayashii Gamesubs A dead translation project, but contains some brief information on the games. (Archived in the Wayback Machine)