Ghost in the Shell (Mobile Phones / Pachinko)
In addition to three main games, on PS1, PS2 and PSP, there's a whole bunch of obscure, Japan only titles spread across mobile phones and gambling machines (and possibly more, which we simply haven't been able to find out). As you can imagine information on these in English is scant – there's no way to play the mobile games or the pachinko/pachislot titles unless in Japan. This leaves us with Japanese press releases, company newsletters, extremely brief descriptions on archive sites, and grainy NicoNico videos of old men shooting tiny metal balls around and smoking cigarettes. Probably the best resource is the Japanese Wikipedia, which is never a good start. In the interest of full disclosure, this page on miscellaneous games should be considered incomplete, unverified, and quite possibly entirely made up by us.
Under the heading of "Mobile Services", the following mobile phone titles are described as "social games".
攻殻機動隊S.A.C. サイバーミッション 
Koukaku Kidoutai S.A.C Cyber Mission
Released: February 2011
By: GREE
Released a couple years back and developed by GREE, a fairly prominent mobile developer, there seems to be almost nothing online regarding Cyber Mission besides a couple of press-release news stories and a NicoNico video, which is mirrored on Youtube. Viewing the video makes it look perhaps like an interactive encyclopaedia for the world of GitS:SAC – however, there is a score counter, and the press release states players will compete for resources, such as agents and organisations, leading to tense battles. It was supposed to be free-to-play but with monetized transactions for "premium content" and items. Seeing as it's no longer listed on GREE's Japanese website, it's likely been discontinued.
攻殻機動隊 STAND ALONE COMPLEX
Koukaku Kidoutai STAND ALONE COMPLEX
Released: November 2011
By: Mobage
For the second mobile game, released less than a year later, development changed over to Mobage. Unfortunately there's even less information on this game than Cyber Mission, made worse by the fact it has no subtitle. It's named exactly the same as the anime and PS2 game. There's the odd Japanese news story, but significantly there's also an English news story by Crunchyroll, sourced via Famitsu. They state: "The story is an original scenario penned by the same staff as the TV series. The game puts users in the shoes of a new Section 9 investigator solving crimes and features cameos by major characters in the series. Mobage is also giving away bonus in-game items once the game goes live next month to those that pre-register." The single in-game press shot makes it look like an adventure game. Mobage's website no longer seems to carry a page for it.
———-
攻殻機動隊 S.A.C. タチコマウォーズ!
Koukaku Kidoutai S.A.C Tachikoma Wars!
Released: March 2012
By: Mobage
Not to be confused with the Little Big Planet creation. Development for this third mobile game stayed with Mobage, though the gameplay appears more in-depth than for the previous two titles. According to Japanese news stories, it's a bit like a JRPG, maybe in the style of Pokemon. You can customize and upgrade parts in your Tachikoma, then have it battle against enemies from the TV series and other Tachikoma, earning EXP and levelling up.
———
新世紀ぱちんこ 攻殻機動隊 STAND ALONE COMPLEX
Pachinko Koukaku Kidoutai S.A.C
Estimated release: August 2012
By: OK!!
It's important to understand the difference between pachinko and pachislot when looking at these two games. Pachinko is distinctly Japanese in origin. It basically involves sitting at a cabinet and turning a dial to alternate the speed of hundreds of tiny metal ball bearings, as they shoot up a tube and then down through the cabinet's front. Imagine pinball except with hundreds of smaller balls and no flippers. The object is to land the balls through specific holes, where they amass in a giant plastic bucket. Afterwards you can exchange your ball bearings for prizes, depending on the quantity. Usually you can then walk across the street of the pachinko parlous, to a special shop which buys these prizes for money, thereby circumventing Japan's gambling laws. Ingenious!
A good source of information on this version is Pachinko Village. There was also a Crunchyroll news story. The pachinko adaptation of SAC actually looks pretty cool – the team at OK!! clearly put a lot of effort into it, with a video screen streaming animation that changes depending on how you do. There's also quite a lot of depth to the experience, since an extremely detailed guidebook was produced. Without having access to a unit, your best alternative is this Youtube promotional video, or those in the above Crunchyroll article. Tons of screens here.
———-
パチスロ攻殻機動隊 S.A.C.
Pachislot Koukaku Kidoutai S.A.C
Estimated release: late 2012
By: Sammy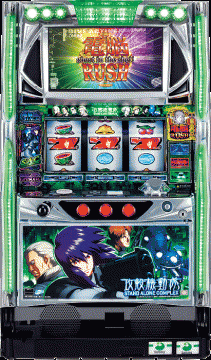 In contrast to pachinko, which has some semblance of direct input – and dare it be said, skill – pachislot is basically just a slot machine. You put a coin in, pull a handle or push some buttons, watch some reels spin, and hope they line up. Over the years these seem to have increased in popularity compared to pachinko. There's also quite a lot of game to pachislot adaptations (including Castlevania), in addition to videogames which mimic pachislot.
Pachinko Village is again a good source for info on the pachislot adaptation of SAC. Developed by Sammy (if you check the Sega-Sammy shareholder newsletters they even mention it), this isn't quite as interesting as the pachinko game by OK!!. It does however feature a lot of hi-res imagery. Here is an official video from Sammy Corporation. It shows some of the better features, including something called "hacking vision", and what almost resembles a lightgun section. Enemies will pop up on screen, with three numbers below them, and you need to hit the corresponding slot machine buttons in that order so as to shoot them. It's a neat idea – it certainly makes this a lot more interesting than the generic one-armed bandits or fruit machines you find in gambling dens.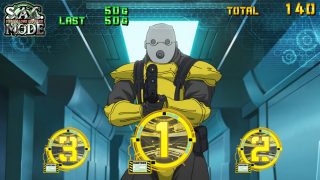 ———-
Untitled MMO game
Release: TBA
By: NEXON
On December 14th 2012 a press release from NEXON was issued, stating they had attained the license to produce a game based on GitS:SAC. There were no screenshots and zero information about the actual game(s). Despite this, several news outlets ran with it claiming a new MMO game based on SAC – the speculation was based entirely on the fact that NEXON is usually involved with online titles. Unfortunately we know absolutely nothing about this supposed new game(s).
Here's an abridged reprint of the press release: "Online game publisher NEXON has entered an agreement for developing and publishing a game on Ghost in the Shell: STAND ALONE COMPLEX with Kodansha. The game will be based on Ghost in the Shell: STAND ALONE COMPLEX, Ghost in the Shell: S.A.C 2nd GIG and Ghost in the Shell: Solid State Society Series. NEXON's CEO Seungwoo Choi has made the following statement: "We are very pleased to have given the opportunity to work with Kodansha in the development of games for the franchise, which is highly popular worldwide. We will add NEXON's wide-ranging experiences and know-how to the original creation in order to develop high quality games to meet the expectations of all its fans." NEXON Korea Corporation is the Korean operation arm of NEXON, a worldwide leader in free-to-play online games headquartered in Tokyo, Japan."