In Sega's Ghost House, you control a boy named Mick, who looks vaguely like Alex Kidd's Transylvanian cousin. The goal in each stage is to find six jewels, each of which is guarded by a vampire. Said vampires are found sleeping in coffins strewn around each level, which can only be opened by defeating other minor bad guys to find a key. Once you find all six jewels, a portal leading to the next stage opens up, and the cycle begins anew.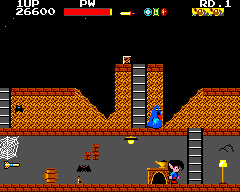 The most interesting aspect of Ghost House is the way you must use the environment to your advantage. For example, walking next to a candle fixture will trigger a knife to fly from the side of the screen. If you jump on it, you can wield it as a weapon, though it can only be used a limited number of times before disappearing. If you walk next to fireplace, an arrow will be triggered, similar to the knife. You cannot wield these, but if you can be patient enough and do this 20 or so times, then you'll become temporarily invulnerable. If you jump into a ceiling light fixture, it will freeze everything on the screen for a few seconds, though this only works a few times per level. The various black portraits also act as warp points throughout the stage, plus there are a number of fake walls and floors. For a title from 1986, it's all rather clever in that it gives the game world a unique identity, one full of tricks and traps that can be exploited to kill the evil denizens dwelling within.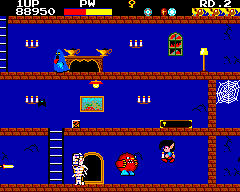 Utilizing these tricks is pretty much required to beat the vampires, which encompasses most of the play time. These bastards are tough, as they fly around erratically in vaguely circular forms, and they can be incredibly difficult to avoid given the cramped designs of the stages. It's all too common to be knocked down a ladder to a lower screen and have to climb back up to begin the fight anew. Actually hitting them in bat form is incredibly difficult, so it's much easier to wait until they change into a human, when they're far more vulnerable. Even then, the vampires don't so much as flinch even when your attacks land, and it's nearly impossible to destroy a vampire without taking at least some damage. Knives are practically essential in these duels, due to their length and power. Thankfully, defeated vampires will give you a heart to completely restore your health, but until you can get the rhythm of proper vampire killing, Ghost House can be quite frustrating.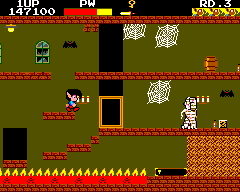 Ultimately, however, the appeal of Ghost House is limited anyway, because once you familiarize yourself with these methods, there's not much else to it. All of the vampires are fought in the same manner, except for one trickster vampire which will come back to life after seemingly being killed. Since the game was initially released on card format, there's only so much you can fit into 32KB of space, so each of the three stages are largely identical, except for some palette changes and minor design variations. The second area introduces mummies, which look more like shambling bits of plaster than anything, but otherwise the game plateaus early.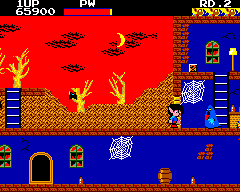 Still, like many Master System games, Ghost House is likeable because it has character. The goofy looking blue ghosts that patrol the floors, the large red fire- breathing monster things, which bounce around ever so amusingly, and even Mick himself, are all colorful and indicative of classic Sega. It really did beg for a more in-depth game with larger storage space, but so it goes.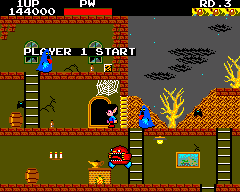 Ghost House was initially released on Sega My Card format. It was later re-released in cartridge format in Europe. Annoyingly, like many early Master System games, the jump and attack buttons are flipped from the standard eventually established by the NES.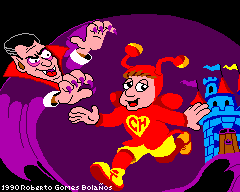 Tec Toy published a version of Ghost House in Brazil called Chapolim x Dracula: Um Duelo Assustador, or "Chapolim x Dracula: A Frightening Duel". In this release, Mick has been changed into El Chapulin Colorado, the Mexican-TV "superhero" (also popular in Brazil) who was the inspiration for Bumblebee Man on The Simpsons. The sprite is now a cartoon version of a red-suited insect-ish hero, whose name translates to "The Red Grasshopper", but otherwise the levels and enemies are the same. There are many changes in the background details, however, some of which are entirely new. They don't always seem consistent with the rest of the graphics, like the bright, golden suits of armor, but the castle paintings hung around are a nice touch, and it makes the original version seem slightly barren in comparison.
Comparison Screenshots