The early days of the CD-ROM marked an exciting time for role-playing games, especially on consoles. While they sought to tell ambitious stories, they were often constrained by ROM space, which was often so tight it even affected the size of the script. What's more, while many Japanese games were heavily influenced by anime, there was only so much they could replicate with tiny figures spouting lines of text. With the extra space offered by a CD, several orders of magnitude beyond a typical 16-bit cartridge, the limiters could be taken off, with much larger worlds, offering animated cutscenes with real voices, along with more elaborate soundtracks.
The Lunar series was at the forefront of this movement, having being released in mid-1992 in Japan, then at the end of 1993 in North America. It wasn't the first of its type, of course – in Japan, the first big multimedia RPG was Tengai Makyou Ziria for the PC Engine CD, released three years prior, plus there were other lesser quality efforts like the dreadful Mega CD launch title Funky Horror Band. But Lunar was still one of the most ambitious and most well-loved of these efforts, especially in the United States, where its earlier competitors were never released.
The Lunar series began as a joint project between two companies: Studio Alex and Game Arts. Studio Alex was a production company started by Kazunari Tomi, a developer who'd previously created the Mugen no Shinzou PC RPG series in the mid-80s when working at Xtalsoft, before moving onto a brief stint at Falcom to work on Star Trader and Dinosaur. Game Arts was previously known mostly for PC titles like the mecha action game Thexder and the technically impressive space shoot-em-up Silpheed, but had begun to dabble in console development with the NES RPG Faria and the Genesis action game Alisia Dragoon.
For English speakers, Lunar also marked a particular rarity – it had a decent localization. During this time, English translations were typically poor, to the point where Final Fantasy II's slapdash English writing was accepted as a professional product. And while native releases of Japanese games in CD format gathered experienced talent known for anime voiceovers, English releases often had no budget and had to stick with whoever they had hanging around the office that day. Instead, Lunar was translated by Working Designs, a company that had previously localized the TurboGrafx-16 CD title Cosmic Fantasy 2, and put far more effort in making the game feel less like a shoddy foreign product. They went through proper steps to edit the script so it sounded like natural English, and hired local drama actors to fill in the vocal roles…not quite the respected voice professionals of the Japanese releases, but still a marked improvement over other early CD-ROM games. There are two Lunar titles for the Sega CD, and both of them, along with Konami's Snatcher, stand as some of the best localizations of the 16-bit era.
There are actually four completely different versions of the first Lunar: the Sega CD original (The Silver Star), the 32-bit remake (Silver Star Story), the portable GBA version (Lunar Legend) and then another portable version for the PSP (Silver Star Harmony). There's also a sequel, Lunar 2: Eternal Blue, also originally for the Sega CD, with a 32-bit remake, plus two prequels – Magical School/Strolling School for the Saturn/Game Gear, and Dragon Song/Genesis for the DS. Despite these numerous remakes and spinoffs, the main series is stuck in the 16-bit era, as it was never able to count to three. A large part of this may have had to do with the dissolution of Studio Alex after the release of the 32-bit games, leaving the games to flounder without the influence of the original designers.
The games focused on a planet named (as the title implies) Lunar. A long time ago, humanity lived on a lush, blue planet similar to Earth. However, a cataclysmic event caused it to become inhabitable, leaving the populace to flee to the moon. While initially barren, it was terraformed and became hospitable thanks to the magic of the Goddess Althena.
Fast forward several centuries, and the old moon may as well be the same as Earth, or any other RPG world. The story of Lunar: The Silver Star, the initial entry on the Sega CD, focuses on a young boy named Alex, bored of his life in the backwater town named Burg. The one thing that keeps him excited in his otherwise typical life is his fascination with the Four Heroes, a quartet of warriors from about forty years prior who fought against great evil. Alex worships one of them, the Dragonmaster Dyne, since he was also from Burg, though unfortunately has since passed away.
Characters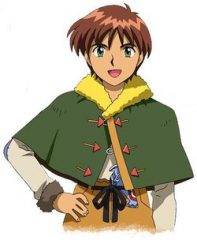 Alex Noa / Ares
A young boy from the rural village of Burg, who dreams of being like his hero, Dragonmaster Dyne. He plays a harp in the Sega CD version, and an ocarina in all subsequent versions. Mostly a silent protagonist in the Sega CD one, but given a little more (but not much) personality in the later ones.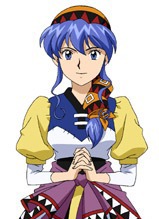 Luna Noa
Alex's adopted sister, who's renowned throughout the village for her gorgeous singing voice. Her role is greatly expanded in the remakes. She is rather weak in combat, but can use her singing for various magical purposes.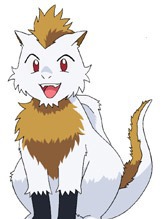 Nall
Nall resembles a flying, talking cat, but he eventually learns he's a baby White Dragon. Snide and sarcastic, but Alex's best friend through thick and thin.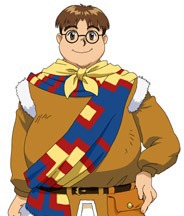 Ramus
One of Alex's buddies in Burg, Ramus is a burgeoning capitalist who has his dreams set farther than their rinky dink hometown. He abandons the party pretty early on to follow his own business pursuits, but his quest to find a Dragon Diamond is what sets off Alex's adventure.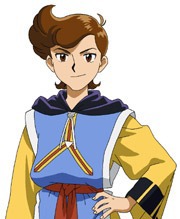 Nash Rumack
A brash magic student attending school on the floating island of Vane. He has a crush on his fellow student Mia, though he's too much of a dope to admit it.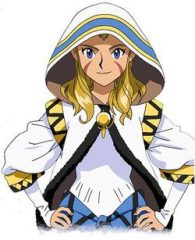 Jessica Alkirk
Daughter of Mel de Alkirk, one of the Four Heroes, Jessica is a priestess-in-training with an adventuring spirit, whose outwardly calm demeanor hides a fiery woman beneath. She has an on-again, off-again relationship with Kyle, mostly because she has little patience for his juvenile attitudes. She's half-beastwoman (basically Lunar's version of elves), the offspring of a beastman father and human monster.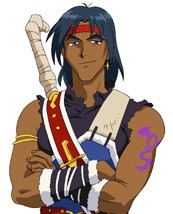 Kyle / Killy
A powerful (and egotistical) swordsman who'd just as often spend time slaying monsters as womanizing. His boorish behavior is charming to some women but his chauvinism rubs everyone else the wrong way.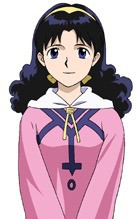 Mia Ausa
The daughter of Lemia Ausa, one of the Four Heroes. She is quiet and studious, wielding a number of fire and ice skills, though most of her powers come from buffing spells.
Tempest and Fresca
A husband-and-wife couple that are heads of the town of Pao and part of the nomadic Plains Tribe, who worship the Black Dragon. Not terribly important to the overall story, but Tempest joins your team for a brief bit to help out.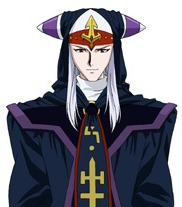 Ghaleon
The Premier of the Magic Guild in Vane, Ghaleon is one of the Four Heroes of old, and one of the most powerful magicians currently alive in the world. He also used to be best friends with Dyne. He gives off some obviously sinister vibes…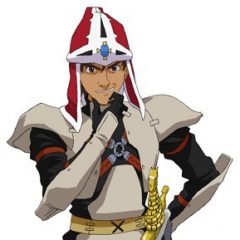 Dyne
A great warrior from the village of Burg, Dyne is Alex's idol, though he's passed away by the time the game begins. Alex eventually inherits his weapon and armor.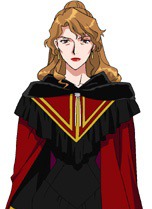 Lemia Ausa
Leader of the Magic Guild of Vane, Lemia is also one of the Four Heroes and works together with Ghaleon, though she too is acting with some irregularities.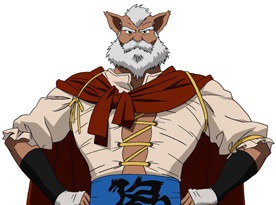 Mel de Alkirk
This beastman brawler is one of the Four Heroes, and currently the mayor of the bustling city of Meribia. A former pirate, he is also known as Hell Mel.
Xenobia, Phacia, and Royce
These villains are leaders of the Vile Tribe, a race cast out by Althena and forced to live in the barren frontier. Using their long standing grudge, they are manipulated into fighting against Althena. Only Xenobia is present in the original Sega CD version – her sisters were added to the subsequent releases.
Alex's adventures begin when his scheming buddy Ramus asks him to help him explore a nearby cave, in hopes of finding a legendary (and valuable) dragon diamond. They get more than they bargained for when they meet Quark, one of the four legendary dragons with connections to the Four Heroes. He grants him one of these diamonds, but also sees great things in Alex's future.
Ramus and Alex set sail for the big city, hoping to find a buyer for the diamond. Having finally left his roots, Alex continues his adventures by exploring the world and meeting the remaining four heroes. During his adventures, he learns that the Goddess Althena, typically involved in the lives of the humans, seems to have disappeared. This leads to rumors that she may have been reincarnated and living as a human.
Eventually Alex and his companions meet up with Ghaleon, another of the Four Heroes and former friend of Dyne. It's not a secret that Ghaleon's not exactly a good guy, and shortly after meeting him, he reveals his true intentions – to find the human incarnation of Althena, and exploit her power to become a god himself. It also shouldn't be a surprise that Luna is the girl he seeks, and he swiftly kidnaps her. With her powers awakened, Luna/Althena embraces her dark side by doffing her good girl scarf-and-dress ensemble for some skimpy black bikini armor and must fight against her former friends. And so, Alex must uncover the powers of the four dragons to become a new Dragonmaster himself to defeat Ghaleon, rescue Luna, and save the world.
The story is predictable, especially since the opening animation gives away every major plot twist. But Lunar's strength doesn't really lie with its originality, so much as how it's told, bolstered by strong dialogue and characterization. The Japanese script was written by novelist Kei Shigema (who also wrote some of the tie-in novels), which injects a certain level of charm missing from other early RPGs. It was also localized by people who were not only native English speakers but talented writers, which does wonders for bringing the characters to life.
Granted, Working Designs' philosophy revolved more around adaptation than literal translation, often weaving in jokes or completely replacing NPC speech with much more colorful dialogue. A lot of it is really funny, especially in the ways it fleshes out the primary characters. Luna, as it turns out, is sweet but more than a little possessive, threatening any girl that might seem too familiar with her dear Alex. It's a little bit more ribald than other games of the era. Kyle makes mention of adding notches to his bedpost, amongst various innuendoes, the sort of stuff that was occasionally present in other Japanese RPGs but typically censored before they made it to the West.
At one point late in the game, Ghaleon creates a moving, tank-like castle called the Grindery, which tramples over the map and destroys a town. One villager, priorities completely out of order, is more perturbed that the sun tea he had sitting out has been crushed. One of the best laughs involves a singer in one of the towns. Most of the girls with the best singing voices have been kidnapped in hopes of discovering the Goddess. One of them sings a pleasant version of the song (vocalized, though the lyrics just consist of "la la la la"). However, in one of the other towns, another girl sings it appallingly out of tune, earnestly wondering why she was skipped over during the kidnapping spree.
The humor isn't always on the mark, especially the hermit who's been given a huge body odor problem, and the town full of backwater rednecks, which ends up as a near endless source of inbreeding jokes. It also tosses in some references to other Working Designs games like Cosmic Fantasy II (one NPC wandering around a cave remarks about the time he fought Galam) despite being developed by unrelated companies. But the goofy English writing isn't entirely inappropriate, considering the grossest gag, that the dragon diamonds are actually its dung, was the same in the Japanese version. There are a few minor edits to the graphics, mostly to clear up topless female enemies and remove pentagrams, but there are very few of the controversial balance changes that plagued later Working Designs games. The only really questionable aspect is that the English font is all-caps, which makes it seem like everyone is shouting all the time.
Even without the colorful dialogue, Lunar's more fun than most 16-bit RPGs (and many others) just because the characters are so darned likable. Part of this is due to the romantic entanglements between all of the party members – Kyle and Jessica have an on-again, off-again romance, with both trading barbs at each other, while Nash and Mia are similarly paired off. Alex's romantic interest remains at a distance through most of the game, but Nall makes for a fine comedic buddy who occasionally provides some sarcastic commentary. Compared to the likes of Final Fantasy, it's also (mostly) free of melodrama too. Altogether, it's fun and breezy, and never takes itself too seriously. Plus, while tons of RPGs have legendary heroes that fought great evils, they're just part of the in-game history. In Lunar, three of the four heroes are not only still alive and have shaped elements of the world, but are parents of two of the main characters.
Much like the story, the battle system is pretty standard for RPGs, but with a few twists to differentiate it a bit. It utilizes a side-view perspective and looks like Final Fantasy at a glance, except characters and enemy positioning is taken into account. In other words, the fighters don't just sit on each side of the screen and exchange blows, they need to walk across the field in order to attack. The field is divided into invisible hexes, and each character can only move a certain distance, however some characters can execute multiple actions in the same turn.
For example, let's say the player can execute two actions per turn, and there are two enemies – one of them is just one hex away from the player, while the other is on the other side of the screen. If the closer enemy is targeted, then the character can move next to it quickly and attack twice. If the farther enemy is targeted, then the character must spend one action to move across the screen, so they can only attack once. Different characters have different movement ranges, or can execute a different number of actions. Slower characters might run out of steam before they can even reach their foe and need to wait until the next turn to actually do anything. In practice, it doesn't really make a huge difference to the strategy, especially since you can't move to specific hexes, and can only move to attack enemies. Plus there's rarely any reason to target an enemy that isn't close to you. It does make a slight bit of difference when it comes to magic spells, though, since many of them affect zones. You pick a target, and all enemies in the nearby vicinity are also hit. Of course, enemies are constantly moving around the screen, so it's difficult to predict exactly which foes you'll hit.
Otherwise, it's all pretty conventional. Random battles are frequent but speedy, with barely any load times. There isn't any character customization, and characters learn new magic spells and special attacks by gaining experience levels. Up to five party members can participate in battle at the same time, but the characters you're given are completely dependent on the plot. Even with secondary characters hopping in and out, Jessica, Kyle and Nash stay with Alex through most of the game, at least in the Sega CD version.
Nall doesn't participate directly in combat, but rather you can consult him for his opinion on the battle to gauge its difficulty, though it rarely means anything. There's also an option to let the AI take over combat. Each character has a small inventory, limiting their usage of healing items and other supplies during battle, although Nall acts as an unlimited bag of holding, allowing you to switch out items on any map screen.
The soundtrack is all redbook, and its orchestral synth sound contrasts greatly with the rock that typified most other CD games of the era. While not on the level of Square's 16-bit RPGs, it's generally very good. The soundtrack was provided by Two-Five, a music studio that often worked closely with Game Arts, and was composed by four people: Noriyuki Iwadare, Hiroshi Fujioka, Isao Mizoguchi, and Yoshiaki Kubodera.
The standout is the opening theme, which is just called "Lunar" in the Japanese version and was sung by Mayumi Sudou. The North American version does more than just translate the lyrics into English, it's actually a different arrangement that changes some of the instrumentation into a much stronger piece. The English rendition was sung by Shiya Almeda and is known as "Fighting Through the Darkness". The song is cheesy, but what early 90s video game vocal song wasn't?
The characters were designed by Toshiyuki Kubooka, an animation director who, at the time, was known for his work on Nadia: The Secret of Blue Water and Giant Robo. Although they're represented in-game as the squat SD-sprites typical of JRPGs, their distinctive, attractive designs helps give each character a greater visual identity. Outside of the opening, though, the cutscene animation is sparse, and there aren't as many as one would expect. Although they're used for key plot points, most character introductions are done with a single frame with flapping lips and text-only dialogue.
Screenshot Comparisons
Lunar: Silver Star Story / Lunar: Silver Star Story Complete (シルバースターストーリー) – PlayStation, Saturn, iOS (1996)
Lunar is not only one of the first really great RPGs of the 16-bit era, but it was also one of the most successful games on the Sega CD, in both North America and Japan. However, given the low install base, that didn't really mean much, so many players missed on its charms. Game Arts attempted to rectify this by developing a remake for 32-bit platforms. The Saturn version is known as Lunar: Silver Star Story, and was only released in Japan. The PlayStation version, released a short time afterward and translated into English, is known as Lunar: Silver Star Story Complete. Both were initially released in 1996, though the PS1 version didn't make it to North America until 1999. These were co-developed by a company called Japan Art Media, who had previously worked on a series of RPGs for the Game Boy and Super Famicom called Aretha.
Silver Star Story is not one of those lazy 16-to-32-bit ports like Square put out. It's also far more than even a movie-style Director's Cut, as it really is almost a completely new game. All of the graphics have been redrawn, all of the maps are different, most of the text has been entirely rewritten, the enemies have been changed, dungeons have been added or removed, and the battle system has been altered and rebalanced. The static loosely animated stills have been replaced by full motion video, and the soundtrack is completely different. All of the main party members (and many of the secondary characters) finally get their own voice actors too.
What stays mostly the same is the general story, though even that's been altered significantly. Within just the opening hours of gameplay, there are numerous changes. In the White Dragon Cave at the beginning of the game, Quark requests that the gang digs deeper into the dungeon in order to find something to prove their worth, sending them on an extra subquest. In the Sega CD version, the path to the Weird Woods was blocked by a damaged bridge, whereas here it's filled with fog, which is cleared up by Luna's singing, foreshadowing her magical abilities. They spend more time with Laike, including a brief match where they fight alongside him. Before leaving the island, the party meets up with Nash (who previously didn't show up until later on) and must defeat a new boss creature on the deck of the ship in Saith. The rest of the game sees similar revisions, both big and small.
By far the biggest alteration is that Luna originally left the adventure fairly early on, after the boys set off away from their home island. In Silver Star Story, she tags along and spends far more time with the central crew, further fleshing out her personality and her relationships with the characters, even though she still gets kidnapped and turned evil. Whereas Alex was originally a silent hero with one line of spoken dialogue (which was added in the English localization), here he talks a little more, even though he's not given much of a personality. He also plays an ocarina instead of a harp. There are two new female members of the Vile Tribe who fight along Xenobia: Royce and Phacia, who don't add much to the story other than being eye candy, but do make the villains a little more menacing. Other character events are different too, including a scenario where one of the characters temporarily betrays the party before having some sense smacked back into them. Despite some moments like these that weaken the character or alter their motivations, nearly all of the storyline changes are for the better. Of course, the translation has its own little quirks, like the Austin Powers reference from an NPC wandering in a dungeon.
The overworld map has been changed to be smaller, and there are no enemy encounters, so it just exists to travel between major locations. Random battles are gone, and enemies are now visible on the field. The battle system is basically the same, though the number of skills have been cut down and condensed, which makes sense considering how redundant many of them were originally. However, the bosses now scale with your level, so it's basically impossible to grind past them. Some dungeons have been extremely scaled back – the Cave of Trials, where you just play as Alex, was originally very expansive, but has been shrunk down to a few rooms with a couple of boss fights. The second form of the final boss has been removed too.
The new soundtrack was composed entirely by Noriyuki Iwadare and the style is similar to his work on Lunar 2. However, other than a few songs, it's rather bland compared to the Sega CD original. There's a brand new opening song, "Tsubasa" ("Wings"), which is much more lovey-dovey than the Sega CD's original, setting a completely different tone for the game. There's also another vocal song, "Wind's Nocturne", sung by Luna during the ship voyage to the mainland, which has a very musical theatre/Disney movie feel to it. Both were sung Jennifer Stigile, who also played Luna's voice in both versions, and went on to voice many other characters in subsequent Working Designs localizations.
The game has over fifty minutes of video footage animated by Studio Gonzo, but each port implements FMV differently. The initial Saturn release has heavily compressed video that's displayed in a boxed window. A subsequent release requires the Saturn MPEG video decompressor cartridge, which presents the video in full screen in much better quality. The Japanese PlayStation version also has full screen video, though not quite as nice looking as the Saturn MPEG release. The North American PlayStation release shrinks the video slightly so it takes about 90% of the screen, but to make up it, the frame rate is smoother. The Windows release, only available in Japan, has the best quality of all versions.
There are a few other differences between versions. Silver Star Story introduces bromides, hidden items featuring artwork of the characters, mostly of the female party members. The MPEG Saturn version adds a few extra; the PlayStation release adds even more. The music instrumentation quality is also slightly different, with the Saturn version sounding somewhat better. Working Designs originally expressed interest in bringing the Windows version to North America, but eventually passed after ascertaining how glitchy it was.
When it was released in North America, Silver Star Story was one of the very few releases in the region that had special edition packaging. Included was an outer box, a soundtrack CD (though most of the music is actually newly arranged music from the Sega CD version), another CD with a making-of video, and a hardcover manual/artbook. A subsequent cheaper release just included the two game discs and a regular PS1-style manual.
Lunar Legend (ルナレジェンド) – Game Boy Advance (2002)
In 2002, Lunar was ported to the Game Boy Advance under the name Lunar Legend. The visuals have been completely redrawn for the portable screen, though the sprites and maps don't look too bad. All of the voices are gone, though, and the cutscenes are reduced to stills with text laid over them. The music has been butchered beyond recognizability.
The battle system has been simplified so character positioning doesn't matter. Each character has new Arts Skills, which are similar to Final Fantasy VII's Limit Breaks. After dishing out enough attacks and filling a gauge, you can use one of these extremely powerful skills. The dungeons have been redesigned, and it's generally a much easier game than either of the previous versions. Random encounters have returned too. The world map has been simplified again, so you just point and click at locations.
There's also an optional card collecting quest. Defeated enemies drop cards, and you can link together with other players to trade cards. The bromides are gone, and the baths are now trading spots. This was probably done due to the younger audience of the Game Boy Advance. The cards don't have any effect on the game itself, so it feels useless.
The plot is based on Silver Star Story, though there have been further changes. In the beginning, Nash visits Burg rather than hanging out in Saith, so he joins along on your quest right at the beginning. The White Dragon cave is gone, and instead you meet Quark in the Weird Woods. The subquest with the old hag and the sea map is gone, as is the blob monster on the ship in Saith. Instead, Nash gets kidnapped by pirates and you need to rescue him. Other minor changes are made throughout, plus there's also a new optional dungeon by the Frontier. The localization this time was handled by Ubisoft, who not only did a much more literal translation, but also neglected to give the text the same kind of polish that Working Designs did. As a result, the dialogue is lacking in both characterization and humor.
Compared to other RPGs on the Game Boy Advance, Lunar Legend isn't all that bad, but it's immensely stripped down from its original form, and the later portable versions of Lunar are better anyway.
Lunar: Silver Star Harmony / Lunar: Harmony of Silver Star (ルナ ハーモニー オブ シルバースタ) – PlayStation Portable (2009)
The fourth and final version of Lunar was released on the PSP in 2009. The events are based on Silver Star Story, rather than Lunar Legend.
The visuals have been redrawn again – each of the maps are now rendered as bitmaps rather than created by tiles, and the sprites are now realistically proportioned, leaving behind the super deformed look of the other versions. It definitely looks more modern, though some of the classic charm is lost. The redesigned maps may look nice, but they prove to be a massive annoyance, because the screen fades in and out with every map change to load, stopping and starting the music, and there are a LOT of map changes. The dungeons have been shortened drastically, reduced to a few screens in many cases, and they're often so narrow that it's tough to avoid many enemy encounters. The music is based on Silver Star Story, with arrangements that sound slightly better than either 32-bit version, though they haven't changed drastically.
The battle system brings back the character positioning that was removed from the GBA game, but also includes the Arts Skills. Random encounters are gone again, with enemies visible on the map. Perhaps owing to the shortened lengths of the dungeons, the fights take longer. Attacks are slower, spell animations are more elaborate, and the stats have been rebalanced, so fights tend to drag on. Most of the challenge has been removed too, so it's all kinds of boring. The card collecting is gone too.
The biggest story addition is a new prologue which shows the original Four Heroes fighting against the big bad guy. In theory, it's great to see these characters as their younger selves, especially considering that their adventure was long speculated by fans to be told in a future Lunar games. However, this scene isn't particularly well written, and considering it's really only meaningful for fans of earlier versions, might be offputting for newcomers, since it's overly long. It probably would've worked better being placed somewhere else in the middle of the game. There are a few other minor events added to the game, though they're just character moments that are nice but don't contribute much to the story.
The English localization was handled entirely by XSeed. Despite differing from Working Designs' work, it maintains the same humorous tone, with lots of great writing and goofy dialogue, so it's much, much better than Lunar Legend. Most of the voice actors are different, though Jennifer Stigile returns to sing the songs, despite the altered English lyrics. However, despite using many contemporary professional voice actors, like Yuri Lowenthal as Alex and Troy Baker as Ghaleon, they just can't compare to Working Designs' version. The videos are the same used in the 32-bit versions, still displayed in 4:3, though their quality is basically perfect.
Despite the technical issues and the general stripped back feeling, it's still a decent game, and in portable format it's hugely preferable to the GBA version, but for those who've already played the 32-bit version, there's not enough to differentiate it to play it again.
The iOS version was released in 2012 by publisher SoMoGa. It's mostly based off the PlayStation version of Silver Star Story, with added point-and-touch controls for movement. It looks pretty good, though the iOS status bar can't be removed, and the high resolution text looks mismatched with the rest of the blurry, low resolution graphics. However, the music is from Silver Star Harmony. Most of the text is from the Working Designs translation, but the songs and voice acting in the video scenes are from the XSeed version.
Screenshot Comparisons
Dyne's Grave
Meeting Luna
Town
Overworld
Battle