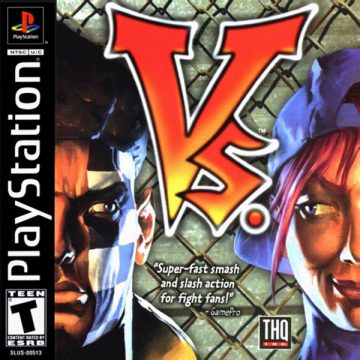 Even though Fighters' Impact was never released overseas, someone at THQ took notice and decided that it could use a drastic tailoring for western tastes. Presumably THQ had their own people come up with the general design of the game, which was then put together by the developers at Polygon Magic over in Japan. The result was the nigh ungoogleable Vs., which failed to make much of an impact and fell into obscurity.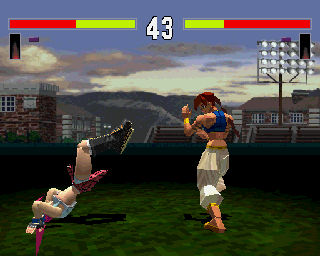 Fortunately, we were able to contact the game's character designer, Kurtis Fujita, who very graciously agreed to provide additional insight to the development of the game.
Vs. was intended to capitalize on the Fighting game craze of the '90s. THQ actually took the engine from a Japanese fighting game (can't recall which one) along with all the character animations and in turn had myself design a new set of characters which Polygon Magic modeled. In essence Vs. was an overhaul of a previous game. I believe Polygon Magic and I had about 6 months to complete the project. It was quite rushed. I would work on one set of designs while the previous set was being modeled in Japan by Polygon Magic. Perhaps because it was an overhaul of an already released Japanese game, it was deemed only for a U.S. release, however I am not certain. The main idea and theme of Vs. was to create a game which had characters that Americans could identify with, while still maintaining the visual flair of Japanese Anime and Manga.
To be more precise, the game was given a street gang themed makeover. While this may come off as cynical pandering to 13-year old boys, it does give the characters some sense of identity compared to Fighters' Impact's more typical fighting game roster. Despite the hasty development schedule, the roster is fairly large. Unfortunately, a lot of the characters share entire move sets and are thus identical gameplay-wise.
Characters
As Character Designer it was my duty to create the designs for all the characters, as well as their costume designs. I would also come up with many of the victory poses and all the names for the characters. Some of the characters were my ideas from scratch. On other occasions, I was given a couple word descriptions. For instance, I was told to make a Russian Cab Driver, this became Oleg. The Taxi Driver elements were the yellow jacket and the black checker war paint on his face, mimicking the colors of a Taxi Cab. I was definitely inspired by the various fighting games of the day, Street Fighter and Tekken, however I tried to expand on the themes already made and come up with original solutions to the tried and true fighters already seen. As usual it was important to have a strong female character. Instead of having the typical Chun-Li like girl, I chose to make our female Kung Fu practitioner, the Rave Dj, Mia with a more street wise attire than normally seen in Fighting Games.
As you may have noticed, all of the characters (such as basically the entire Campus gang) don't fit into the street thug theme all that well. Fujita explains thusly:
In regards to the various designs. Initially I made quite a few designs on spec wherein I had free reign, without the knowledge of the Gang Theme that would become an integral part of the Game. Characters like Harold were prime examples of this. These characters were later placed in to different Gangs that may not have directly related to them at first glance. In the case of Harold, I created him to be the ultimate Martial Artist. The blindfold he wore was originally to lead you to believe he was actually blind. However, my intention was for him to take it off at the end of the game revealing he could in fact see. The only reason he wore the blindfold was to provide a challenge in the competition as he was much more highly skilled than all the other competitors. When it came time for them to place him in a gang, THQ chose the Campus Gang and dubbed him the "New Zealand Exchange Student".
The controls are similar to Fighters' Impact, with a new special attack button. The specific purpose of the special attack varies between different fighting styles – the taekwondo guys go into a one foot stance, aikido practitioners perform painful counter grabs and almost everybody else does slow power attacks that stun the opponent and leave them open for further combos. The motion slide combo system has been removed with the game switching over to a typical combo string system similar to Fighters' Impact A revision though many characters have remarkably loose combo chains.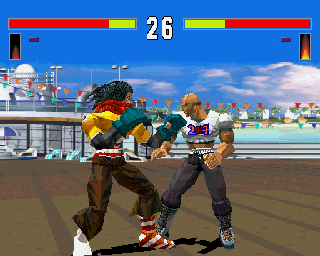 The most immediately noticeable gameplay change is a complete overhaul of the movement system. Characters can no longer walk or jump – instead movement is entirely dash based, with dashes being cancellable into just about anything. Blocking is no longer performed holding back and instead activated automatically when standing or crouching idle, even non-command grabs are auto-evaded in this state. Vs. adds tech escapes for grabs in general activated with the evade button. While this seems like it would favor more defensive playstyles some moves now cause stun on block and the games generally fast pace pushes the player to go full offense.
Most characters can use the sidestep counter system from Fighters' Impact but even this returning feature is altered with the evade now activating instantly on press causing your character to blink blue – making the timing for the reversal evade clearer. However, the ground game is even more limited, with absolutely no evasive rolls or rising attacks – it is possible to tech out of falls and simultaneously kick your opponent in the face by pressing the evade button before hitting the ground, but that's about the extent of it. The three types of stages return – infinite, walled and ring out but the ring out mechanics seem to have been tweaked with edges appearing to be less slippery and ring outs being harder to achieve as result.
Visually, the game is very similar to Fighters' Impact, right down to recycled character animations. Strangely enough, a few of the characters (namely Oleg, Mineo and Kara) have distinctively crude facial textures with malformed cartoon eyes. All the backgrounds are completely redone visually to suit the games more city based theming. As for the music, THQ opted for licensed tracks from bands Razed in Black, Suicide Machines, Los Infernos and Pigs in Space instead of original compositions. Although in the case of Pigs in Space's song Never the band didn't release an official studio cut only a live version making the Vs. version more or less exclusive. It's an odd mix of goth-industrial, punk and ska but it ends up complementing the fighting action surprisingly well.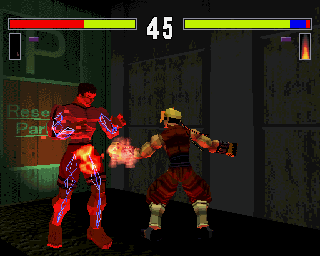 Maybe the biggest problem with Vs. is that it feels unfinished and inconsistent. The hastily altered fighting styles end up feeling like several different games characters jumbled together and it's certainly less coherent compared to Fighters' Impact. The game offers two basic single player modes the first being the curiously named survival mode that allows you to continue when defeated so doesn't really fulfil the criteria of a survival mode. Buried within for anyone that bothers to play through it all the way are text only scrolling endings for each gang that read more like hastily written gags than serious endings – the ending text for the Streets gang has been stitched together below. The other single player mode challenge, has you select one of the gangs and then fighting everyone within said gang including a mirror match for a chance to beat and unlock their respective boss character.
For a title that has such a colorful cast of fighters the absence of any real form of narrative hurts with most character personalities being reduced to a single poorly compressed win quote. The rumble mode where two gangs fight for turf is theoretically interesting, but functions as a generic team battle mode. The games UI and menus are bland and poorly laid out even by the standards of the day forcing players back to the lifeless main menu to change fighters – Combo de Mambo is completely gone resulting in training mode vanishing entirely.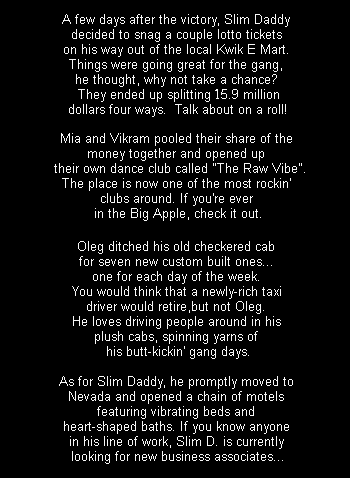 Despite issues that clearly hurt the game's general audiences appeal and THQs complete inability to market the game it's still an interesting example of a game getting entirely refurnished for the western market and like its older sibling Fighters' Impact there's a lot to love in Vs.. If you're willing to poke around there's a lot to love about the distinct systems and mechanics Polygon Magic thought made an entertaining 3d fighter.