What a ridiculous name. The easiest way to describe Slap Happy Rhythm Busters (or Srap Happy Rhythm Busters, based off the English spine label on the CD) is "Jet Set Radio: The Fighting Game". It draws from the same hip youth oriented Shibuya aesthetics. It has a hip, electronic soundtrack. It even uses a similar style of cel-shaded graphics, a true rarity for PSOne games. (The only other notable one is the dreaded Simpsons Wrestling.) It is not a ripoff, because it was released in Japan at approximately the same time. It's also a surprisingly decent game from a company not exactly synonymous with quality. Polygon Magic was most known (if one could say "known" at all) for the Galerians series, but they also made a few forgettable fighters – Fighters' Impact for the arcades, Lord of Fist and Vs. for the PSOne, and later went on to do Bleach: Shattered Blade for the Wii. In that context, it's surprising that Slap Happy Rhythm Busters manages to couple a pretty decent game along with its brightly attractive visuals.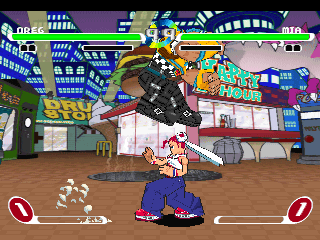 Slap Happy Rhythm Busters is largely about style. The visuals are fantastic and the cel-shaded characters look phenomenal. The solid color designs make it easy to hit their low polygon count, one of the biggest problems with PS1-era 3D fighters. Most of the characters are also quite imaginative, although a couple are obvious homages to other fighters.
Characters
The characters in Slap Happy Rhythm Busters are polygonal, but this is strictly a 2D fighter. Earlier grapples with this style hadn't proven effective – Street Fighter EX and Fatal Fury: Wild Ambition were clumsy at best, and while Rival Schools was fun, it just didn't feel as snappy as a sprite-based game. In that respect, Slap Happy Rhythm Busters was remarkably ahead of its time, because it's fast and tight, largely devoid of the timing problems that tended afflict those earlier games.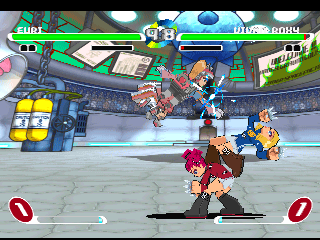 The fighting is set up like an SNK game – two punches, two kicks – with a separate button to throw. Super moves are executed with controller motions and two buttons pressed at the same time, a function that can also be mapped to the shoulder buttons. The action is neither as fast nor as chaotic as a Guilty Gear or a Capcom Versus game, although the basic feel is still comparable. All characters have a variety of dashes, combos flow smoothly, and air recoveries are easy to pull off. Most characters have launchers too, allowing them to hit a character in the air and juggle them a bit, including bouncing them off walls.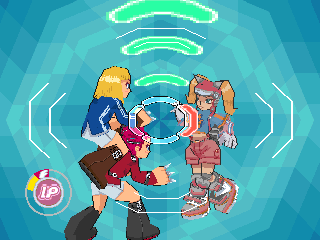 This was all pretty standard stuff in 2D fighters by the time this came out, but Slap Happy Rhythm Busters' purported claim to fame is its integration of "rhythm" elements. Some reviews at the time remarked that it was a combination of a rhythm game and a fighter – much the way that Rez was a rhythm game and a shooter – while others have drawn Beatmania comparisons. In truth, both of these are overblown, because the "rhythm" aspect, despite being plainly visible in the title, plays only a minor part, as a particular type of super move.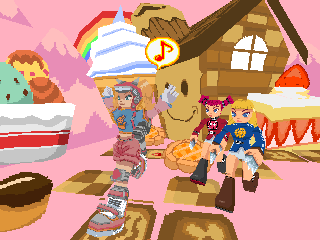 The remaining shoulder button is used for a super attack called a Beat move, which is available once three super bars are stored. If this attack connects, it starts up a rhythm-based minigame where colored bars move towards the center of the screen, requiring that you press them in time with the music. Each character has their own unique tune and therefore their own unique sequence, but they're simple short beat sequences – don't expect anything too complicated, although they're quick enough that it can take a bit of practice to get them down. Each successfully hit will deal a blow on your opponent, slowly increasing damage. If you manage to finish them off with the attack, there's also a character specific cinema that shows them comically demolishing them. Ramos will summon a huge stereo system and attack them with a sonic blast. Holeman will summon a tricycle and run them over. Euri will summon them to a pink, candy paradise, similar to the Land of Chocolate that Homer Simpson envisions in that episode where the power plant is taken over by Germans, and somehow proceeds to wallop them. Garia summons a huge minotaur from a magic circle, which proceeds to chew on their enemies. Functionally, they're not too useful, because Beat attacks consume three power meters, which could be better used on three super attacks, but it's worth playing through all of the characters to see them.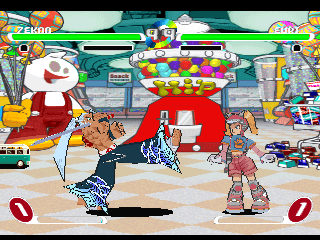 The soundtrack may be disappointing for those hoping for something similar to Jet Grind Radio though. That game featured an insanely catchy collection of tunes from Japanese alternative bands – Slap Happy Rhythm Busters' music is provided by a variety of DJs, ditching the pop flavor in lieu of more hardcore techno. Had this been more integrated into the actual gameplay, it might have proven worthwhile, but as it stands it's mostly bland and without personality, completing contrasting with the visuals.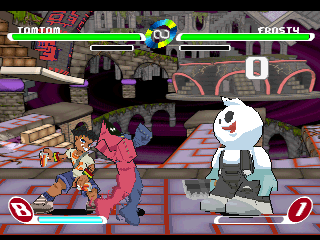 Since Slap Happy Rhythm Busters was designed as a console game, there's a pretty reasonable amount of bonus content. There are twenty one characters, with only eleven available at the beginning. There's no real storyline and the endings are generic, although all of the loading screens are comprised of silly little comics, 95% of which are, strangely enough, in very awkward English. However, the modes top out at the standard Arcade, two player and practice modes (which also includes the ability to practice the rhythm games.)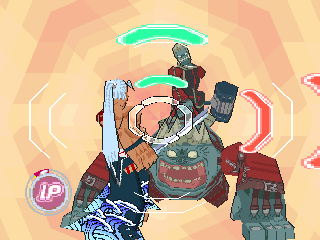 Technically proficient players may find Slap Happy Rhythm Busters slightly shallow, but for everyone else it's quite an enjoyable game. It is, after all, about style over substance, but the style is extremely well done, and the substance is still quite solid. It manages to exude the same kind of feeling of many late-90s 2D fighters, the kind from off-brand developers that, despite not really offering anything new from a gameplay perspective, managed to be remarkably fun anyway, and make a damn nice spectacle of itself too.