Unleashed by Capcom into arcade rooms the world over, 1988's Forgotten Worlds chronicles humanity's last stand against Bios, the King of the Gods, a tyrannical alien deity who, along with his divine minions, pulverizes Earth's military defenses, conquering the planet in a matter of days. In a desperate bid for survival, humanity creates two soldier-saviors and tasks them with dispensing death and destruction upon their oppressors, thus ensuring that not just one god, but that all gods, are dead, buried, and… forgotten.
Originally conceived as a two-man shoot-em-up in the vein of Contra, Ikari Warriors, and Heavy Barrel, Forgotten Worlds (or Lost Worlds as it was known in its original Japanese arcade incarnation) morphed into a science-fiction/fantasy hybrid that became the final game in Capcom's loosely interconnected "jetpack" trilogy (consisting of Section Z and Side Arms). The game was designed by some of Capcom's star employees, including Akira "Akiman" Yasuda, Akira Nishitani, Noritaka Funamizu, and Yoshiki Okamoto. Echoes of the game's Ikari/Contra-esque origins are evident in the classic blue/red color designations for players one and two respectively. The game also marries the bi-racial, buddy-cop dynamic of the Lethal Weapon and 48 Hours films with the aesthetics of a Stallone and Schwarzenegger action opus. The warriors are generally referred to as the Nameless Soldiers, with various different names given later on. Unknown Soldier Blue is presented as a blonde, shades-wearing Terminator-like character, and the cleverly named Unknown Soldier Red, with his mohawked, albeit clean-shaven, visage, is a sidekick descended straight from Mr. T. Adding to the steroidal hijinks, during the game's cutscenes, several Capcom employees voice the heroes' lines in such over-the-top, action-macho tones, with lines like "You cannot stop be with just a paramecium" and "My date with Cleopatra is spoiled!", it pushes their banter into the "so-bad-it's-good" stratosphere.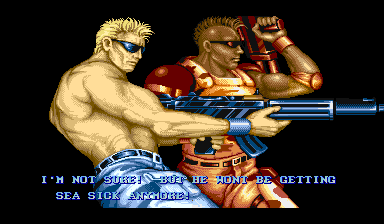 But Forgotten Worlds was not built as a shrine to great dialogue. It's an action extravaganza meant to transport you to new realities. And that's exactly what you get as our two warriors are beamed down to a 29th Century Earth straight out of Fist of the North Star. Colossal, ruined freeways, toppled high-rises, and crater-filled wastelands boggle the eye as you go about the business of vengeance and liberation. Much like the demolished, graffiti-soaked streets of Final Fight, Forgotten Worlds' devastated backgrounds powerfully convey the high price humanity has paid at the yoke of its oppressors. However, the profusion of gorgeous visuals ensure that subjugation never looked so sexy. From the gilded, Incan-styled contours of the shop interiors to the imposing azure armor of Level 3's War God, Forgotten Worlds is a visual feast, and a testament to the care with which it was crafted.
At least graphically. Because no sooner have the images started tickling your retinas, than a horde of flying lizardmen, flame spewing ball turret gunners, and holographic kabuki-men are besieging you in such monstrous waves that it's nearly impossible to appreciate much, if anything, that's on the screen. Your characters have a health bar, allowing you to take several hits, though only a single life per credit.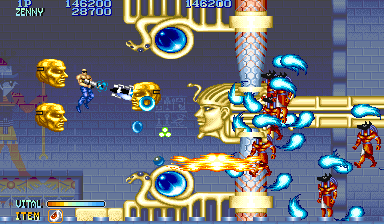 Each character's default weaponry is slightly different – 1P has a long range rapid fire gun, while 2P has a short range wide shot. Both are equipped with a rapid-fire satellite similar to R-Type's shooting orb. While the arcade cabinet's joystick manages your directional movement, an accompanying rotary knob, called a rolling switch in Japan, does the real heavy lifting. Want to spin your character 360 degrees?  Spin the cabinet's rotary knob. Want to spin your satellite instead? Press down while spinning the knob.  Feeling besieged? Press that knob down twice and annihilate your on-screen enemies in a blink.
Shops were popular in Capcom arcade games, and Forgotten Worlds is no different. If you've saved up enough of the in-game currency, known as Zenny, you can expand your arsenal at the stores that burst through each stage's terrain, brought to you by the game's lady shopkeeper, Sylphie. Boosters for your satellite's firepower, as well as weapon upgrades like the Vulcan Cannon and the Homing Laser, are here for the taking. Particularly powerful are the Flamethrower and Napalm which can quickly dispose of most end-stage heavies.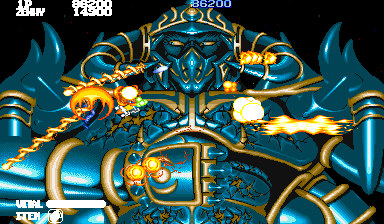 Speaking of which, one of the most fascinating aspects of Forgotten Worlds are indeed the game's bosses. They constitute a who's-who of worship figures. Everything from our current deities of technology and industrialization (symbolized by the techno-organic paramecium that spews industro-junk from its palpitating heart) to mythical entities such as fire breathing (Dust) dragons, to the Egyptian Sun God Ra, all become fair game for the Unknown Soldiers. This culminates in the final showdown with the fallen angel himself, Bios, the Luciferian King of Gods (who happens to be enthroned within the Tower of Babel no less).
It is this very quest to annihilate a series of deities that gives Forgotten Worlds its subversive twist. How many teenagers at the time realized they were playing at god slaying during the game's vibrant, sci-fi scenarios? Nowhere is this clearer than in the third stage's conclusion. Hovering past a genuflecting alien worshiper, you soar into the heavens, and blow away the extraterrestrial's War God. It's the highlight of one of Capcom's best games of the 1980s, just alongside Strider, Ghouls 'n Ghosts, and Final Fight.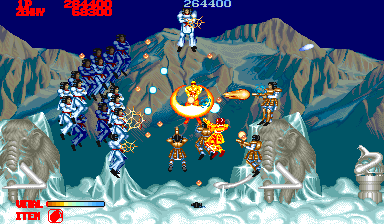 There were plenty of home ports of Forgotten Worlds, each of which struggled in different ways to replicate the rotating knob. The home computer ports by Arc Developments only use a single button, so you need to press and hold it to aim, and tap it to fire. Needless to say, it makes the experience very clumsy. The Commodore 64 and ZX Spectrum actually do look pretty decent given the hardware, especially the parallax scrolling effect on the Spectrum version; meanwhile, the Amstrad CPC version is very cut back, and can't even feature Sylphie in the shops. As to gameplay and graphics, the Amiga 500 port is the best of the desktop set, retaining a superior level of detail, visual cues, and even the parallax scrolling. The Atari ST port is similar, but choppier and missing the background scrolling effects, while the IBM PC version suffers from grainy EGA graphics. On the audio front, Amstrad, Commodore 64, and ZX Spectrum ports remove the arcade's majestic, Conan-esque score entirely, leaving only some poor sound effects. Inversely, the Amiga and Atari ST versions forsake the sound effects altogether but retain the arcade's musical cues. However, these versions only have four stages compared to the arcade's nine, leaving more than half the game on the cutting room floor.
On consoles, the Genesis version from Sega is the most widely known. The A and C Buttons are used to rotate, while the B button is used to fire, with an option for an auto-fire setting. The characters are a little smaller and it's missing some background details, but this is still the best looking console port. However, stages 6 and 8 are removed, for only seven levels total. Two player mode is kept but both player's weapons are identical. This game is incompatible with the Genesis six button controller, so make sure to hold down the Mode button when booting it up, otherwise you'll immediately be treated to a game over screen.
The PC Engine Super CD port from A-Wave looks decent, a little more colorful than the Genesis version, but a step down overall as it's missing parallax scrolling. Using the regular control pad, the Run button is used in conjunction with the II & I buttons to fire and rotate, but the system's Avenue Pad 3 controller allows for more comfortable character/satellite rotation. It also has a remixed version of the soundtrack as well as newly recorded, more professional Japanese language voice acting. Co-op is gone but players can choose either character, complete with their unique default weapon. The Sega Master System port by Sanritsu was only released in Europe and Brazil. Auto fire is always enabled, so the two buttons are used to rotate left and right. It has five levels total – the first, third, and fourth, a new underwater stage where you face off a giant crab, and a combination of stages 7 and 9 for the final area. Co-op is missing from this version as well, and the second Unknown Soldier is gone completely, even from the cover.
All of these versions are compromised in some way, but it's the emulated versions found on the Capcom Classics Collection (PS2/XB) and Capcom Arcade Stadium (PS4/Switch), which are the best. These versions map the rotation to the second analog pad and use the shoulder triggers for firing, making for even tighter controls than the arcade game. Capcom Classics Collection: Remixed (PSP) maps the rotation on the left and right triggers, which is still quite handy.
Screenshot Comparisons
Shopkeeper Comparisons