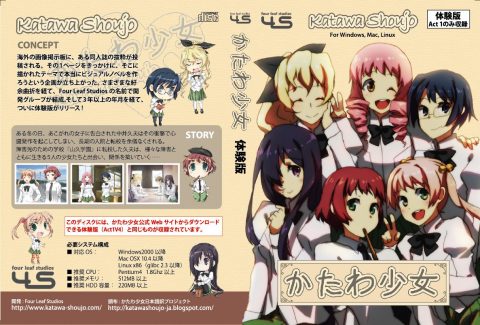 The medium of "visual novel" is, curiously, a primarily Japanese thing. Perhaps it's due to there not being very many popular examples of the medium available in non-Japanese-speaking countries. A visual novel really doesn't take nearly as much programming effort as a full-featured video game, leaving the production values and (most importantly) the writing to take the spotlight. Yet it's oddly rare to see independent teams creating visual novels of their own, in languages other than Japanese. The OEL (Original English-Language) visual novel has few examples to it, but the category does exist nonetheless.
This is why it's so interesting to see a title like Katawa Shoujo, which is not only written originally for the English language, but developed by a group of anonymous strangers from all over the world, who met over the Internet and released their work as a free download under a Creative Commons license. These sorts of things happen so rarely that it's already pretty impressive that this game got made and finished at all, let alone that it's actually really well written and surprisingly respectful of its subject matter, even despite the literal translation of its name being "disability girls." (Personally, I'm willing to blame machine translation.) The coolest thing is, despite being originally written in English, a translation is currently underway to make it available in Japanese – in fact, the "Act 1" version is currently available in Japanese, Magyar, Italian, and other languages as well.
Katawa Shoujo places the reader in the role of high school student Hisao Nakai. While meeting a girl from his class at the park in the middle of winter, Hisao's heart begins pounding – assumedly due to nerves – and he eventually collapses. Hisao learns that he has arrhythmia, and can't go back to his old school due to the need to keep a close eye on his condition. The doctor mentions the name of a private school called Yamaku Academy, which specializes in educational facilities for disabled students, with a 24-hour medical staff on site, and many specialized classrooms for the deaf and the blind, among others. While Hisao is initially quite reluctant to leave his old school, he eventually realizes that things aren't as bad as they seem, and he meets a handful of other students that help him ease into his new environment.
Characters
Katawa Shoujo is as much about learning to cope with disabilities as it is about realizing that a disability isn't an obstacle. Through the course of all five of the main paths, Hisao learns that some people see their altered circumstances as a boon, that there's more than one way to experience the world within one's limitations, and that sometimes, a person doesn't need someone to help them, so much as they might want someone to be there for them regardless.
The story paths all bring up interesting issues regarding each character's perceived "flaws." While Lilly might be unable to see, she is able to experience the world around her by sound and touch, and doesn't so much need someone to worry about her as she needs someone for her to worry about. Just as Emi might be troubled by nightmares and phantom limb pains from the accident that claimed her legs, she is able to run even faster than before, thanks to her specialized prosthetics, debatably leaving her even better off than she started. And although Hanako's life might seem to have been ruined forever by the fire that left her with her scars, once she realizes that she isn't the only one that has had such a life-changing event, Hisao might just gain her trust.
And yet, not all of the problems and situations encountered in Katawa Shoujo can be solved by just jumping in and being the problem-solving type. There's a small bit of reverse psychology involved at times. You might think that getting closer to a person might involve stepping in and asking them what's wrong, but at least one of the heroines will actually take offense to this and push Hisao away, possibly even for good. Being a "white knight" isn't the ultimate solution to everything, and it certainly won't get Hisao into anyone's pants.
Which brings us to the second most controversial aspect of Katawa Shoujo. The game includes at least one sex scene for each of the game's female leads. The CG generally isn't massively explicit compared to more contemporary H-games, but it is still there. There's a check box in the options menu that automatically skips over the sex, though it's still implied and the story still isn't exactly friendly for young readers. This might put off more interested readers, but the fact is, Katawa Shoujo is not all about the sex. It does happen, true, but it seems to happen more naturally than in other VNs, with lots of appropriate build-up. Despite these scenes not being quite as long as is typical, they just feel right, as if they're events that would happen to any two ordinary people in the same situation, rather than happening because the audience is getting bored with trite daily conversation and backstory.
One might note that I called the sex scenes the "second most controversial aspect" of this VN. The first would be the circumstances under which the game was made, largely due to public misconception and the reputation of a certain website. Katawa Shoujo's development team, Four Leaf Studios, initially drafted the project and met together via the online image board, 4chan. This has lead to all kinds of assumptions that the game would be a perverted mess, or loaded with unfitting internet memes, or possibly even being offensive for the sake of being offensive. I am happy to state that none of this is the case, as Katawa Shoujo is a well-written work that is obviously a labor of love, designed and built with the utmost respect for the subject matter that it represents. I am actually surprised that the game hasn't gone farther in representing a potentially more broad spectrum of possible heroines, perhaps from the realm of mental disabilities like autism, or maybe even anterograde amnesia.
Probably the most interesting aspect of the game's development is how the idea came about – in the omake pages of an art book by Raita, the artist for Sega's Valkyria Chronicles, there is a page with rough sketches and outlines of what would eventually become Katawa Shoujo. While this was used as a starting point by Four Leaf Studios, what resulted from it is actually quite a bit different design-wise, though the very basic descriptions offered on that page were pretty much followed to the letter. The original (translated) page can be read on the game's website.
Links:
Katawa Shoujo The game's official website, where the complete game can be downloaded for free, along with the official soundtrack, art books, wallpapers, etc.
Youtube OST links:
Katawa Shoujo OST – Red Velvet
Katawa Shoujo OST – Romance in Andante II
Katawa Shoujo OST – Wiosna (Main Title)