Vampire Chronicle for Matching Service

– Dreamcast (2000)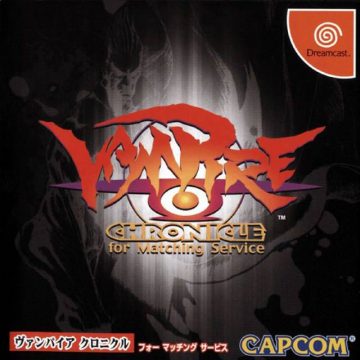 A Dreamcast port of Vampire Savior 2 with a few nifty extra features came out exclusively in Japan. All eighteen characters are included, and you have the option to play as Vampire, Hunter, Savior, or Savior 2 versions. What's sort of neat about this is that characters that weren't around for the earlier games, like Lilith or Bulleta, still have "Vampire" and "Hunter" versions with slightly modified move sets. You also have the option of choosing between Vampire, Hunter, and Savior gameplay modes. Vampire mode isn't identical to playing the original game, though: it's still Savior with Vampire's Special gauge and three-rounds system. As the title suggests, Vampire Chronicle for Matching Service allowed for online play.
Darkstalkers Chronicles: The Chaos Tower

– PSP (2004)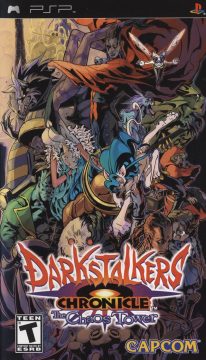 Vampire Chronicle was ported to the PSP in 2004 under the title Darkstalkers Chronicle: the Chaos Tower. It's the same game with an extra gameplay mode called "Tower," which looks sort of like a combination of The King of Fighters XI's Challenge mode and Street Fighter Alpha 3's World Tour mode.
Vampire: Darkstalkers Collection

– Playstation 2 (2005)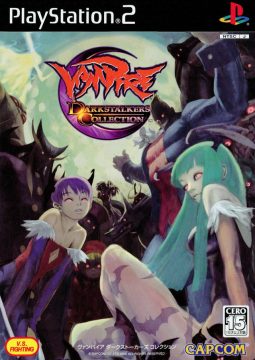 Every Darkstalkers arcade release on a single PlayStation 2 disc! Only in Japan though! With some unlockable bonus art! And… yeah, that's really all Darkstalkers Collection is. An American release and a netplay option might have been nice.
Darkstalkers Resurrection / Vampire Resurrection – PlayStation 3 / Xbox 360 (2013)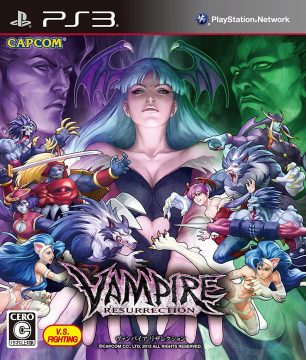 All of the previous compilations presented a sort of "ultimate" version of Vampire Savior/Darkstalkers 3, along with the ability to makes various tweaks. Not this one! This is just straight ports of the arcade versions of Night Warriors and Darkstalkers 3, ported by Iron Galaxy, who also did the PS3 ports of the Marvel vs. Capcom Origins collection and Street Fighter III Third Strike Online Edition. Like the others, they're well done, and feature online play, but it can't feel like a disappointment. This was a digital-only release for most of the globe, but Japan received a physical release for the PS3. This release seems to have come to fruition to test the waters for an actual new Darkstalkers game, but apparently didn't quite sell well enough to prove that the demand was there.