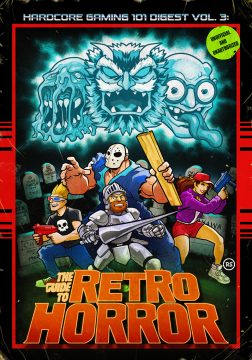 Cover artwork by Rusty Shackles
Coming October 2018, just in time for Halloween!
Hardcore Gaming 101 is proud to present The Guide to Retro Horror! Within these blood-soaked pages you'll find some of the most famous (and infamous) horror games ever released, from cult classic series Ghosts 'n Goblins, Splatterhouse, Zombies Ate My Neighbors and Nightmare Creatures, to obscure favorites like Monster Party, Chiller, Project Firestart, Sweet Home, Waxworks, and more! A word of warning, though: the horrifying theme of this book may be inappropriate for young children… and cowards.
Co-authored by Rob Strangman of the OPCFG, The Ghoul Realm and West Mansion!
Featured games/series include:
Splatterhouse
Ghosts 'n Goblins
Zombies Ate My Neighbors
Monster Party
Haunted House
Midnight Mutants
The Lurking Horror
Creepy Castle
Project Firestart
Personal Nightmare
Elvira
Waxworks
Sweet Home
Satan's Hollow
Chiller
Zombie Raid
Nightmare Creatures