Albion might carry the logo of Blue Byte Software, but you won't find the people who made the game when looking at the credits of Settlers. The Albion team was composed of former Thalion Software employees – Atari demoscene veterans who turned to game development (usually for Atari ST and Amiga) but couldn't make enough money to sustain their company despite amazing technological achievements and favorable reviews. Albion is powered by a slightly modified DOS port of Thalion's Amber engine, created for the RPGs Amberstar and Ambermoon.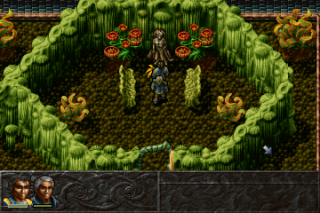 Albion itself is a strange beast: the Amberstar legacy is immediately visible and, like Thalion's Amiga RPGs, the game approaches many things similar to the later Ultima games: almost everything can be picked up (although most things are useless), NPCs work on schedules, dialog uses both selectable keywords and a simple parser and the playable characters need to keep track of hunger, encumbrance and inventory space. On the other hand, the game seems inspired by the atmosphere, storytelling style and linear structure of Japanese console RPGs.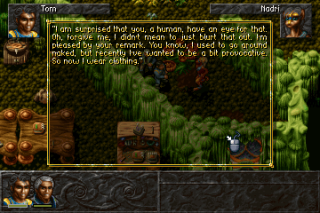 Albion is a game with a strong focus on narrative and worldbuilding. The story takes place in a future after humanity colonized space and in the process developed the need for an unimaginable amount of resources. To solve the problem, a technology was created that made it possible to excavate entire planets and haul everything valuable across the galaxy. The game begins on the excavation ship Toronto as it prepares to mine a desert planet the crew calls Nugget.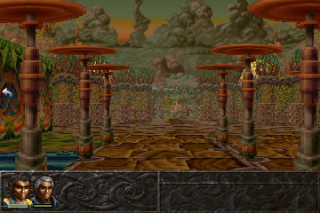 After two of the Toronto crewmembers crash-land a shuttle on the planet's surface, the game's science fiction aspect takes a backseat (although it never completely disappears and becomes an important part of the overarching narrative in the second half of the game) to the exploration of Albion, as it is called by its inhabitants. Not only is it not at all a barren desert, but also inhabited by two sentient races: Iskai (cat people) and humans. Probably the most interesting thing about the game is its portrayal of those civilizations.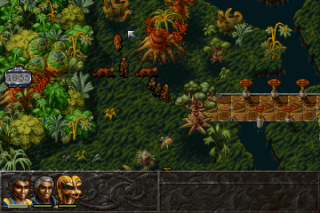 Iskai live in harmony with nature and use its power to draw magical energy from seeds, but their society is far from a hippy utopia: their rules and taboos can be strange and labyrinthine at times, the laws are based on collective responsibility and Iskai themselves are not strangers to deception or cruelty. Possibly the strangest part of their culture is the Sebai ritual: a dying Iskai can (although the law requires the approval of the Council and a newborn's mother) achieve de facto immortality by taking over the body of a newborn child. While most Iskai don't have any problems with this practice, some raise moral objections against it – there's even a character who refuses immortality despite the Council's approval.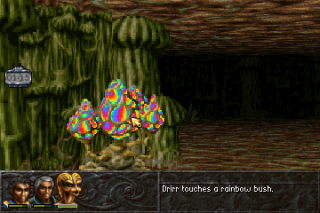 Humans living on Albion have societies resembling the early medieval Celts, although they form a few distinct societies with different economies and government types: there are villages ruled by tribal kings, which survive through farming and fishing, rich port cities ruled by councils and even a mysterious secret society with extremist political views, cult-like approach to religion and a penchant for assassinations. Humans use druidic magic which, unlike the kind used by Iskai, doesn't require any seeds.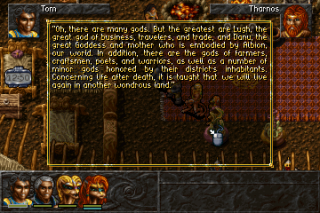 Albion, unlike most other Western computer RPGs of its time, doesn't allow the player to create any characters. All the party members are predefined characters. The player's influence on both their development and party composition is fairly limited. Albion's playable characters are: