Back in 2003, a poster on the Japanese board 2ch posted a story about how he was playing Shin Megami Tensei on his Super Famicom when the game suddently froze momentarily at the logo, before the screen was flooded with a sole message repeated over and over: すぐにけせ, or "sugi ni kese" which translates to "turn it off now". He was suitably creeped out. Indeed, the intro to the original SMT is pretty damned creepy, as various bits of computer code pop up, which are supposed to be words that summon demons into the human realm. He assumed it was just a very disturbing bug.

The previous year someone on the 2ch occult board had made a similar claim, this time regarding Shin Megami Tensei II, wherein the message would pop if the game was powered on at night, specifically mentioning the red text.
In 2004, a man claiming to be a programmer for the original game stepped up and admitted he stuck the spooky trick in intentionally. Originally he wanted it to happen 1 out of every 256 times, but it happened too frequently, so he ended up changing it to 1 out of every 65536 times. However, this was only present in the initial batch of cartridges, as it removed in all subsequent releases. The use of his terminology makes it almost semi-plausible, especially since he denoted the probability through the use of an 8-bit integer, then a 16-bit integer. If he was lying, then at least he knew how to trick people. There's also been some conjecture that this was an anti-piracy measure, but I haven't found anything that supports that.
<iframe width="560″ height="315″ src="https://www.youtube.com/embed/jhfZVd9N9ww" frameborder="0″ allowfullscreen></iframe>
Of course, knowledge of this became more widespread with the above video, which was posted on NicoNico Douga a few years back. It's just a "recreation" and not the actual phenomena in action.
And that's because this all was nothing but a hoax. The ROM has been examined and there's nothing of the sort in the code, plus the way that random generators work on a SNES/SFC, it would be impossible to even execute (at least, if it were turned on and off…some data is held after resetting so it could technically be possible under those circumstances).
The only way to verify it is to have a hacker break open a ROM, and assuming it's part of the "initial batch" (which makes this sound all kind of shifty because it's hard to trace), the text should be in there somewhere. (There's a post over at Assembler Games with a more accurate translation of the original messages.)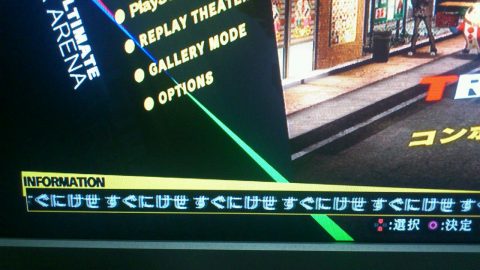 Still, this urban legend was referenced in the Japanese release of Persona 4 Arena. At the menu, there's a little "information" box that has text that scrolls by. If you tried to play it before the official release date (for example, if a store had broken street date), the text "turn it off now" repeats over and over. I've tried this with an American copy, setting it back before either the Japanese or American release, and unfortunately it doesn't trigger anything special.
So indeed, it's all fake, but man does it make a good ghost story, and it would be cool if TURN IT OFF NOW TURN IT OFF NOWTURN IT OFF NOWTURN IT OFF NOWTURN IT OFF NOWTURN IT OFF NOWTURN IT OFF NOWTURN IT OFF NOWTURN IT OFF NOWTURN IT OFF NOWTURN IT OFF NOWTURN IT OFF NOWTURN IT OFF NOWTURN IT OFF NOWTURN IT OFF NOWTURN IT OFF NOWTURN IT OFF NOWTURN IT OFF NOWTURN IT OFF NOWTURN IT OFF NOWTURN IT OFF NOW
Sources:
http://d.hatena.ne.jp/msrkb/20050425/sugunikese
http://www.kotaku.jp/2010/01/megaten_sugunikese.html
http://blog.esuteru.com/archives/6439017.html