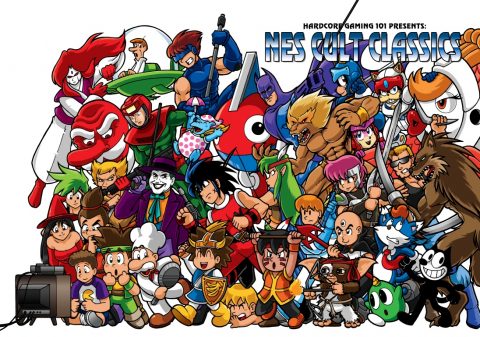 Now available!
Cover artwork by Thor Thorvaldson
Whenever anyone thinks of the best developers on the Nintendo Entertainment System, the most popular are typically Konami, Capcom, and, of course, Nintendo themselves. But what of the numerous other developers, the ones that put out games you may have read about in Nintendo Power or have vague recollections of renting on some Saturday afternoon? This book covers many of those titles, from developers like Sunsoft (Blaster Master, Journey to Silius), Natsume (Shadow of the Ninja, Shatterhand), KID (Low-G-Man, KickMaster), Irem (Holy Diver, Metal Storm), Atlus (Rockin' Kats, Xexyz), and many others. Also included are reviews of several notable Japan-only Famicom games, including Layla, Otocky, Moon Crystal, Cocoron, Cosmic Epsilon, and several others, as well as the infamous unreleased title Bio Force Ape! While these all may not be the A-listers of the NES library, this book represents some of the more interesting, offbeat, and lesser discussed titles of the system, and is essential for anyone looking to expand their knowledge of the platform!
To Purchase:
Paperbacks
US Amazon – $25.00
US Amazon: Kindle – $7.99
UK Amazon – £19.00
UK Amazon: Kindle
Also available on all other Amazon Europe sites.
PDF Download
PDF Download at Itch.io – $4.99
Everyone who contributes $16 or more monthly to the site's Patreon will receive free PDF and Kindle MOBI files for all of our books, including this one. Make sure to check out this post for the download links.
Covered games include:
Wing of Madoola
Blaster Master
Batman
Gremlins 2
Journey to Silius
Super Spy Hunter
Ufouria
Gimmick!
Abadox
SCAT
Shadow of the Ninja
Shatterhand
Mitsume ga Tooru
Dragon Fighter
Jetman
The Flintstones
The Flintstones 2
Jetsons
Power Blade
Cocoron
Little Samson
Panic Restaurant
Bio Senshi Dan
Xexyz
Rockin' Kats
Werewolf: The Last Warrior
Metal Storm
Holy Diver
Youkai Club
Whomp 'Em
Totally Rad
Burai Fighter
GI Joe
GI Joe: The Atlantis Factory
Low-G-Man
KickMaster
Isolated Warrior
Banana Prince
Dr. Chaos
Conquest of the Crystal Palace
Cowboy Kid
Jackie Chan's Action Kung Fu
Kabuki Quantum Fighter
The Krion Conquest
Vice Project Doom
Ninja Crusaders
Felix the Cat
Clash at Demonhead
WURM
Zombie Nation
Nightshade
Mendel Palace
Battle of Olympus
Arkista's Ring
Faria
Magic of Scheherazade
Crystalis
Ghost Lion
Otocky
Moon Crystal
Samurai Pizza Cats
Layla
Bio Force Ape
Cosmic Epsilon
Tetra Star
Space Hunter
Fuzzical Fighter
Armadillo
Time Zone
New Ghostbusters II